American Rapper Snoop Dogg has raved about vegan KFC, calling it 'finger-lickin' good'.
KFC trialed the vegan nuggets and boneless wings at one of its Atlanta restaurants on August 27. Customers buying other items at its Cobb Parkway outlet in Smyrna were offered free samples of the food – which was made by plant-based company Beyond Meat.
KFC said that customer feedback from the Atlanta test 'will be considered as KFC evaluates a broader test or potential national rollout'.
Snoop Dogg
The star posted a video on Instagram, where he has 35.5 million followers, about the vegan chicken.
In the video, Snoop, who is an ambassador for Beyond Meat, called the company's founder and CEO Ethan Brown, to ask if he could create some plant-based chicken.
"But do it with the originator, the OG, with Colonel Sanders," Snoop added, to which Brown replied: "Snoop I'm in."
'Finger Lickin' Good'
The rapper then sampled the animal-free food, saying: "Thanks to the Colonel. Hmm. Finger-Lickin' good you hear me?
"Now get on down there and get you some – don't be last, be first. Tell em Snoop Dog sent you."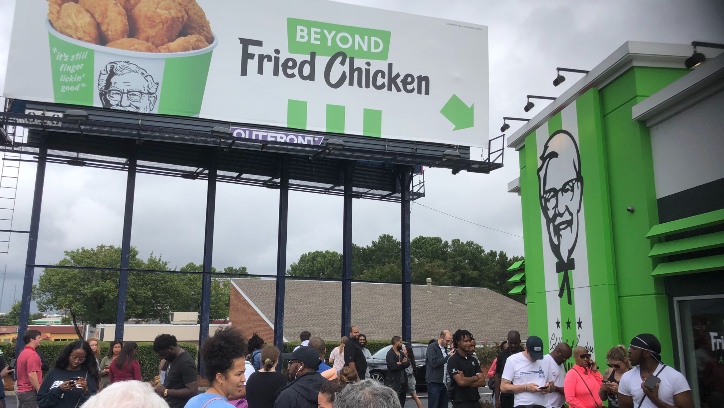 Sell-out success
Thousands of people did in fact turn up on the day to sample the vegan chicken.
There were queues around the building – which KFC had painted green for the trial – as people waited for up to an hour to get their hands on the new product.
According to Kevin Hochman, KFC U.S. president, and chief concept officer, the crowds would enjoy the food. He predicted: "KFC Beyond Fried Chicken is so delicious, our customers will find it difficult to tell that it's plant-based.
"I think we've all heard 'it tastes like chicken' – well our customers are going to be amazed and say, 'it tastes like Kentucky Fried Chicken'."