Being a new parent means you don't have as much time to work out as you used to, according to Swedish Personal Trainer Denice Lundevall.
Lundevall worked as a personal and group training instructor for eight years – competing in body fitness and bikini fitness at the same time.
After a brief hiatus to try an office job, she is now working on building her own holistic business in the health industry.
Exercises
The PT, who has a six month old son called Elmo, says when she does find time to exercise it has to be quick.
She says: "It has to be intensive, 30-45 minutes tops so you have to make it count.
"My workouts vary a lot. I love 3D and functional training – smart workouts that target all of the muscle groups at the same time, give a good cardio and make your body work in different angles.
"Specific exercises I do could be Kettle bell swings, thrusters, lunges in different angles, burpees, and pull-ups.
"I do them for three to five rounds, 10-20 repetitions each depending on how much weight you want on your kettlebell or barbell."
Health
Lundevall takes a holistic approach to health – it is not all about how your body looks.
She says: "Health means something different to me now. When I was competing it was all about defined muscles.
"Now health for me means balance, from the inside out. That was an important lesson for me to learn."
Experience
It was a lesson that came from some difficult experiences.
She says: "I was ill with bulimia for a big part of my life, so when I competed, it was the perfect cover up for me – no one knew I was sick.
"After my last competition I hurt my knee (in a workout) and I had to have surgery.
"While I was rehabilitating my knee, I learned a lot about my body, my restrictions and so on.
"I was very stiff and therefore I started practicing yoga."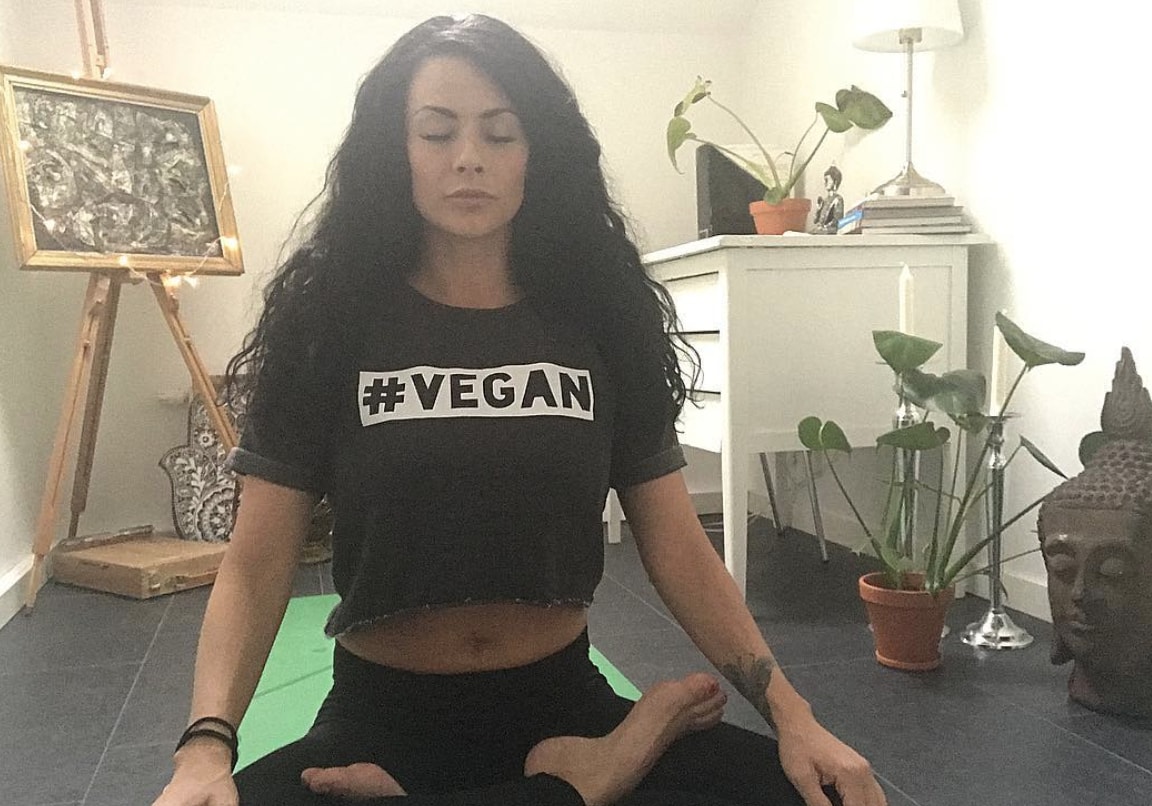 Ahimsa
It was yoga that brought the PT to veganism. She says: "I went for a silent meditation camp for 10 days where they talked about ahimsa.
"Ahimsa is Sanskrit and means never to harm or kill another living being. The saying is also used in the yoga community so I recognized it.
"They only served vegan food at the meditation camp, and I started to connect the dots. It was a big revelation for me.
"When I got back home I started to watch a lot of documentaries about the animal industry and I was terrified!
"Now I had all the dots connected. I knew – This is me, this is what I want in my life. Yoga, meditation and veganism.
"To me veganism is ahimsa. It stands for not hurting or killing another living being.
Making it work
Because of being a busy parent, Lundevall says she doesn't currently have time to take yoga classes – but she manages to make it work.
"Now my yoga practice is at home," she says.
"And if Elmo is awake, he's with me on the mat and we both love it."
To access Plant Based News' vegan parenting course, The Ultimate Guide To Raising A Child Vegan, click here
To access Plant Based News' vegan pregnancy course, The Ultimate Guide To Vegan Pregnancy, click here
The trailer for the two new releases is available here
READ MORE:
Experts Slam Vegan Fashion Line For Dogs Made By Miley Cyrus-Endorsed Designer
UK's Own 'Beyond Burger' Style Plant Based Patty To Launch Nationwide Soon
EXCLUSIVE: T. Colin Campbell Blasts BBC's 'Unchangeable Carnivore' Doctor For 'Arrogant Assertion'