Hundreds of plant-based doctors took to the White House to display a giant 'ditch dairy' sign in response to Government plans to spend $50 million bailing out dairy farmers.
The event was led by Physicians Committee (PCRM) – a nonprofit with 12,000 doctor members. According to PCRM, the U.S. Department of Agriculture will funnel 13 million gallons of milk into federal food programs, such as the National School Lunch Program.
The stunt follows the organization testifying in support of a new American Medical Association resolution – that could make it easier for the more than 30 million students who rely on the National School Lunch Program to receive an alternative to cow's milk – back in June.
Ditch dairy
Physicians Committee President, Neal Barnard, M.D., F.A.C.C., said: "Instead of spending millions bailing out the milk industry, the Government should ditch the dairy.
"The USDA's milk bailout unfairly burdens students and others who rely on federal food programs with increased risk of heart disease, diabetes, and lactose intolerance, among other chronic health conditions."
Scientific evidence 'shows that milk and other dairy products also increase the risk of breast, ovarian, and prostate cancers, cardiovascular disease, Parkinson's disease, cognitive decline, and early death', according to PCRM.
In addition, the National Institutes of Health estimates that 30 million to 50 million American adults are lactose intolerant, including 95 percent of Asians, 60-80 percent of African-Americans and Ashkenazi Jews, 80-100 percent of American Indians, and 50-80 percent of Hispanics.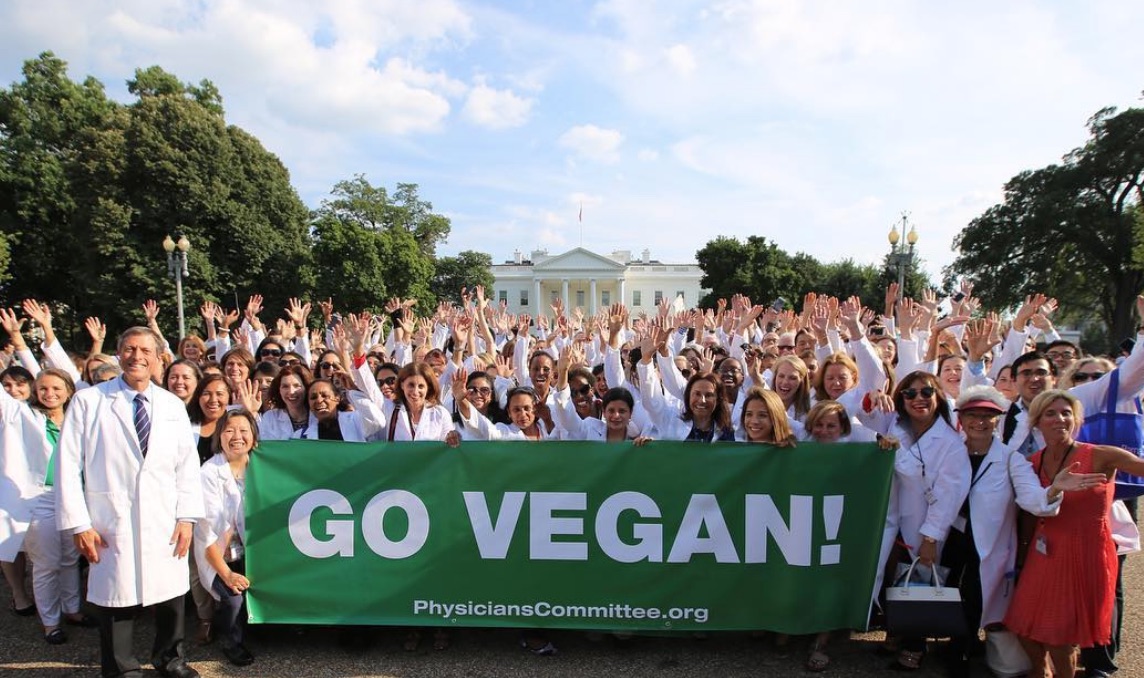 Go Vegan
Last week, the doctors held up a similar sign – this time saying 'Go Vegan' – outside the White House, with more than 1,000 plant-based health care professionals and students coming together to share the message.
The event coordinated with PCRM's annual health event.
It co-hosted its sixth-annual International Conference on Nutrition in Medicine in Washington, D.C., on August 10 and 11 with the George Washington University School of Medicine and Health Sciences.