The creator of Tesco's new vegan range has exclusively revealed to PBN that the range is 'selling out everywhere'.
The retailer's Head of Plant Based Innovation Derek Sarno – who crafted the 'Wicked Kitchen' range alongside brother Chad -says he's 'wicked happy' about the line's success.
Wicked Kitchen contains 20 products including wraps, sandwiches, and ready meals. It is available in 600 Tesco stores across the UK.
The range is tapping into a growing demand for meat-free food in the UK.
A Tesco's spokesperson told PBN: "We have been pleased with the response to the range so far as well as an overwhelming positive reaction on social media."
T Derek Sarno celebrating the launch of Wicked Kitchen (Photo: Chris Shoebridge)
'Mission'
Sarno told PBN: "We're selling out everywhere and are wicked happy about that
"If it's not there when you try to find it, know it's coming. If your local Tesco doesn't sell it – then ask them to.
"We're really so happy and thrilled to finally have something to eat that tastes as good as the mission feels.
"I just keep thinking every time someone has one of the meals that means they're not eating animals – and that is a good thought."
Dishes
Among the range's 11 ready meals is Nana's Mushroom Bolognese, which features 'slow-braised meaty eryngii mushrooms and vegetable linguine in a legendary secret sauce from Derek's grandmother's recipe'.
Another option is the Wicked Teriyaki Noodles, described as: "Teriyaki-style noodles with press-roasted cluster mushrooms, sweet 'n' savoury glaze, Asian-style vegetables and tangy lime to finish."
On top of that, there are two pizzas – the Caponata Sourdough Pizza and the BBQ Mushroom Sourdough.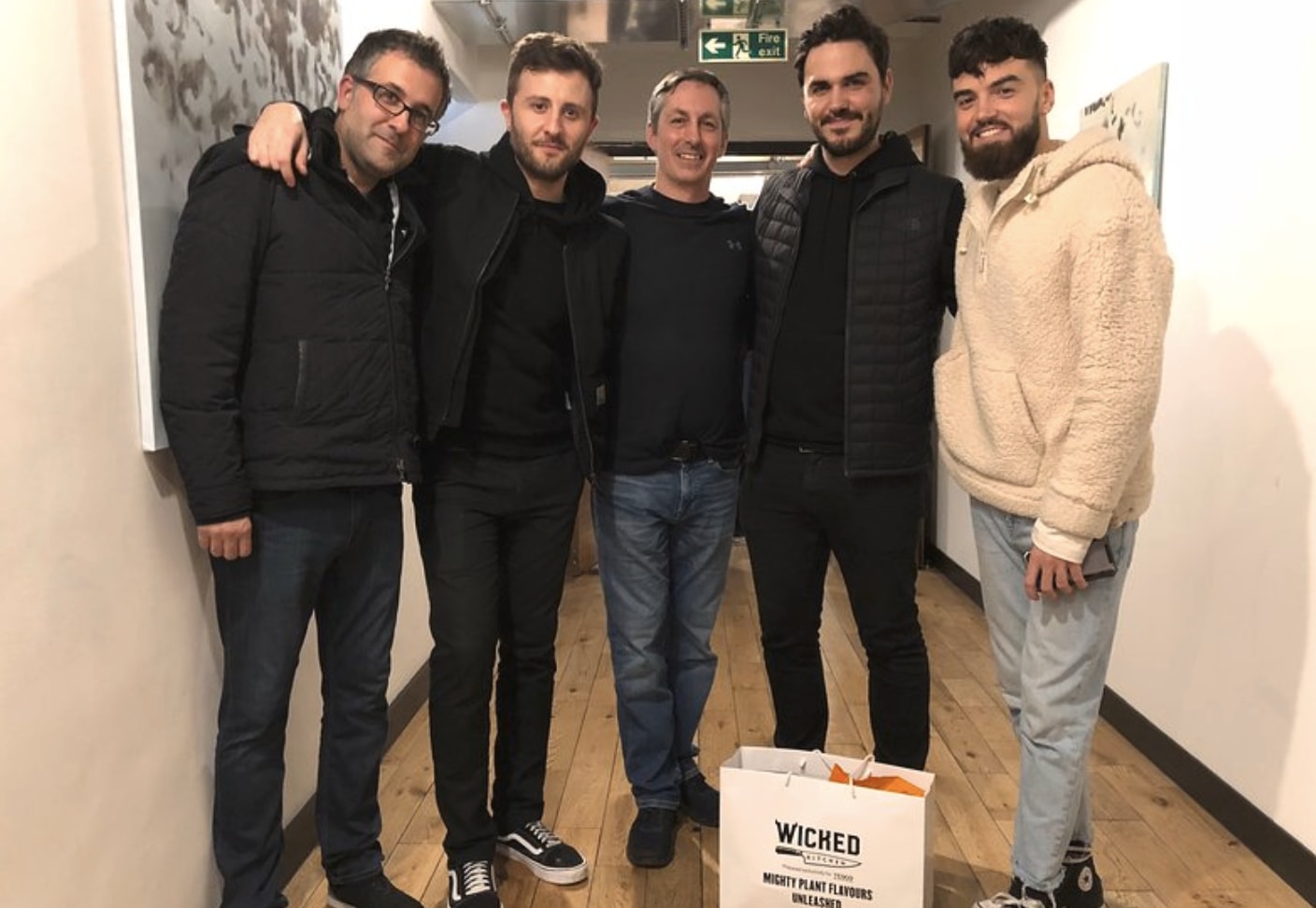 Launch
The Sarno brothers celebrated the launch of Wicked Kitchen at an event in London earlier this week – organized by Vevolution festival founders Damien Clarkson and Judy Nadel.
Members of the vegan community including press, bloggers, and chefs attended the event at the Trampery in Old Street.
Clarkson said: "For us at Vevolution, it was great to kick-off 2018 by bringing together so many amazing people for the event celebration the launch of Wicked Kitchen.
"The launch of this range is a monumental moment for people wanting plant-based choices. It means wherever you live in the UK you will be able to access delicious plant-based meals."
PBN interviewed chef Gaz Oakley at the event
'Fantastic'
Nadel added: "The feedback on the Wicked Kitchen range has been fantastic – our Instagram was lit up with people loving all the amazing products and flavours each product offers.
"This event was just a taste of things to come over the next year.
"We're so excited to launch our upcoming series of events Vevolution Topics in the coming days – these inspiring events will bring people together for regular meetings where we can connect and discuss ways to make the world a better place".