It was the end of a blustery September.
I was standing under an overcast sky in foot-high mud being shown bitter crops. Fields of green, in all its wonderful various shades, rolled out before me. I was in Dorset.
My city eyes were slowly adjusting to being able to look far into the distance.
Organic
Guy Watson, owner and founder of, arguably, the UK's most successful organic farm, Riverford organics, stands knife in one hand, veg in 'tuther.
As with any person who has a deep love for the work they do, he is fascinating to listen to. Although as a chef I can listen to discussions of all plant-based foods until the tofu comes home.
We had explored fields of artichoke, radicchio, dandelion leaves, and cime di rapa.
The finale was the cardoon field, a setting from Jurassic Park if ever I saw one. The cardoon has a very bitter stalk with a stunning flower similar to a thistle. This is a favorite of Guy's, as it can be grown so easily and in abundance in the UK.
Could cardoon be the new kale?
Cardoon
Cardoon certainly has an impressive nutritional profile. It contains cynarin, also found in globe artichoke.
This creates the bitter taste in both vegetables. But this compound is also said to lower blood cholesterol, aid digestion, stimulate the immune system, reduce risks of cancer, and improve liver and gallbladder function.
Cardoon contains a high amount of folic acid, potassium, iron, B vitamins, and numerous phytonutrients. Sounds impressive, and makes it a possible contender for the new kale but… the bitter tastes makes it challenging for UK palettes.
Bitter
Bitter food is fairly uncommon in the UK.
To reduce the bitterness in cardoon you must blanch it for a fair while. This makes it more time-consuming than our highspeed selves would like.
In my experience, teaching people how to cook healthy vegan food from scratch a lack of time is the most cited barrier – and one of the great qualities of kale is that it is quick to cook.
And so sadly cardoon is not the new kale but radicchio just might be (despite the lack of alliteration).
Radicchio
Radicchio is less bitter than cardoon with an equally impressive nutritional profile. And it is also a whole lot prettier!
Radicchio is now being grown in the UK by a handful of producers including Riverford.
An easy and stunning salad can be made with roughly sliced radicchio, a good balsamic vinegar, extra virgin olive oil, and a sprinkle of sea salt. I opted to make an Italian classic – radicchio risotto with red wine and borlotti beans.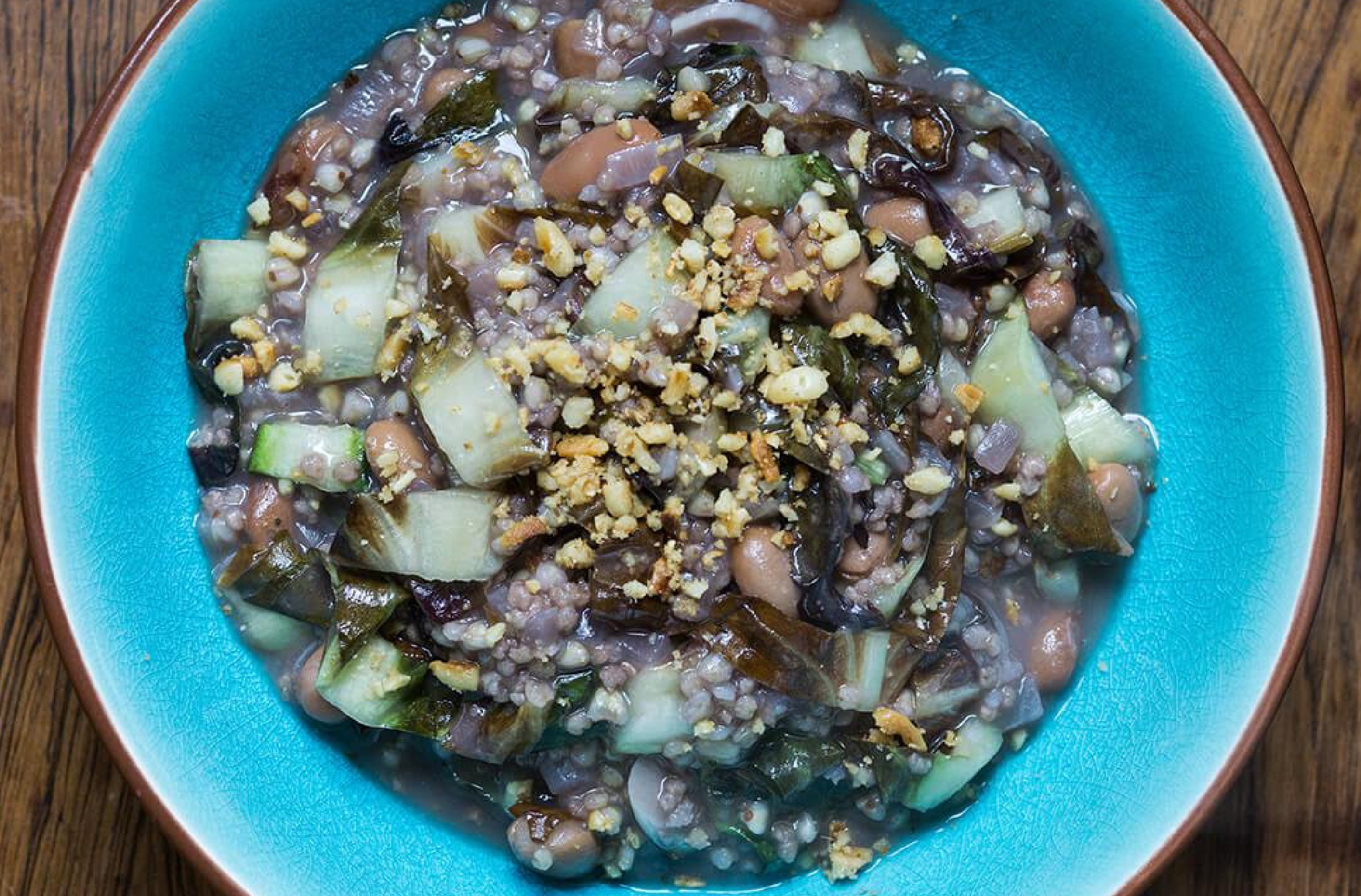 Dish
In this dish, red wine reduces to a sweet, rich flavour, perfectly counterbalancing the slightly bitter radicchio.
Red wine may seem like an odd addition to a British eye that has only ever experienced the pale gold of a white wine risotto.
The milky mauve colour might be unnerving but rest assured this is an Italian classic and a very tasty one at that.
Inexpensive
This meal, for 4 people, cost £5.33, showing that good food does not have to come at a great price. I swapped the typical white risotto rice for buckwheat and millet as they have a much higher nutritional content.
A bonus of using these grains is that you cannot overcook them as you can risotto rice. So it will chill and freeze well which is great news if there are any leftovers!
Ingredients
1T stock powder plus 1 litre of water
1T sunflower oil
2 small, or 1 large, onion, finely chopped
2-3 garlic cloves, finely sliced
1T nutritional yeast
100g/1/2 cup millet grain
100g/1/2 cup buckwheat
125ml/1/2 cup red wine
1 can borlotti beans, drained and rinsed well
1 large radicchio roughly chopped
1/2t salt
15g pine nuts, toasted in a dry pan and roughly smashed in a pestle and mortar
Directions
Add the stock powder and hot water to a pan, keep on a low to medium heat with a ladle in the pan.
Using a large frying pan heat the oil on a low to medium heat, add the onion, fry for 10-15 minutes until the onion is starting to soften.
Add the garlic, fry for another 5 minutes.
If the pan gets dry during this time add a splash of water rather than more oil.
Add the nutritional yeast, millet, buckwheat and red wine. Once the red wine is almost completely reduced add a spoonful of the stock.
Once that is almost gone add another and so on.
The grains should take around 20-30 minutes to soften completely. Now add the beans, radicchio and salt. Mix in and leave to warm through for 5 minutes.
Serve with a scattering of the pine nuts.
You can find out more about Riverford and its veg boxes including bitter veghere
READ MORE:
Portugal Sees 400 Percent Rise In Number Of Vegetarians
How Did Comedian Jon Stewart Boost Sales Of Vegan Cakes?
62 Year Old Vegan Athlete Smashes World Records And Dispels Protein Myth