Slovakia's biggest newspaper has published an article about a new advanced plant-based protocol when it comes to the treatment of type 2 diabetes.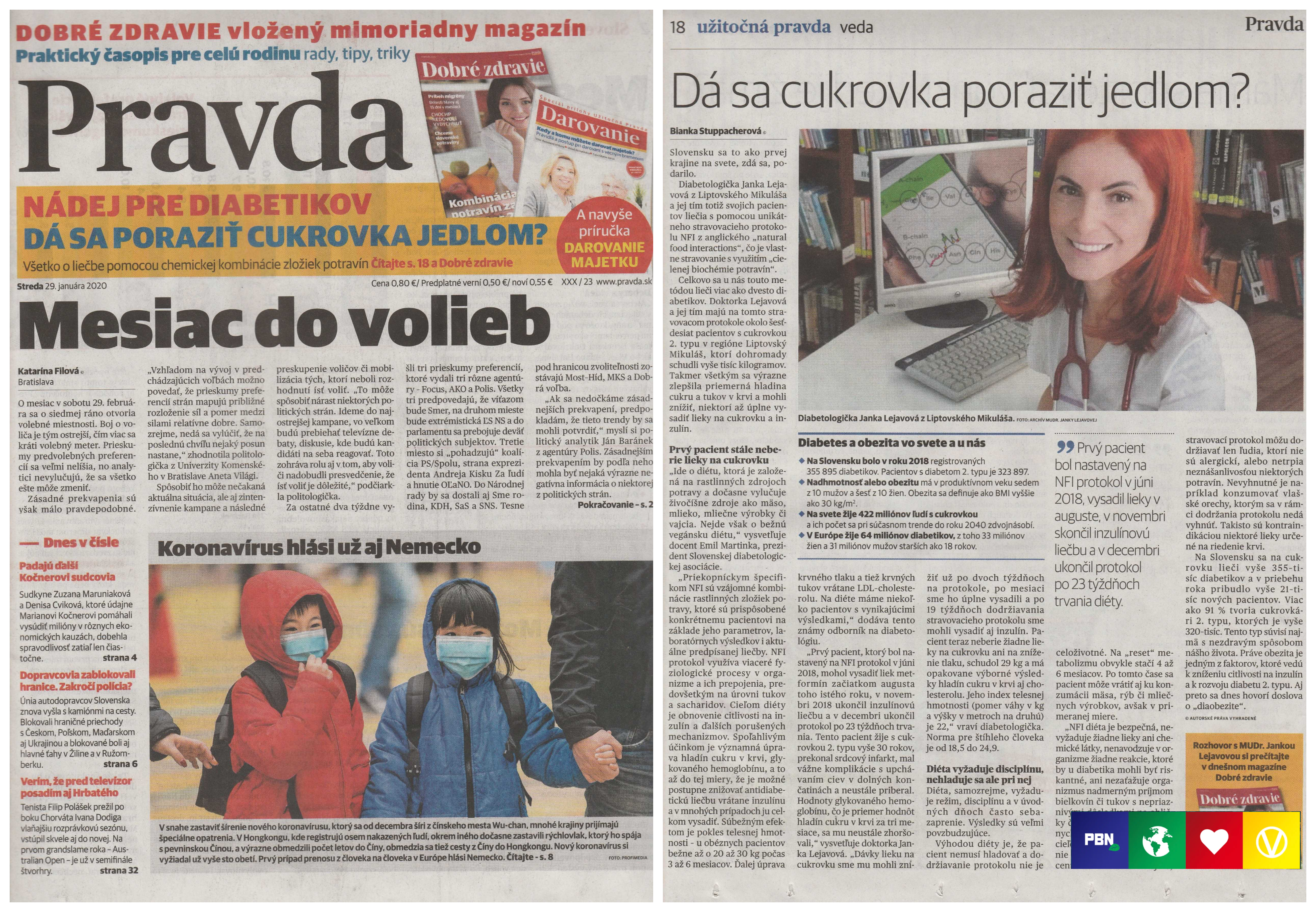 Pravda, which has circulation figures of 70,000 physical copies per day (over 280,000 daily online readers), featured the story headline Is this the end of type 2 diabetes in Slovakia? on its front page, with the article spread from page eight.
An online teaser to the article can be seen here – and the story is also reported to have been picked up by at least three mainstream radio stations in central Europe. In the article, two leading diabetes experts spoke about the Natural Food Interaction (NFI) protocol, an advanced food-based intervention currently being trialed to tackle the condition.
NFI Protocol
The Natural Food Interaction (NFI) protocol, a personalized whole-food plant-based diet plan, has yielded impressive results so far in an ongoing National Trial in Slovakia, with over 80 percent of patients reported to have stopped all medication within 20 weeks.*
The protocol, which was founded by businessman David Hickman and biomedical scientist Zuzana Plevova, is specifically tailored to individuals based on height, weight, age, sex, medication and associated diagnoses.
Designed for type 2 diabetics, the plan is nutritionally balanced, doesn't require patients to restrict calories and is reported to lead to normalization of blood glucose as well as an average 3kg weekly weight loss.
'Natural and effective'
Now acclaimed diabetes researcher Professor Emil Martinka, PhD, and physician Dr. Janka Lejavova, MD., have described some of the mechanisms behind the protocol, which they describe as a 'natural and effective approach' to treating type 2 diabetes.
"The NFI diet is based on plant food sources (vegetables, fruits, nuts, pulses, mushrooms, etc.) and at the same time temporarily excludes animal sources (meat, milk, dairy products, eggs)," said Prof. Martinka, PhD, who is head of the National Institute of Diabetes and Endocrinology in Slovakia.
"However, this is not a vegan diet. A progressive specificity of NFI is the combination of plant food ingredients that are optimized for a particular patient."
'Chemical reaction'
Diabetics following the protocol do so under the guidance of Slovakian physician Dr. Janka Lejavova, MD., who has taken 147 of her type 2 patients off medication in under a year. She has authored a report on a number of results from the trial which is currently pending publication in a number of Diabetes journals.
Further detailing why the NFI Protocol is so specific, she said: "Let me give you an example. If you have oatmeal porridge with soy milk and blueberries for breakfast and 10 strips of green pepper, you have to stick to this.
"Because the chemicals from that pepper will be needed for the next meal, namely lunch – vegetable soup with potatoes and then vegetable risotto [for example]."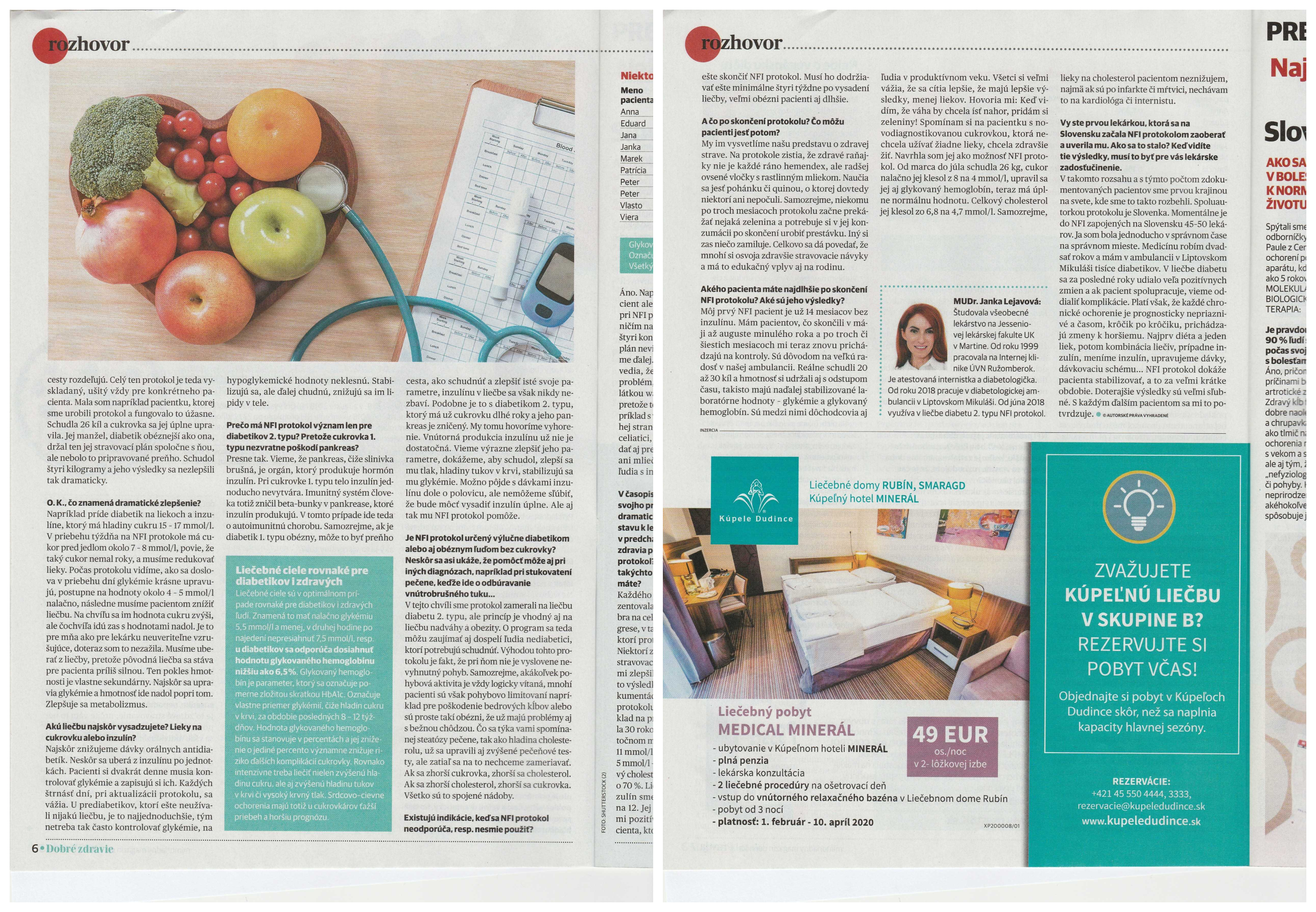 Compliance
According to Prof Martinka, PhD, sticking to the regime can be challenging at first, because of the prescriptive nature of the protocol. Patients, however, only need to follow the NFI protocol for up to 20 weeks to come off all type 2 diabetes medication.
After NFI, patients are not told what to eat, but as Prof Martinka, PhD notes, patients often have no desire to return to animal products.
'Absolutely safe'
"The NFI diet is absolutely safe, does not require any drugs or chemicals, does not induce any reactions in the body that could be risky in the diabetic or does not burden the body with excessive protein or fat intake with adverse effects on the kidneys or blood vessels," said Prof Martinka, PhD.
"NFI restores and corrects disrupted mechanisms, restores physiology and achieves improvement at multiple levels of metabolic syndrome manifestations. We have a lot of experience and very good results with the diet and I personally consider it a very suitable and welcome approach especially in the treatment of patients with type 2 diabetes mellitus with advanced metabolic syndrome."
Speaking previously to PBN about the NFI protocol, Dr. Janka Lejavova said: "It is a really special feeling being able to share the success of this protocol."
'Needed to make a change'
British type 2 diabetic Brian Walsh trialed the protocol with huge success recently. He revealed exclusively to PBN that he normalized his blood glucose levels in under eight weeks thanks to NFI.
"I did the NFI plan because like a lot of people, I was at the point where I needed to make a change, and didn't know where to turn. This just seemed to pop-up at the right time for me," he said.
"I'd wholly recommend it to anybody because this has made such a difference to my life, it's hard to comprehend how quick the changes were."
You can find out more about the NFI protocol here
*The NFI Protocol results in 82.9 percent of patients stopping all medication within 20 weeks (based on verifiable data from over 1200 people). With medical supervision, the type 2 diabetes reversal rate on the NFI protocol is 93.6 percent (based on Dr. Lejavova's cohort of 157 patients).