Factory farming is a 'ticking time-bomb' for future pandemics, according to campaigners.
The warning comes as the coronavirus, which is understood to have started in a wet market in Wuhan, China, has killed more than 135,000 people globally.
But campaigners say the issue is not a Chinese one, but a global one, and the way animals are farmed around the world creates a risk for the transmission of these kinds of diseases.
'Future pandemic site'
Now campaigners with Animal Rebellion have covered a London McDonald's at New Cross with hazardous safety tape and erected a sign saying: 'WARNING!! FUTURE PANDEMICS SITE. HAZARDOUS MATERIALS INSIDE – ANIMAL PRODUCTS' in a bid to highlight the role animal farming plays in transmitting diseases.
The group says it is 'acting on evidence that major pandemics come from animal farming', and says that keeping animals in crowded, cramped and unhygienic conditions means industrialized farming has 'created its own hotspots for disease mutations and future pandemics'. They cite experts on biosecurity, biology and health who have warned that 'the world is at risk of pandemics due to increasing livestock production and our destruction of the environment'.
It has targeted the McDonald's chain as a symbolic action, as it is the UK's largest purchaser of beef and pork, farming more than 47,000 tonnes of beef and over 30 million chickens every year for their burgers- most of which has come from industrialized units.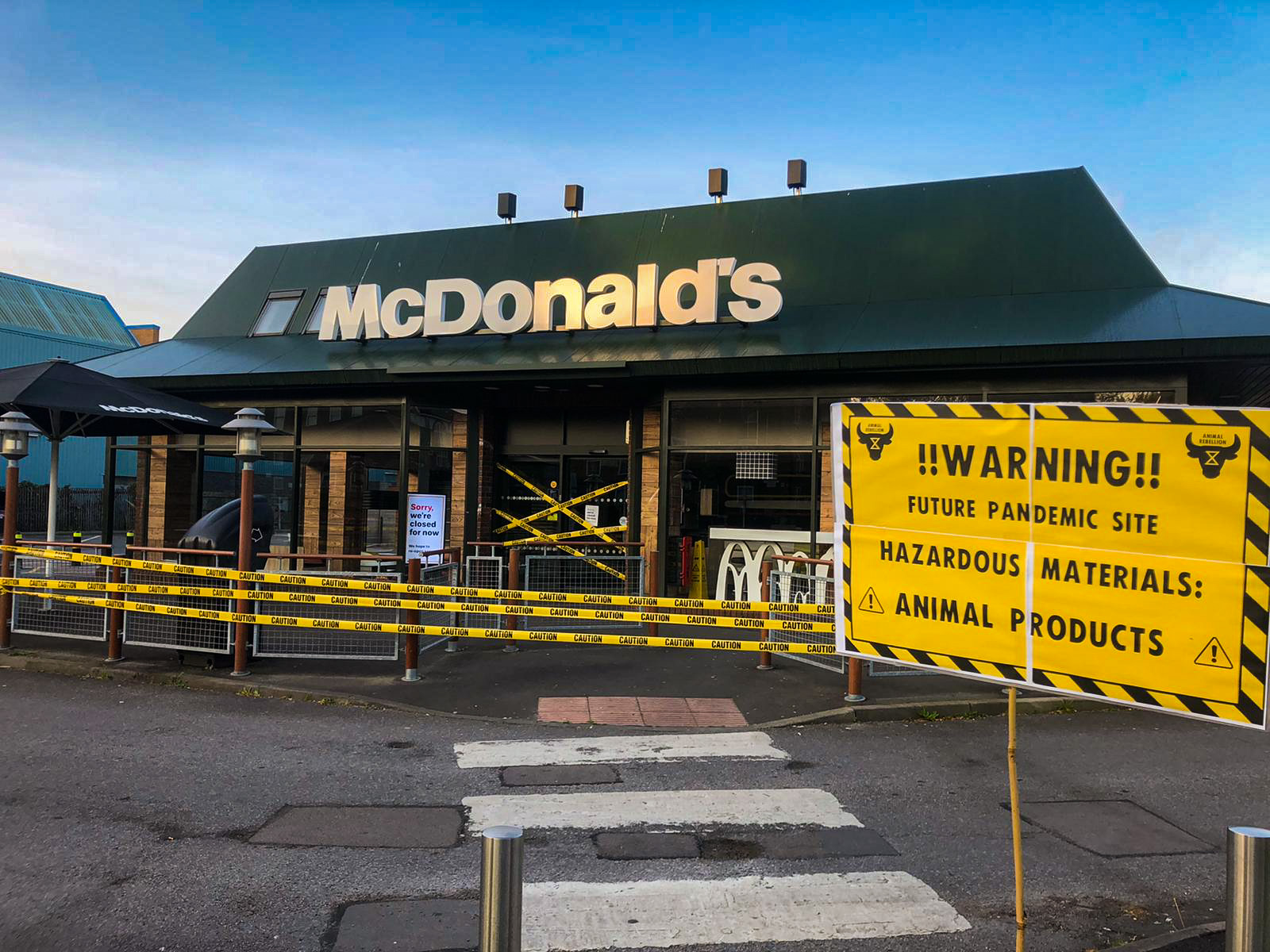 'Essential action'
"We are in the middle of a global health emergency, but this action we took today is essential," said spokesperson Harley McDonald-Eckersall. "Now more than ever, the government needs to be taking preventative action as this crisis is giving us a glimpse of our future."
"The science is clear, unless we act now on climate breakdown and end animal farming disastrous pandemics will be commonplace. A way to help prevent future pandemics is to end animal farming and move towards a plant-based food system. We need to take every necessary measure to protect us in future. This means changing our whole system.
"We can help prevent future pandemics and safeguard the lives of future generations is to review our relationship with animals, end animal farming and move towards a plant-based food system. If we fail to do so, then all restaurants like McDonald's, animal farms and markets, butchers, supermarkets and slaughterhouses will remain ticking time bombs for future pandemics."
Plant Based News has contacted McDonald's for comment.