Plant-based celebrity chef Matthew Kenney will be releasing a new cookbook next month emphasizing the art of plant-based cuisine – and he exclusively shared some festive recipes with PBN.
The LA-based award-winning chef, who has been described as one of the world's leading vegan foodies, will release PLANTLAB: Crafting the Future of Food next month.
The book – billed as a 'feast for the senses' – includes more than 100 recipes that progress in skill level and technique.
It is set to redefine plant-based cuisine for home cooks and professionals.
An accomplished entrepreneur, Kenney has also recently opened a long-awaited vegan restaurant in London's Shoreditch.
The future of food
Talking to PBN, Kenney explained the meaning behind the cookbook's subtitle Crafting the Future of Food:
He said: "I believe the future of food will be defined by plant-based cuisine, which brings together the best for culinary art and for the planet.
"There should be no separation between what we eat and what is best for our health, as well as the health of the environment and animals.
"In order to establish plant-based as the norm rather than the exception, we must be hands on in the way we create and the way we educate."
Kenney, known for his committment to plant-based innovation and culinary nutrition, added: "If we do our work with passion and finesse, and remain persistent, we will one day soon live in a healthier plant-based world where food may be enjoyed more than ever."
Book
PLANTLAB: Crafting the Future of Food – which is accessible to anyone, regardless of skill level – features a range of recipes from root purees and soups, to kale polenta and pizza.
It will be released on November 14.
The book is structured in four sections, and will build on progressing skills: Fundamentals, Advanced Techniques, Professional, and Food Future.
Kenney also expands on cutting-edge technology and innovative techniques throughout the 400-page book, including smoking, fermentation, and thermal immersion.
You can order the bookhere
Autumnal Squash Pizza
BUTTERNUT SQUASH PURÉE: 2 pounds butternut squash, cubed
2 garlic cloves, whole
3 tablespoons olive oil
1 tablespoon fresh rosemary, chopped
1 tablespoon fresh thyme, chopped
1½ teaspoons salt
1 pinch pepper
1 cup vegetable stock
Preheat the oven to 375°F. Toss the squash and garlic together
on a baking sheet. Drizzle with olive oil and season
with the rosemary, thyme, salt, and pepper. Roast the mixture
until the squash is tender, about 35 minutes. Place the
roasted squash, roasted garlic, and vegetable stock in a highspeed
blender. Purée until very smooth. Taste, adjust seasonings,
and refrigerate until ready to serve.
SPAGHETTI SQUASH: 1 medium-to-large spaghetti squash
12–18 sprigs thyme
Olive oil
Sea salt
Preheat the oven to 400°F. Remove both ends of the squash
with a chef's knife, and cut the squash in half lengthwise.
Scoop out the seeds with a spoon and discard. Place thyme
on a baking sheet and top with the squash halves, cut-side
down. Drizzle olive oil over the squash and salt liberally. Roast
at 400°F until tender, about ?5 minutes. Let cool slightly, then
scrape the squash into strands with a fork. Discard the squash
skins. Store squash in the refrigerator until ready to serve.
SAGE-PARSLEY PESTO: 1 cup packed flat leaf parsley
¼ cup fresh sage, packed
? cup raw pepitas (pumpkin seeds)
1 clove black garlic, crushed
Sea salt, to taste
? cup olive oil
In a food processor, combine all ingredients except for the olive
oil. Pulse until the mixture forms a thick paste. Reduce
processor speed to low and slowly stream in the olive oil. Add
a small amount of water if the mixture gets too thick. Store in
a closed container at room temperature until ready to serve.
ALMOND RICOTTA: 2 cups almonds, soaked
1 quart water
¾ teaspoon citric acid
Zest of 1 lemon
½ teaspoon sea salt
Blend the almonds and water in a high-speed blender. Strain
the mixture to separate the almond milk from the pulp. Discard
the pulp. Pour the milk into a large pot and heat to 194°F,
monitoring the temperature with a thermometer. Whisk in the
citric acid, lemon zest, and salt. Remove from heat and let
stand for 15 minutes. Pour into a strainer lined with cheesecloth.
Cover with plastic wrap, refrigerate, and let the ricotta
drain for a few hours before transferring to a sealed container.
ASSEMBLY: Cornmeal or 00 flour
1 tablespoon olive oil
Preheat the oven to 450°F. Place dough on a lightly floured
work surface and use your hands to flatten and stretch the
dough into a round. Starting at the center and working outward,
use your fingertips to press the dough to a ¼-inch thickness.
Turn over and stretch the dough until it will not stretch
any further, to about 16 inches in diameter, taking care to
maintain the round shape.
Brush the top of the dough with olive
oil to prevent the dough from getting soggy once the toppings
are added. Lightly sprinkle a pizza peel (or a flat baking
sheet) with cornmeal or 00 flour. Spoon butternut squash purée on top of the dough, then top with spaghetti squash, almond
ricotta, and sage-parsley pesto. Bake pizza until the
crust is deep golden brown, about 10–15 minutes.
Sweet Potato Maple Tart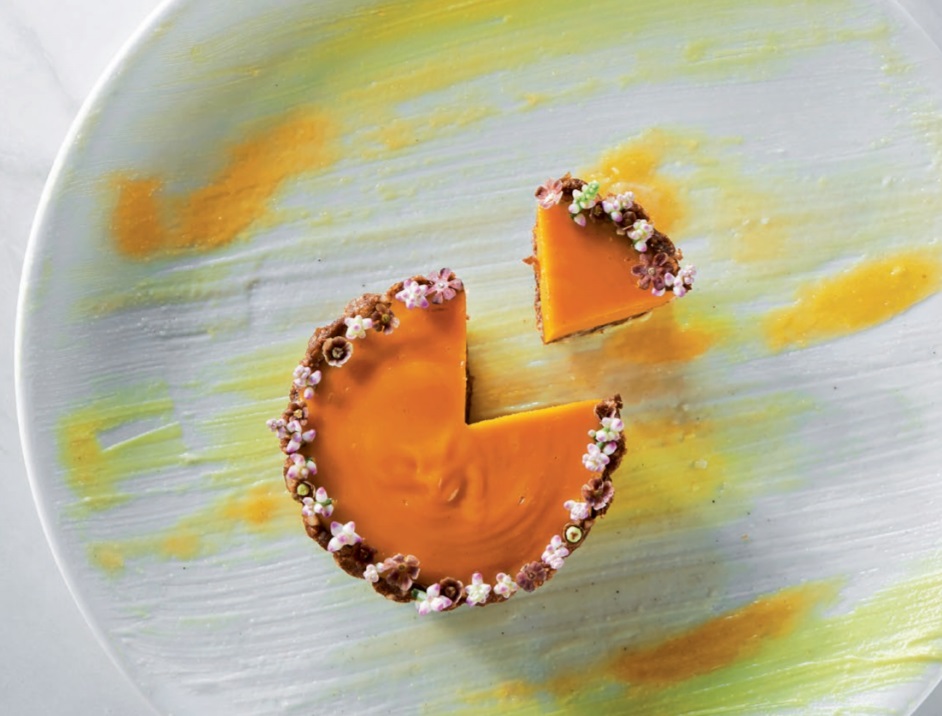 PISTACHIO AND PEPITA CRUST: 3 cups pistachios
1 cup toasted pepitas (pumpkin seeds)
1 tablespoon vanilla extract
6 dates, soaked
¼ teaspoon pink salt
Place all the ingredients in a food processor and process until
the mixture becomes a crumbly dough. Mold the dough into
a 12-inch tart mold.
SOUS-VIDE SWEET POTATOES: 3 cups sweet potatoes, medium dice
1 cup maple syrup
Seeds from 1 vanilla bean
Place all the ingredients in a vacuum bag, seal, and sous-vide
for 1 hour at 156°F.
CHOCOLATE SAUCE: ¼ cup maple syrup
¼ cup cacao powder
1 pinch salt
Blend all the ingredients in a high-speed blender until
smooth. Place in a sealed container and refrigerate until ready
to serve, or up to 1 week.
SWEET POTATO FILLING (Makes enough for one 12-inch tart): 3 cups sous-vide sweet potatoes
2 cups cashews, soaked
½ cup maple syrup
1 tablespoon ground cinnamon
1 teaspoon ground cardamom
1 tablespoon chocolate sauce (recipe above)
¾ cup coconut oil
3 tablespoons sweet potato starch, dissolved in 1 cup filtered water
Blend all ingredients, except the coconut oil and sweet potato
starch, until smooth. Add the coconut oil and sweet potato
starch, and continue blending until the mixture reaches 160°F.
Transfer the mixture to a sealed container and refrigerate until
ready to serve.
GINGER CREAM: 2 cup raw cashews
¾ cup agave
¼ cup ginger juice
1 tablespoon lemon juice
1 tablespoon coconut oil
1 pinch salt
Blend all ingredients in a high-speed blender until very
smooth. Store in a small pastry bag until ready to serve, or up
to 5 days.
SWEET POTATO VANILLA: 1 cup sous-vide sweet potatoes (recipe above)
¼ cup maple syrup
1 tablespoon lemon juice
Blend all ingredients in a high-speed blender until very
smooth. Store in a small pastry bag until ready to serve, or up
to 3 days.
ASSEMBLY: Edible flowers (garnish)
Spread the sweet potato filling evenly over the pistachio and
pepita crust and refrigerate until the fillling has set, about
2 hours. To serve, remove the tart mold and garnish with the
ginger cream, chocolate sauce, sweet potato vanilla, and
edible flowers.
READ MORE:
Vegan Celebrity Chef Opens Plant Based Restaurant In London
London 'Meaty' Restaurant To Launch Vegan Menu