A winner of Masterchef South Africa has been criticized for confusion around the launch of her meal delivery service – with some social media users saying they feel 'misled' into thinking it would be a 'vegan' range.
The Füdy range, fronted by Kamini Pather who won season two of the popular show, was described in a headline by news outlet IOL as 'plant-based' – leading some to believe all food would be suitable for vegans – though the body of the article revealed that diners can opt to add 'animal protein'.
While Kamini was upfront about her own diet – saying she 'is not 100 percent plant-based' – when the IOL headline saying 'Masterchef SA winner is set to launch plant-based meal delivery service' was shared on Füdy's Instagram page, followed by a picture of chicken, the chef faced some backlash.
Plant-based?
"Please pray tell how dishes with meat in them are plant-based?" one user asked. "This is so confusing. False advertising. Worst of all I probably wouldn't have even double checked and just assumed it was soy-based meat alternatives.
Another added: "Why is there a chicken here? Please do not market yourself as a plant-based delivery service as it obviously isn't. It is a huge offense to the animals and the plant-based community.
"All the articles that advertise your service as plant-based need to be pulled and apologies issued to the press. Misleading consumers is not ethical."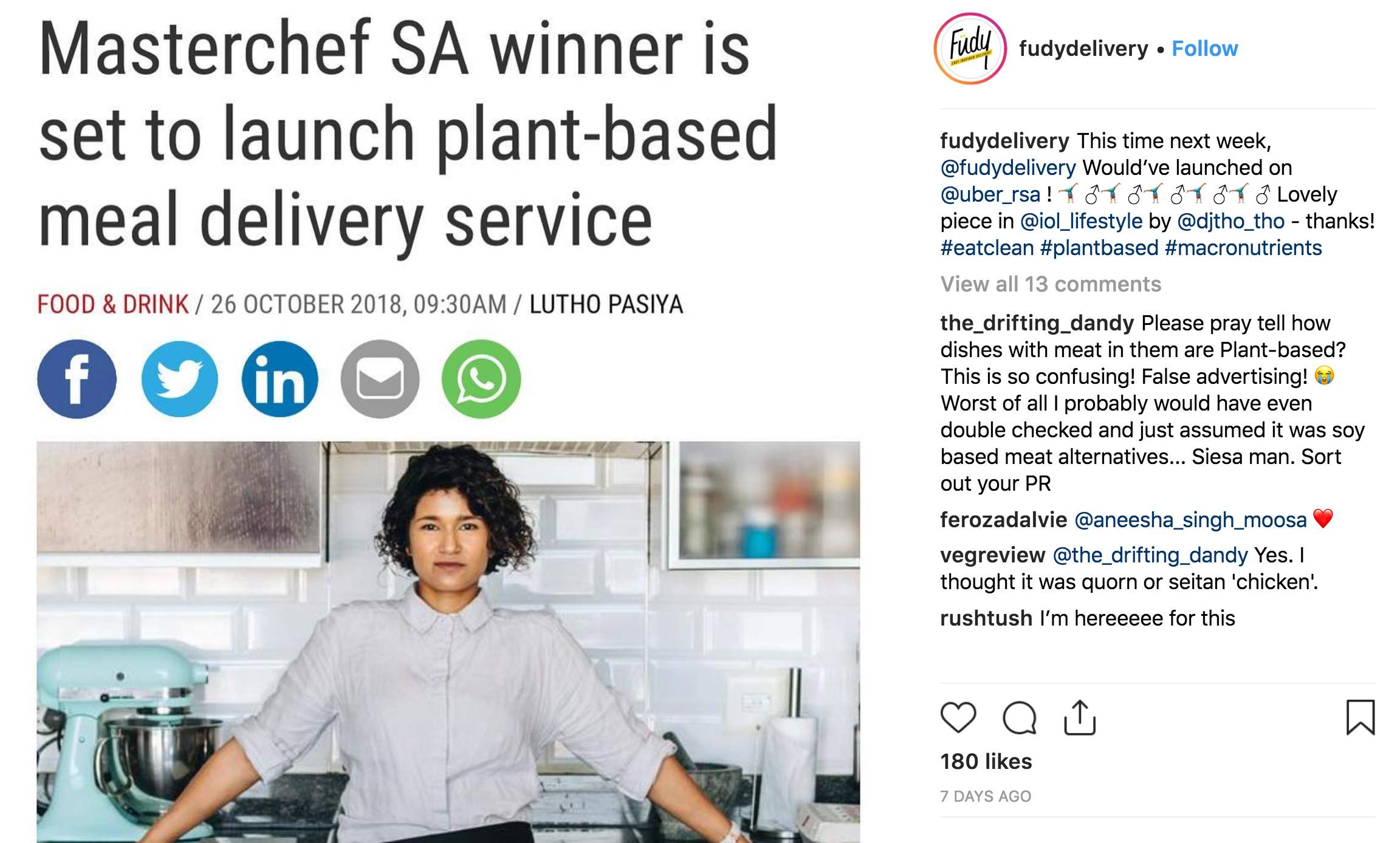 Apology
In response to criticism, Pather released a statement on the Füdy Instagram page explaining that whilst the offered plant-based options, it was not a plant-based service.
"I have toiled with the comments from the previous post and thank the community for drawing my attention to the meaning of 'plant-based', Pather wrote. "The confusion lay in that Füdy has many plant-based offerings but isn't a plant-based service.
"I apologize to anyone who posted the articles to their vegan groups, the headlines were misleading without delving into the full article. Not I, nor Füdy, will be using the term plant-based in such a flippant manner going forward."