Marks & Spencer has launched two new vegan products.
The new items, which are part of the retailer's plant-based Plant Kitchen range are Chorizo Puppies, made with mushroom, red pepper, soy, smoked paprika, roasted garlic, caramelized onion, and roasted chilli, and the No Beef Burger. This is a soy-based patty that the retailer describes as 'the daddy of all vegan burgers'.
According to M&S, the new items, which took months of development can be cooked on a BBQ or in the oven, and are suitable for home-freezing.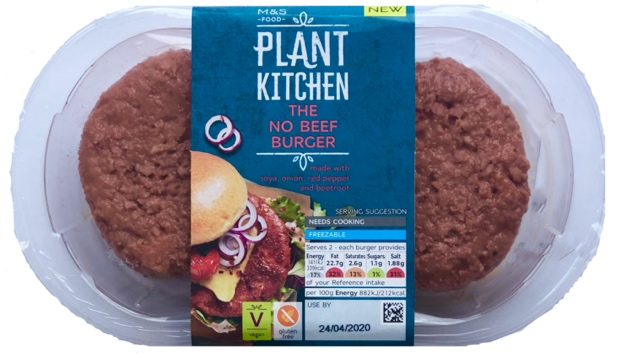 Meat-eaters and vegans
"I am super excited about the launch of our puppies and burgers, they may well be vegan-friendly, but as with the entire Plant Kitchen range they are flavor FIRST and I think will be a real hit among vegans and meat-eaters alike," James Fisher, M&S product development said in a statement sent to Plant Based News.
"I can't wait to hear how people are enjoying theirs this Summer."
Chorizo Puppies retail at £3.50 for 640g, and The No Beef Burger retails at £3.50 for 340g. M&S Foodhalls are currently open, and offering daily deliveries.