"Learning more about the industrialisation of the food system shook me up; I couldn't quite believe some of the stats I read and heard. I had to ask myself how proud I was to be part of a generation which was not helping to do what we need to do."
This self-reflection led BOL founder Paul Brown to make a significant business decision – to remove all meat and fish from his range of healthy, natural ready-to-eat meals.
As he puts it: "From a personal perspective, I had what I call my [environmental documentary] 'Cowspiracy epiphany'."
About half of BOL's meals – which can be found in health food stores like Planet Organic, as well as Tesco's, Waitrose and Ocado – contained meat or fish. Brown's new, sustainable direction meant dropping these meals from the line.
In addition, BOL teamed up with fruit and vegetable artist, Amber Locke, to re-brand its new range of 'Veg Pots' and 'Salad Jars', firmly establishing itself as a meat-free player.
While the move may not have instantly yielded the best results financially, it created a strong and credible statement about Brown's priorities as an entrepreneur.
A different kind of business model
Brown is part of a new wave of business people who want to drive positive change, and making plant-heavy food that is accessible, tasty and convenient is a large part of that.
A quick look at his CV makes it clear the bottom line is not the only thing driving him as an entrepreneur.
During a 14 year stint at Innocent Smoothies – including heading up the food division – he was part of a team that oversaw the donation of staggering amounts of money to charity.
Now he hopes to 'redefine BOL's food and purpose' by making it more environmentally-friendly, as well as more ethical.
"Most of what we have created over the last couple of years has been plant-based," he tells Plant Based News, "but some of it contained meat and fish, so I couldn't say I was helping reverse the damage animal agriculture is having on the planet.
"Dropping meat was a risky decision. But it felt right."
Now the whole range is vegetarian – and mostly vegan – just two of the products contain cheese. "I am open to swapping that out for a vegan-friendly version as we find it," says Brown.
Consumer reaction
As the range has been halved, Brown expects to see an initial commercial downturn, but claims the rebrand is 'more important than commercial importance'.
He believes that being part of the shift towards a more sustainable way of eating is the key aim currently.
"I am excited to stand for more," he says. "When we made the decision, one of the first things to do was have a conversation with partners and shareholders to say we were changing direction – and everyone is backing that."
In fact, initial data shows that while there are currently less options on the shelves, consumers are tucking into more of the dishes that are there – with increased sales of up to 30 per cent on those items – making up for some of the shortfall.
In addition, new options will be added to the line in November and January, offering greater choice to BOL's customers.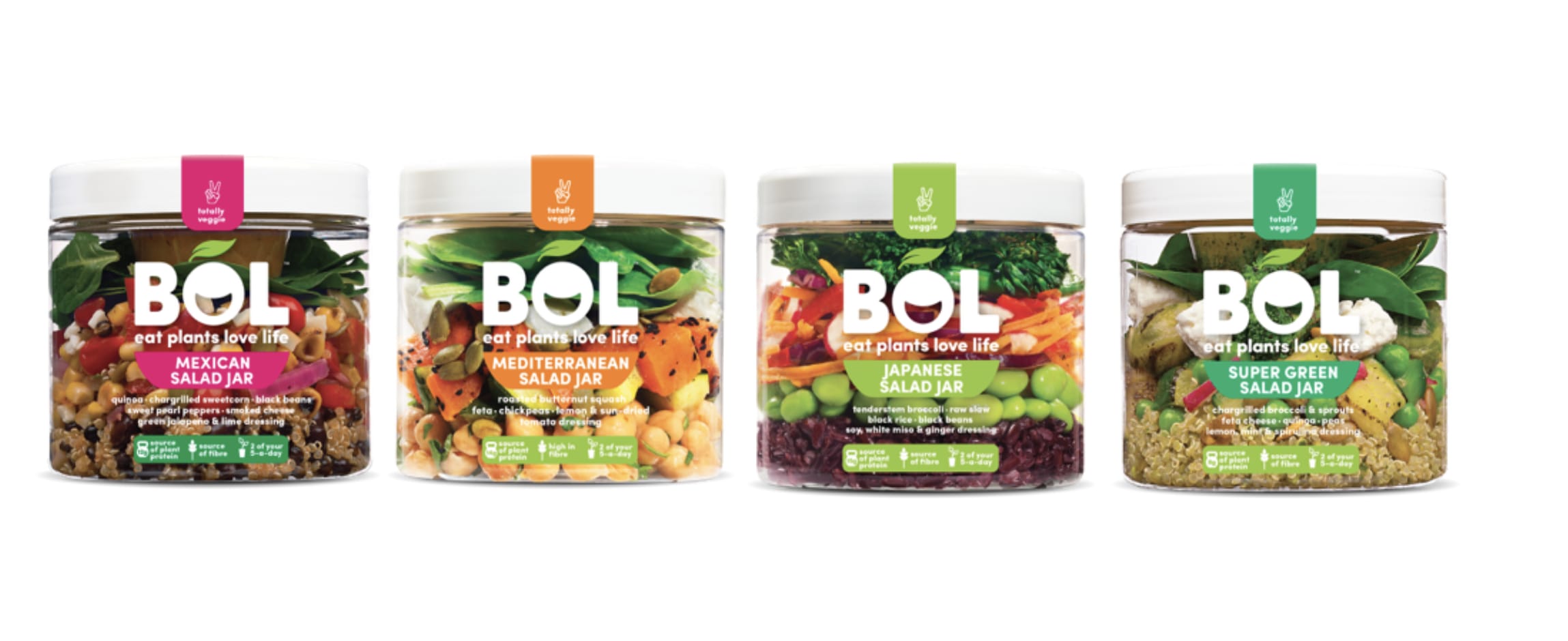 Flexitarians
While Brown sees vegetarians and vegans as natural customers for BOL, ('lack of choice means veggies and vegans will pick us up'), he has set his sights at the burgeoning flexitarian market – as well as hoping to appeal to omnivores.
He says: "Our story as a business is quite unique. There are not that many brands doing totally natural products like ours. Something about the products are resonating with omnivores.
"I am not a fan of pigeonholing people though – we are targeting anyone who does not have time to cook from scratch, who wants a tasty plant-based meal.
"Kantar published a report in 1990 – at that time around 10 per cent of the population was defining itself as flexitarian.
"This had risen to around 50 per cent by last year. But we hope to convince omnivores to try our plant-based meals.
"The reality is, most of the UK still eats meat or fish. We are a small business that can only have a longterm impact if we can get more people to buy us, and we don't want to marginalise or guilt-trip people."
Journey
When it comes to Brown's own eating habits, he is upfront about the changes in his diet.
"I'm not pretending to be anything I'm not," he says. "At the moment, I would class myself as 95 per cent veggie. And that's a big shift from where I was, that's for sure!
"Most of the time I live plant-based – it wouldn't surprise me if I end up totally vegan in the future. It's a personal journey."
And the business?
"Well, we've been on a hell of a journey for a business that's only been around for just over two years."
READ MORE:
Struggling To Make The Vegan Transition? Top Tips To Help You Embrace A Plant-Based Diet
Plant-Based Pioneer Hampton Creek To Launch Vegan 'Scrambled Egg'