Cardiovascular disease has been the primary underlying cause of death for Australians – and Australian cardiologists – for over a century.
More than one-third of the population of Western countries will be affected by diseases of the vascular system including heart disease, stroke and dementia in our lifetime.
But the spectre of heart attack and accompanying disease states and disability need not haunt us. Evidence shows that these are largely conditions linked to lifestyle and therefore predominantly preventable and even reversible.
Nutritional symposium
World-leading cardiologist, Dr. Kim Williams (USA) and expert local doctors and dietitians will speak at a Nutrition Symposium in South Australia this weekend.
Their presentations will reveal the reality behind the disheartening statistics and empower attendees from all walks of life with the science and skills to improve their cardiovascular and overall health.
Dr. Kim Williams
Dr. Williams is part of the Advisory Council team for the Australian registered health-promotion charity, Doctors For Nutrition. He is also Chief of Cardiology at Rush University Medical Centre in Chicago.
Among numerous leadership positions throughout his career, Dr. Williams was the 2015-16 President of the American College of Cardiology.
On February 2, 2020, Dr. Williams visits Australia on behalf of Doctors For Nutrition – bringing his new 'The Heart of the Matter' keynote talk to Adelaide.
At this full-day event, Dr. Williams and local healthcare professionals will highlight the latest evidence on the topic of food as medicine, answering the question: what eating pattern is best to support both human and planetary health?
Doctors and nutrition
Co-founder of Doctors For Nutrition and qualified paediatrician Dr. Heleen Roex-Haitjema MD has for eight years been committed to sharing sound and independent guidance on the role of nutrition in chronic disease.
From presenting at nearly 100 events such as hospital 'grand rounds', community classes and conferences around Australia and internationally, Dr. Roex-Haitjema knows first-hand about the glaring gap in education levels across the medical community when it comes to best-practice nutrition prescriptions.
Dr. Roex-Haitjema emphasises that 'doctors are not to blame' for their lack of nutrition science knowledge as the vast majority 'get their information just like everyone else – through the media'.
She laments that despite having three doctors across two generations in their immediate family, they 'were not taught' about this vital component of healthcare in their medical degrees.
The Adelaide-based family came to the initial information by chance when seeing US President Bill Clinton's cardiologist discussing the success of a plant-based diet for his famous patient's heart disease reversal on the news.
Inspired and empowered by the potential of adding nutrition to their medical 'tool kit', the three Roex doctors have each gone on to study under many of the nutrition movement's luminaries and complete the Certificate in Plant-Based Nutrition from Cornell University.
Presentations
Both Dr. Williams and Dr. Roex-Haitjema's Adelaide Symposium presentations will cover the area of interpreting research studies, with the aim of ensuring the strength of the evidence is prioritised in the ultimate conclusions reached by fellow practitioners, policy makers, and the general public.
With the growing role of industry-funded studies and commercial partnerships permeating the research and public health promotion sphere, Dr. Roex-Haitjema will also highlight how consumers can be savvy to any third-party influences or potential bias when seeking to evaluate health claims.
In a further presentation, Dr. Roex-Haitjema and her daughter Dr. Juliette Roex, MD will delve into why healthy food choices matter even in the early years of life. This is such important information for parents and carers to be aware of as signs of developing cardiovascular disease can be evident even in babies.
Lifestyle changes
South Australian general practitioner, Dr. Adrian Griscti will deliver his 'An Apple a Day Keeps the Cardiologist Away' talk at the Symposium. From decades at the front line of rural community medicine, Dr. Griscti will share how – with the help of some affordable and simple lifestyle and diet upgrades – patients and their doctors can measurably reduce their cardiovascular risk factors. He will even share the results of his own cardiovascular health turnaround.
The event will also feature future medical doctors from the Australian Plant Based Medical Students' group who will put forward a panel discussion facilitated by Dr. Kim Williams. A hot topic will be the nature of nutrition education in medical schools. The Australian Medical Students' Association (AMSA) has just wrapped up an Australia-wide university survey conducted to gauge the perceptions of nutrition among their peers.
Two Adelaide-based medical students, Sylvia Gralak and Lucy Brown will present the revealing preliminary findings from this survey at the Symposium.
Diet and disease
2020 AMSA Healthy Communities National Co-ordinator Jacqueline Bredhauer was one of the lead instigators of the survey.
She says that she joined AMSA as she is, 'passionate about advocating for the reduction of non-communicable diseases such as heart disease and diabetes in society'. As a student-led organisation, 'AMSA Healthy Communities aim to motivate medical students towards healthy lifestyles, as well as increase the inclusion of nutrition and lifestyle medicine topics in medical school curricula. Our hope is that greater education on evidence-based information inspires students both in their own lives, as well as the wider community as they become future health practitioners'.
To help quell the confusion about what constitutes healthy eating, Doctors For Nutrition have added an 'Ask us Anything about Nutrition' Q&A session to the Symposium program. Australian Practicing Dietitian, Deeni Betar-Young is familiar with the common questions people have about plant-based diets. Switching to this way of eating at the start of her dietetics degree, Deeni is confident that the science supports a well planned plant-based diet as optimal and achievable for most people – from everyday Aussies to elite athletes.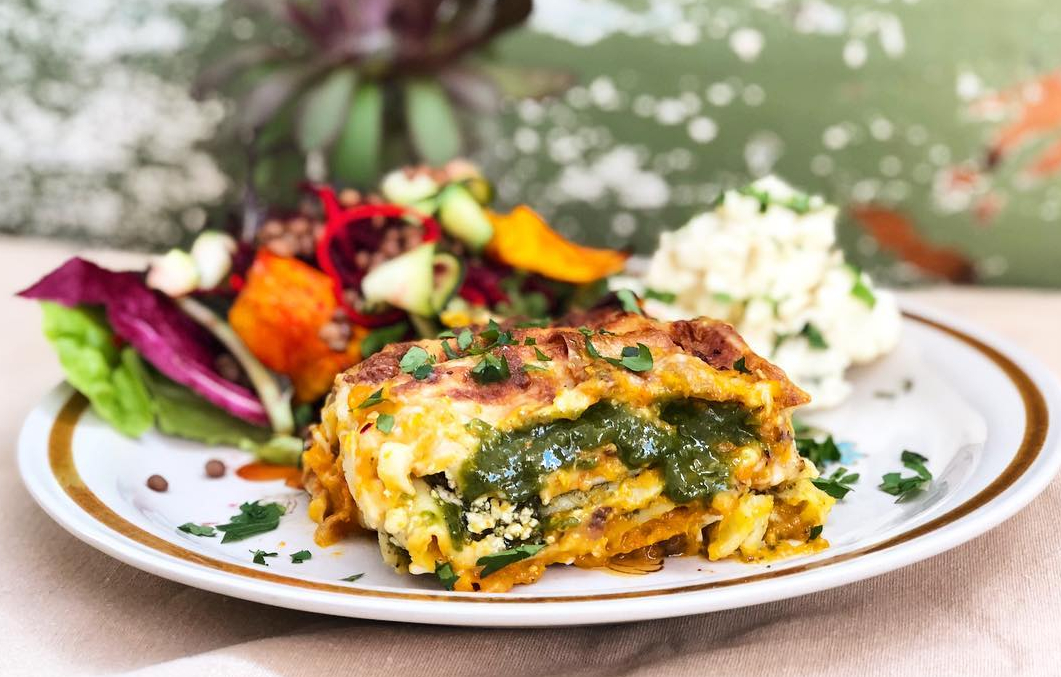 Athletes
Four local plant-based pro and amateur athletes will also field a Q&A panel in the lead-up to a complimentary screening of The Game Changers documentary to close the day's proceedings.
Izzi Batt-Doyle is a National Collegiate Athletic Association Bronze medalist in the 10km track race and represented Australia at the World University Games in 2017 and 2019. Ben Loaker is a cyclist and personal trainer. In 2018, he won the State Amateur Cyclocross Championships and in the same year finished in the top five of the Mountain Bike State Championships.
Adelaide mother of two and founder of the new Plant B Life cafe, Kate Abraham discovered the positive link between endurance sports and a plant-based diet through reading champion ultra-runner Rich Roll's book 'Finding Ultra'.
In recent years, Kate has built up enough stamina to compete in two New York marathons and the Berlin marathon – something this previously self-confessed 'non-runner' would never have imagined possible.
'The Game Changers effect'
Two years ago Samuel Mussared followed a 'typical bodybuilder diet heavy on animal proteins'.
Since making the switch to a whole-food plant-based diet, he has gone on to win a Pro card with the ICN (iCompete Natural) national bodybuilding competition and start his own fitness coaching business.
He reveals that when it became known to his colleagues at his former gym that he had gone plant-based, he was no longer made to feel welcome.
Since then, his results on the stage – and what he refers to as 'The Game Changers effect' – have brought many of those in the fitness industry to become open to a plant-based approach to eating for optimal athletic results, recovery and overall health. Attendees will get to directly experience food as medicine with nutritious whole food plant-based catering provided at the event.
You can find more information about the event here