KFC is set to launch a permanent vegan menu item on January 2, Plant Based News can confirm.
The fast-food chain's new Vegan Burger features a 'bespoke Quorn fillet, which is coated in the Colonel's iconic Original Recipe herbs and spices…served with vegan mayonnaise and crisp iceberg lettuce, all within a soft-glazed bun'.
It is reported that the sandwich will be prepared in a separate area to avoid cross-contamination.
Trial
Earlier this year, the chain trialed a vegan sandwich in a number of UK outlets.
Called the Imposter Burger, it featured a bespoke Quorn fillet, coated in the chain's Original Recipe herbs and spices, lettuce, and vegan mayo in a soft-glazed bun.
It launched on June 17 for a four-week trial, but sold-out after just four days, with sales 500 percent higher than a standard launch. KFC says it has since been 'bombarded with pleas to bring back the vegan burger and make it available nationwide'.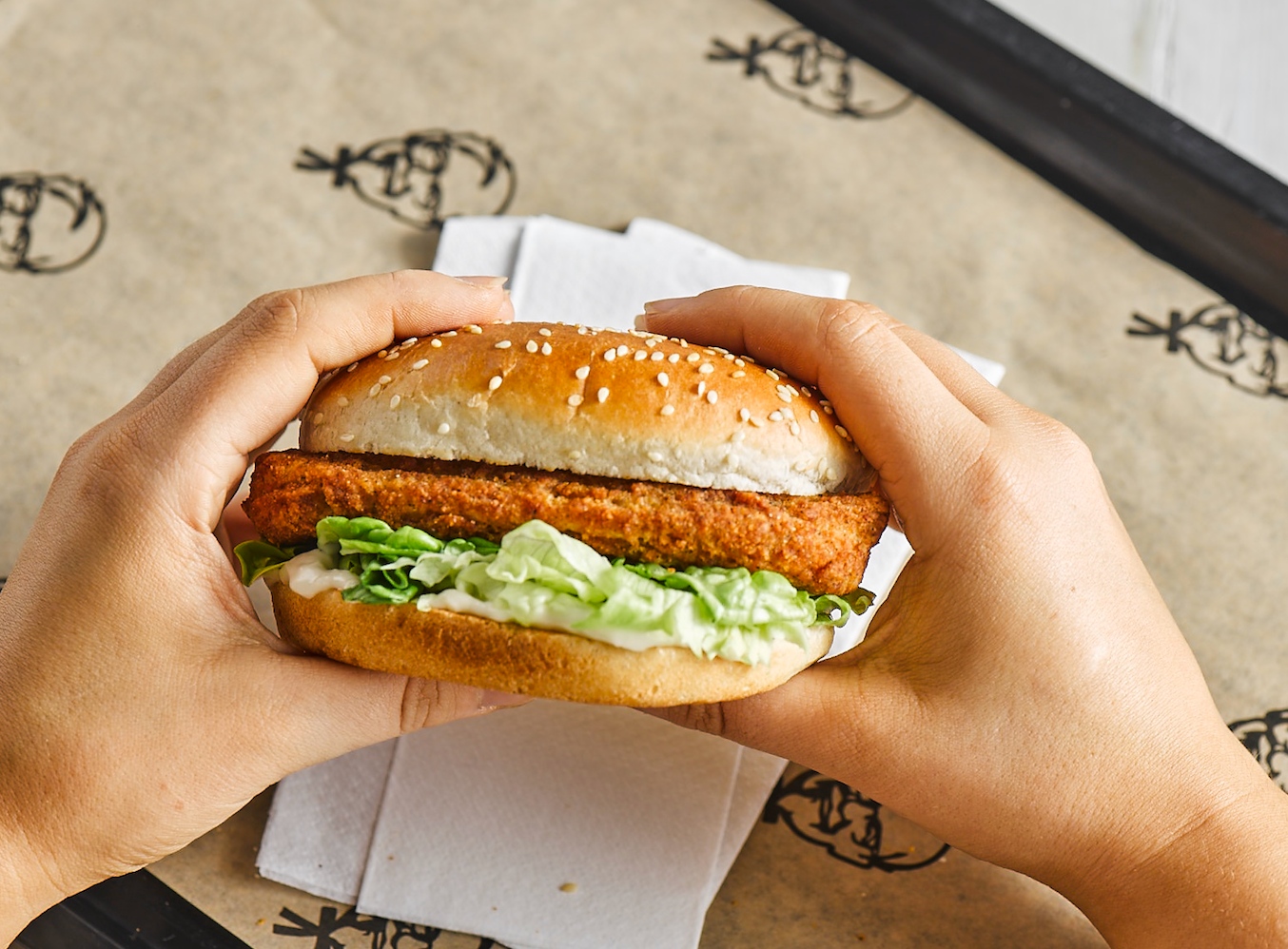 'The flavor of KFC with zero chicken'
In a statement sent to PBN, Ira Dubinsky, Innovation Director at KFC UK and Ireland said: "The Colonel was all about welcoming everyone to his table – now vegans, flexitarians and our fried chicken fans can all enjoy the taste of our Original Recipe together. We've worked hard to perfect the flavour and make a Vegan Burger the Colonel would be proud of. It's the flavour of KFC, just with zero chicken."
Tony Davison, Head of Global Foodservice & QSR at Quorn, added: "The chance to co-create exceptional food with an iconic brand like KFC is a pleasure, to see the results launched with such enthusiasm is fantastic. The result does the Colonel's recipe justice, truly transformational vegan food that KFC fans are going to love – a finger lickin' vegan favourite."
Dawn Carr, Director of Vegan Corporate Projects at PETA said: "We are delighted to have played a part in KFC's journey to bring quick, affordable, vegan options to a new audience. There is no doubt this vegan burger will be a huge hit with the skyrocketing numbers of vegans, vegetarians, and flexitarians around the UK. Clucking marvellous!"
New burger who dis?

Coming 2nd January 2020. pic.twitter.com/hgx8mycAt4

— KFC UK & Ireland (@KFC_UKI) December 28, 2019
57% of vegans won't eat KFC
While many vegans have voiced their excitement at the news, the sandwich is likely to divide opinion within the community.
A recent survey carried out by magazine Vegan Food & Living revealed that 57 percent of respondents 'would never eat at KFC, even if there were more vegan option'.
"You're still putting money into the coffers of company that makes its primary source of money off of the slaughter of a specific animal…this is just a marketing ploy," one social media user said talking about the chain releasing animal-free options.