Last week we wrote about the massive influx of misinformation around milk in the UK. The BBC posted an article with the headline "Dairy-free diets warning over risk to bone health". That article was apparently based on a press release from the National Osteoporosis Society. The press release triggered a tsunami of hyperbolic headlines around the world.
The BBC article makes unsubstantiated claims such as "Dairy products are the main source of calcium." Main according to what? It also stated, "Cow's milk is the best source" of calcium, but does not explain why it would be or back up that extreme claim with any scientific data. Because the BBC is such a trusted source of news, though, such an article can do lasting damage. However, this seems to rely on nothing more than the press release from the National Osteoporosis Society for such claims.
Yoplait, the biggest yogurt franchise brand, claims that it "is a proud partner and supporter of the National Osteoporosis Society." Given those facts, it is up to you to decide whether the National Osteoporosis Society can be objective about these claims.
Dr. Ginni Mansberg also was very pro-dairy in a "scare" report on Sunrise, yet she failed to back up her claims or mention that a podcast about her was sponsored by Australian Dairy. It seems like a puzzling choice to have someone who is sponsored by dairy to answer questions "objectively" about it. After all, in the interview, she seems to object to almond milk and make a claim for dairy superiority without explaining why.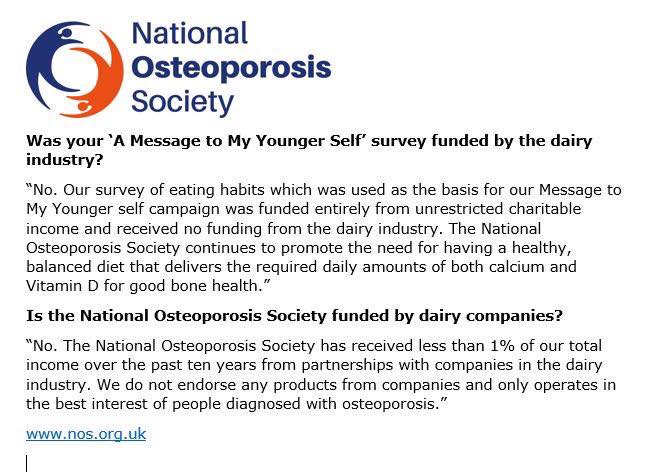 The scare tactics of some sites and shows aren't working. There are three and a half times more vegans in the UK than there were only a decade ago, and it's quickly growing in Australia, too. Given the fact that veganism is growing by leaps and bounds, there may be more of a push back from the dairy industry around the world. In the United States, dairy farmers protested the use of the word "milk" on soy milk and other non-dairy milks. However, the term "soymilk" has been used for over a hundred years.
So, what are some real facts on dairy? Well, for starters, more than half of humans on the planet are lactose intolerant. Since there are healthier options with more nutrients and less fat than dairy products, why wouldn't they be preferable and recommended by health professionals?
The Vegan Society responded to the BBC story, stating that people have been enjoying the benefits of a vegan diet for over 70 years. They also explained, "Any diet, vegan or non-vegan, could be lacking in nutrients if they are not adequately planned. It is the position of the British Dietetics Association, the largest association of food and nutrition professionals in the UK, that 'well-planned plant-based, vegan-friendly diets can be devised to support healthy living at every age and life-stage'."
It's been established for years that dairy is not necessary for health at any point in a person's life. Dr. Walter Willett, the Harvard University expert on nutrition, spoke to the National Post in 2014 to say, consuming dairy milk is not essential for human health. He stated, "There has been this general belief that we need to consume a lot of milk because that will prevent osteoporosis and fractures. Yet studies that have looked at milk and dairy consumption do not show that people who drink more cow's milk have lower fracture risk."
Numerous foods are high in calcium and devoid of any dairy. According to the guide to calcium-rich foods provided on the official website for National Osteoporosis Foundation, it's clear that there are plenty of non-dairy sources of calcium that are healthier than dairy products.
Prevention, the popular health magazine, even published a list of 10 calcium-rich (yet dairy-free) foods. Included on the list were kale, almonds, sesame seeds, and tofu. Okra, collard greens, oranges, and figs are also rich in calcium. Calcium-fortified orange juice and soy milk as well as fortified breads and cereals are easy ways to get plenty of calcium without resorting to dairy products. Viva! Also has a chart of calcium rich foods if you want a handy guide to keep on hand.
The next time you see a sensational headline stating some exaggeration or complete lie about the role that dairy plays in human health, don't stop your research with that one article. Make an effort to be skeptical about the news you consume. Don't be afraid to go to original sources and judge for yourself whether reports are objective.