A YouTuber has warned that public interest in the vegan movement in North America is declining – and not increasing as many people assume.
Eisel Mazard, mostly known by vegans for his youtube channel, à-bas-le-ciel, where he often comments on (and complains about) recent events in vegan activism, put his background in social science research to work, looking at what he describes as 'the math behind veganism's decline in recent years'.
Mazard, also an author and editor, put his research into a recent video titled Veganism Declined by 50% in Two Years: A Warning for the Movement. In it, he cites metrics including waning Google searches for veganism and declining interest in vegan YouTubers. Since the release of his video, further analysis of more than 1,100 vegan YouTube channels showed a decline in viewers which Mazard describes as 'so massive, for the whole genre, that the success of just a few channels does not seem to be a significant exception to the trend'.
Metrics
Discussing the use value of these metrics with Plant Based News, he described a three-step process marking people's move into veganism. This starts with interest, followed by research, followed by a small minority of these people getting involved in activism.
"It's true the metrics we are looking at here are only looking at that first step, however, it's also out of that broader public interest that you get donor support for the movement and so forth," he added.
"Declining public interest is not the same as the decline of the movement, however I think you have to sound the alarm when you're looking at several years of decline in interest."
He also points out that just five years ago, everyone was using the same metrics to suggest that interest in veganism was surging. "That led us into a sense of reckless optimism about where social media would take us – which is why I think it's so meaningful to reflect right now. Where is social media taking us?"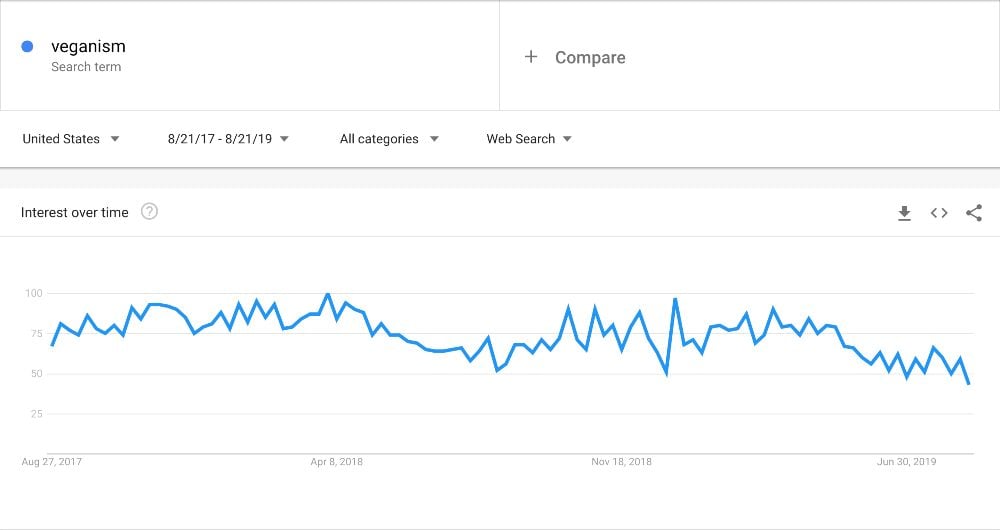 The commercial vegan sector
Mazard believes people see the burgeoning plant-based food sector as evidence that the vegan movement itself is growing – but he says this is not the case.
If one is to make a correlation between the growth of veganism and the growth of the plant-based food sector, the data is promising. Figures released last month by the Plant Based Foods Association show that retail sales of plant-based foods have grown 11 percent in the US over the past year. The total plant-based market's value is $4.5 billion, with growth outpacing growth of non-vegan food sales.
'Flexitarians'
But how meaningful is the connection? There are multiple polls which suggest that the number of self-identified flexitarians is growing across English speaking countries. Research released last October by OnePoll in collaboration with So Delicious Dairy Free, says around a third of Americans identify as such.
According to the poll, these people choose occasional plant-based meals as it gives them the 'ability to eat healthier without feeling like they are depriving themselves of the foods that they love'. In other words, non-vegans play a major factor in the growth of the sector.
While this is great news for companies producing plant-based food products, does it have any meaningful impact when it comes to progressing the ethical and political vegan movement?
Mazard thinks not.
'Misleading'
"That commercial aspect – it's not that it's bad," he said. "It's just that it's misleading."
He says the majority of vegan restaurants are making money selling vegan food to meat-eaters. "That's not evil. The vast majority of Chinese people eat tofu several times per week. They also eat pork several times per week.
"So it's very misleading to point to tofu sales and say people are buying more tofu, and conclude that more people are ethical vegans, or even that more people are non-ethical vegans but have some mandate to support a vegan world."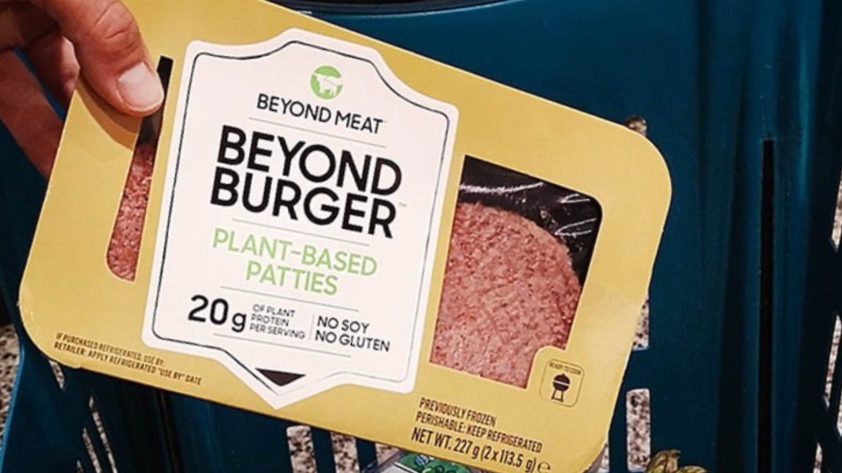 Food versus politics
He added: "My concern is this: in what way are the people who are eating a vegan diet supporting vegan activism or the future of the movement?
"I'm living in the most extreme example possible, where vegan restaurants are everywhere, vegan food products are everywhere, they literally have vegan beef jerky at 7-11. But the vegan movement is nowhere.
"Veganism has just settled into the culture and economy as a type of restaurant – and a type of diet. Some of these people are ethical vegans, but they are still not pushing for social change or trying to end the slaughter of animals. If you're not working towards that – we can have all the products for sale that you want – we're still not moving forward."
A new wave of veganism
Despite these concerns, Mazard remains very optimistic for the future of the movement, saying he sees this period as one of flux and change, and anticipates a 'new wave', or new chapter of veganism opening up.
"I think the next step is going to be challenging education," he said. "And children's entertainment. The challenge to education is going to be vegans challenging what's in textbooks in schools, everything from health to how the slaughter of animals is depicted, various things that have to do with ecology and so on, a whole range of things that will be challenged in school curricula. This is obviously a more hostile process of negotiations and objections.
"Then I think there's going to be a more positive and creative element of vegans having to create new story books, movies, comic books and cartoons, and trying to challenge the culture that way. I think that's the next step."