In what is believed to be a world-first, a major medical insurance company in Europe from today will roll out an advanced plant-based protocol as a treatment for type 2 diabetes.
Health giant Dovera – one of three national insurance companies operating in Slovakia and responsible for around 72,000 type 2 diabetes patients – has formed a major partnership with the NFI Protocol, Plant Based News can exclusively reveal.
The NFI Protocol
The Natural Food Interaction (NFI) Protocol is a personalized whole-food plant-based diet plan founded by businessman David Hickman and biomedical scientist Zuzana Plevova. It is specifically tailored to individuals based on height, weight, age, sex, medication and associated diagnoses.
The protocol was first tested on patients in Europe in 2018 via pilot studies. The results were so impressive that, when presented to Professor Martinka, PhD, an acclaimed diabetes researcher and head of the National Institute of Endocrinology and Diabetes in Slovakia, he jumped at the opportunity to conduct larger studies.
Results
There have already been a number of peer-reviewed medical publications exploring the effects of the NFI Protocol on type 2 diabetic patients, including two in Czech journal 'Kazuistiky V Diabetologii' and one in Slovak journal 'Diabetik Forum'.
The groundbreaking 'Diabetik Forum' study showed that 84 percent of type 2 diabetes patients came off medication after following the NFI Protocol. The results were authored by a number of leading diabetes academics, including prof. MUDr. Ivan Tká?, PhD, who leads all medical departments in Slovakia; prof. MUDr. Marián Moká?, DrSc., FRCP Edin, who is in charge of all diabetic doctors; and prof. MUDr. Peter Galajda, CSc – head of diabetes research, among others.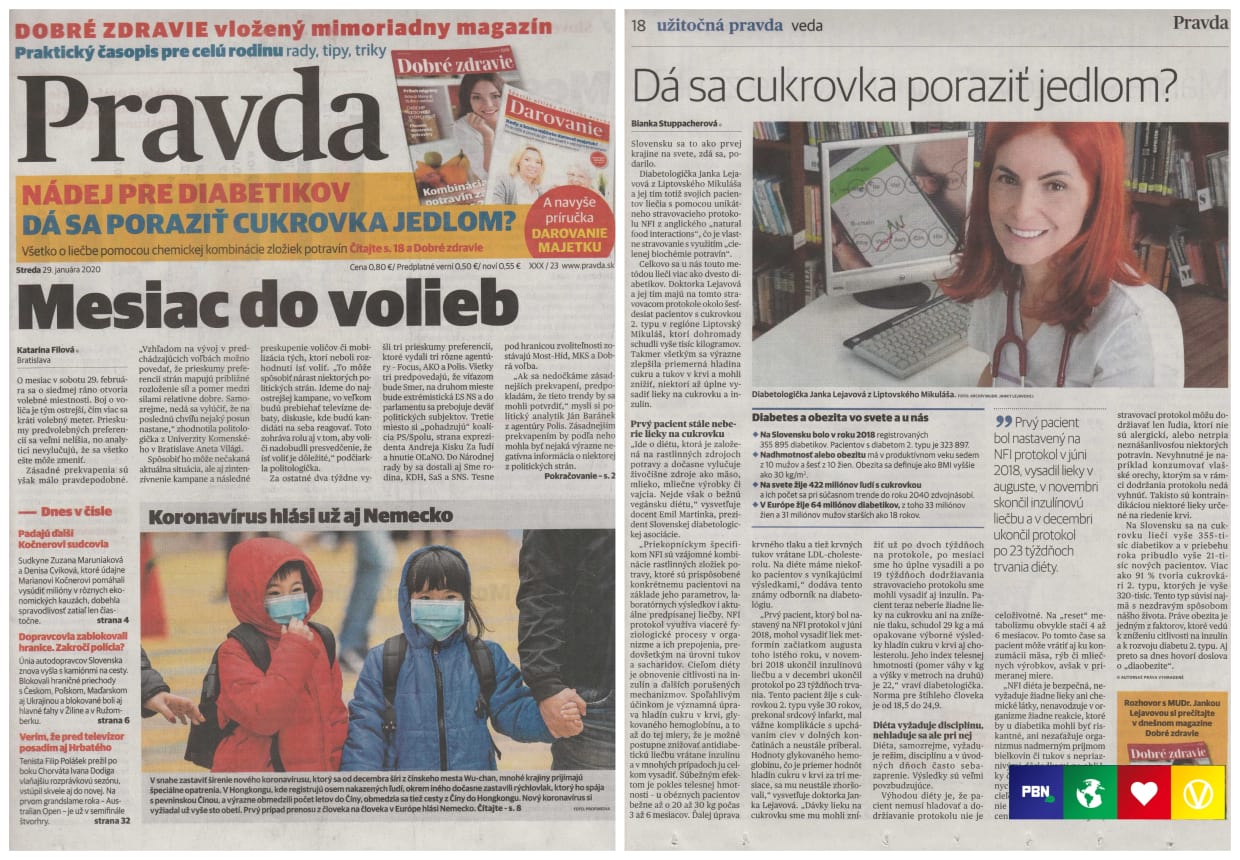 "There have been nearly 1,000 type 2 diabetes patients in Slovakia that have tried the NFI Protocol. The remission rate for patients who complete the 22 week protocol is over 80 percent, and around 40 percent who stop after eight weeks," NFI Founder David Hickman told Plant Based News.
"We're focusing on Slovakia because that is where we received initial interest and now traction. But our chief medical officer Dr. Janka Lejavova, MD is working with Professor Martinka on a publication that will go out in English speaking journals. And we're already in talks with health providers and insurance companies elsewhere to conduct further trials."
You can watch a number of testimonials here – as well as access a 10% discount for NFI plans which are available to purchase online.
The recent roll out by health insurance company Dovera is part of an Ethics Committee-approved national clinical study called 'EAT NFI', which aims to trial the NFI Protocol on up to 25,000 type 2 diabetic patients.