George Cheyne wanted to lose weight. As was the case for many doctors in the early years of the 18th century, Cheyne was a huge proponent of 'good living' and was a resident of many a tavern.
Indulging in copious quantities of alcohol and rich (code for fatty, oily or sweet) foods, he became assailed by intermittent fevers, shortness of breath, and any number of painful disorders that led him to change his habits and publish An Essay of Health and Long Life in 1724.
Weight loss
A pioneer of 'the self-help' genre, Cheyne's work was based on the experience and a observation of his 'own crazy carcase', and was a bestseller, paving the way for a slew of publications promising weight loss and good health through diet, including William Banting's Letter on Corpulence, Addressed to the Public in 1863, and Lulu Hunt Peters' 1918 smash-hit Diet and Health: With Key to the Calories.
We can trace a bright line from these early pioneers through to intermittent fasting, clean eating, ketogenic, and low-carb regimes—the most popular diet choices for those looking to lose weight today.
Despite being a relatively recent concern, weight loss remains an enormous preoccupation amongst millions worldwide1 to this day, with four in 10 adults attempting to lose weight, and 2 in 10 trying to maintain their weight every year.
Weight loss diets
Since the time of Dr Cheyne, over 1,000 weight loss diets have been published, with more appearing seemingly every day and being endlessly promoted online. Around two-thirds of dieters gain more weight4 than they initially lose, and the fact that so many weight loss regimens are still out there should be a clue that no one diet can claim to have been universally successful at inducing and maintaining weight loss.
Against this background, an expert team in Switzerland set out on a mission to create, from scratch, a healthy, complete food for natural weight loss based solely on pure plants. Across eight years of painstaking research and the analysis of an astonishing 15,000 food items and two million data points, the result was LeanFood Tabs. An all-in-one-superfood concentrate, LeanFood Tabs contain all essential nutrients and can be used as a 100% food substitute.
The groundbreaking product has already amassed over 150,000 customers across Europe, and is now coming to the UK for the first time as a programme of reduced-calorie whole food for a weight-controlling diet, the Tabs are a low-weight, low-water, optimal nutrition system that helps regulate the supply of energy while offering complete nutrition at maximum density.
Nutrients
Containing nutrients at their full recommended daily allowance alongside optimal ratios of protein, carbohydrates and fat, LeanFood Tabs claim to be the most nutrient-dense and sustainable whole food ever made, designed to keep the body functioning at its highest level at under 1200 calories per day.
While caloric restriction usually goes hand in hand with nutritional constraints, a unique process developed by the LeanFoods team retains all the essential daily nutrients in significant quantities while saving up to 90% of the volume by removing water.
The raw materials used are 100% plant-based, with no additives or allergens that require labelling. The Tabs contain little salt, almost no fructose, and are loaded with phytonutrients—compounds produced by plants that come loaded with antioxidant and anti-inflammatory properties that help support healthy bodies and good immune health.
LeanFood Tabs can be enjoyed as a five-day program, or even as a single meal replacer for busy days. They can be eaten alone or alongside other food.
Coming in original, dark choc and white choc varieties, as well as strawberry and cassis (both with dark and white choc versions), the 25g Tabs are slightly sweet, gently granulated for optimal nutrient absorption, and coated with the finest vegan chocolate from Switzerland to boot.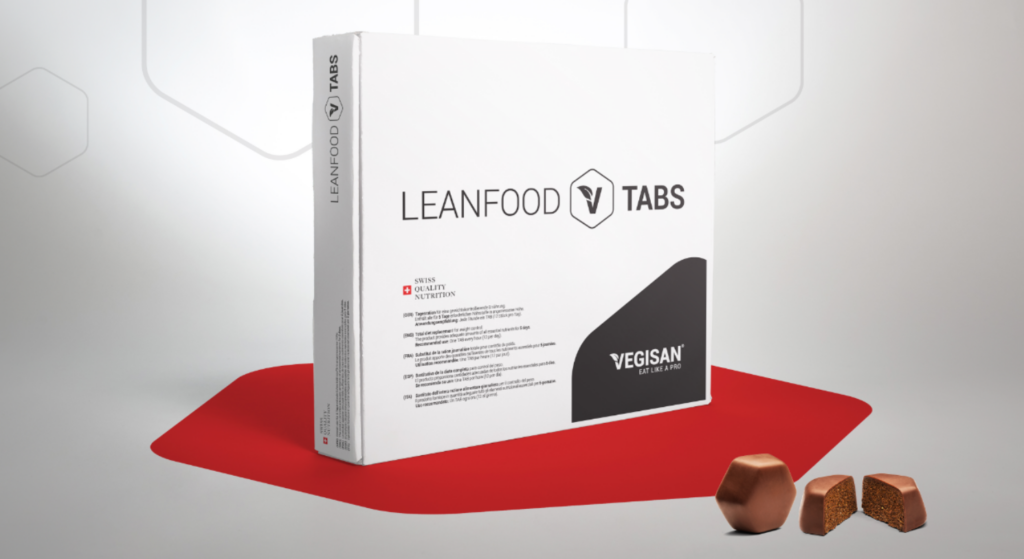 Tabs
The program uses 12 Tabs daily to make up the complete diet for the day. Each Tab is composed of purely vegetable raw materials and guaranteed to be less than 100 calories, and containing up to 10 grams of complex carbohydrates alongside high protein content and the full complement of amino acids.
Integrating effortlessly into most popular diet types, all users need to do to reap the benefits is enjoy one Tab every hour for 12 hours with a glass of water. At only 1000 to 1200 calories a day, the programme still provides all of the recommended daily allowances for micro and macronutrients, including protein.
Short cuts and quick-fix diets abound, yet as the only truly natural whole food weight loss system approved by the European Union, LeanFood Tabs confidently offer optimal nutrition, ease of use and guaranteed results in just five days, as well as a growing—and glowing—raft of testimonials from satisfied customers.
'So impressive'
"I was sceptical and convinced that a few cubes of compressed plants could not possibly give me sufficient energy for a day's work," reflects LeanFood user Andrew Storey, who used the Lean-Food Tabs programme and lost over 8kg.
"My weight loss was so impressive that after three 5 Day LeanFood challenges and adopting a healthier lifestyle, I lost just over three stone. My BMI is healthy too, the only negative in all of this was that most of my shirts and trousers had to go to the charity shop!"
Lyanne B is similarly ecstatic with the results. " The first afternoon I craved a dinner but not feeling hungry helped with this. I'm so happy I fully completed the challenge and saw the positive changes. I'm now 1 kg under my pre-pregnancy weight." Feeling great throughout, particularly loving the ease of use of the LeanFoods Tabs, Lyanne is now a massive advocate for the programme and has been spreading the word to her family and friends.

Complete nutrition
LeanFood Tabs are a complete and ready-to-eat nutritional system which limits sugar intake, distributes nutrients throughout the day, and meets the requirements of over 180 scientifically-proven health-related claims—all of which are tightly regulated by the European Food Safety Authority.
The five-day programme comes in at around £20 per day, offering total freedom and independence, with no need to go out, or spend hours daily prepping and cooking a proper whole food balanced diet. While anyone can save on nutrition today by eating cheaper, the price will be paid later—poor diets increase risk of illness, and reduce quality of life, having a significant impact on personal health with considerable costs to public health services and the individual too.
Designed to save time and money on meal plans and help avoid unnecessary grocery shopping—a not-inconsiderable concern as the COVID-19 pandemic continues to rage across the world—the programme also eschews the need for calorie-counting and expensive nutrition professionals.
'Safe and healthy'
Uniquely in an ever-crowded market of food substitutes and supplements, the LeanFood Tabs programme does not claim to be a replacement for a healthy diet and lifestyle. Instead, a safe and healthy plant-based weight reduction system is offered that is easy to use, and—critically in an age that sees multiple pressures on our time and energy—practical and straightforward.
"In our ever-increasingly busy daily lives, it can be hard to stay on top of eating right, especially if you want to lose some weight." said Robbie Lockie, director and co-founder of Plant Based News, "I tend to snack a lot, and I found myself being able to go without the odd cheeky snack. It was easy to follow the program, and I enjoyed the taste and had a great experience."
Delivering full nutrition, reducing the mental effort needed to get the desired health results, LeanTabs offer a natural and great-tasting solution for individuals seeking to quickly and safely reach their target weight with no loss of energy, nutrients or performance.
With 87 percent of people who try LeanFood Tabs becoming permanent users and 92 percent reaching their target weight easily, the programme fulfils the dreams of those early dietary pioneers, and is sure to see new users across the UK joining the ranks of those deeply satisfied with the results they achieved, enjoying the fruits of a company squarely focussed on people, health and environment, and a team committed to delivering an ever-better product based on the latest nutritional science.
Giveaway
To be in for the chance of winning a week's worth of LeanFood Tabs, enter our giveaway.
10 winners will be selected at random to try the 5-day meal replacement tabs worth £99.
You can enter the giveaway here
If you can't wait for the giveaway, grab £5 off the first box after you register your account here
To get started on the LeanFood Tabs program check out their website here.
*Plant Based News provides a free news and media services to millions of people around the world on a daily basis. This requires a lot of time and money to maintain. Occasionally we promote carefully chosen products and services we have personally tried ourselves and would be happy to recommend to our friends and family members. When you purchase though the links in this article this helps keep Plant Based News running. Thank you for your support.
References: