Plant-based dairy company Oatly is giving away 125 free coffees every day until November 19 in selected locations.
Coffee lovers can plump for either a cappuccino or latte at five locations across London.
The locations include three Change Please outlets, as well as London Grind and Palm Vaults (see bottom of article).
Palm Vaults customers can also pick up Toffee Spiced Apple Lattes at Palm Vaults in Hackney.
Find coffee
If you're not near any of these cafes, but want to buy a coffee made with Oatly, the brand has launched a location finder.
A spokesperson said: "At this moment, you're probably closer than you think to an amazing oat latte or cortadoat, but you'll never know unless you have the one tool on the planet with the power to show you the nearest Oatly-serving cafes.
"Because what if, at this same moment, someone is happily sipping the cortadoat you were meant to order if only you had known where to find it?
"Before we get into any free will vs. destiny territory here, maybe just checkout Oatfinder."
You cantry out the location finder here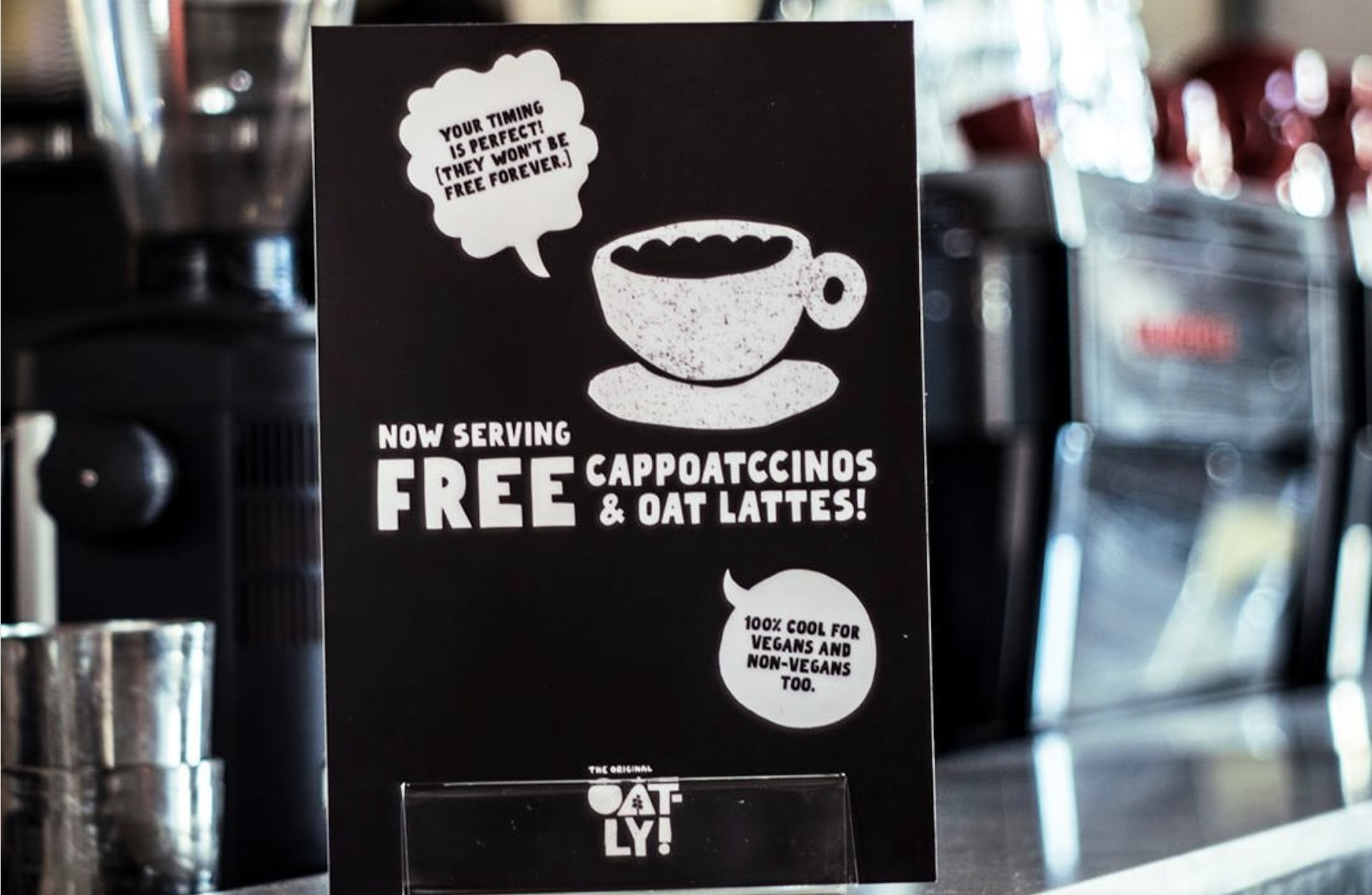 Locations for coffee giveaway
London Grind, 2 London Bridge, London SE1 9RA
Palm Vaults, 411 Mare St, E8 1HY
Change Please, St Thomas Street SE1 2SG
Change Please, Shard, SE1 9SG
Change Please, Borough Market, SE1 9AH
READ MORE:
School Denies Family's Request To Serve Vegan Food To 4-Year-Old – And Gives Him Meat
Badgers Are The Fogotten Victims Of The Dairy Industry: And They Are Being Cruelly Slaughtered
Vegan Experts Slam Camel Milk Trend As 'Unnatural' And 'Cruel'