The restaurant chain Wagamama has vowed to cut meat from its menus by 50 percent within the year, despite a large proportion of its 150 restaurants now facing the strictest of COVID-19 restrictions in the UK.
The news comes as the restaurant, which serves asian cuisine, unveils its new vegan menu in line with Veganuary, the month-long pledge to adopt a vegan lifestyle.
New vegan menu
Launching on Tuesday, January 5, the menu will include Wagamama vegan chili squid, sticky ribs, and No Duck Donburi.
The Vegan Sticky Ribs are made from mushroom and soya protein and the No-Duck Donburi is made using shredded seitan and shiitake mushrooms coated in a cherry hoisin sauce.
The company hopes by introducing plant-based versions of cult dishes Chili Squid, Firecracker Curry, and Grilled Duck Donburi, they can entice even the most stubborn of meat-eaters. The launch is part of its 'small choices, big change' campaign in response to the growing climate crisis.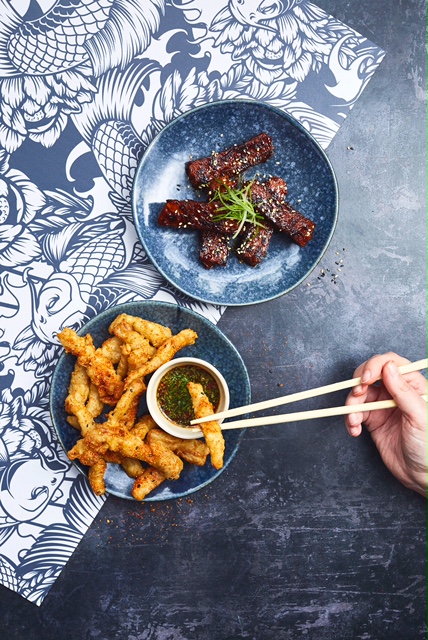 'Better our planet'
Emma Woods, Wagamama CEO, said in a statement: "We believe that vegan choices should be so delicious that everyone should want to include in their lives, whether a strict vegan or someone who has never thought of themselves as a vegan before.
"As COVID-19 causes us all to press pause on so many things, let's make sure we fast forward the small decisions which can better our planet".
'A big step'
Toni Vernelli, of Veganuary, is 'thrilled' at Wagamama's decision to half meat offerings on menus by 2021 and says it is a 'big step' in making veganism available to the masses.
Toni added: "Every year Wagamama has consistently made it easier to persuade people to try vegan food by introducing great-tasting, high-quality vegan dishes to their menu.
"This new menu clearly embraces the opportunity to create vegan versions of fan favorites, while also introducing guests to new innovative plant-based options. It will appeal to non-vegans and vegans alike, and we can't wait to try it."
Wagamama's vegan offerings
It has been three years since the chain introduced its vegan Katsu curry, the Vegatsu, and since then the eatery has launched a plant-based tuna made from watermelon.
The company later introduced a collaboration with renowned vegan chef Gaz Oakley to launch a vegan dish featuring a miso egg.