The most romantic day of the year is fast approaching, so here's your guide for a vegan Valentine's day.
Whether you want to cook from scratch, or just head to the supermarket, there are plenty of vegan Valentine's Day meals available.
6 Vegan Valentine's Day meals you can buy 
So without further ado, here are six supermarkets you should check out.
Unfortunately, these are supermarkets in the UK. But, scroll down to check out some recipes you can make in your kitchen – wherever you are in the world.
Marks and Spencer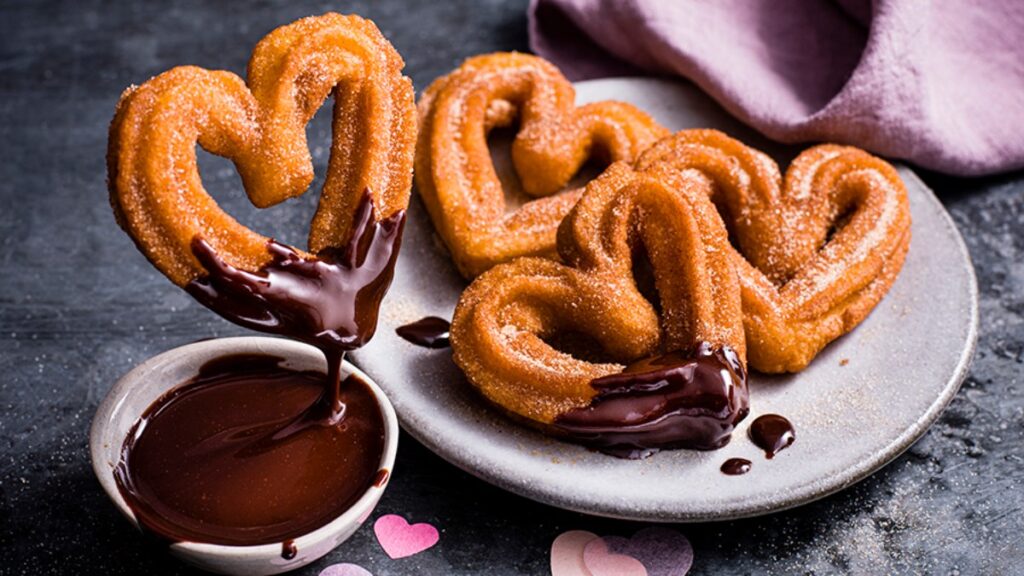 Marks and Spencer's Plant Kitchen dine-in deal includes a starter, main, dessert, side, and drink for £20.
The range includes a shittake mushroom paté for starter, followed by a No-Beef Creamy Peppercorn Pie for main. Made from pea protein, the pie is complete with a cracked black pepper heart shape on top.
The chosen side dish is a Potato Dauphinoise. To finish, the range offers heart-shaped churros for dessert with a rich vegan chocolate sauce.
In addition, vegan-friendly prosecco is also available, as well as a selection of soft drinks such as Elderflower Pressé and Mango Pressé.
Tesco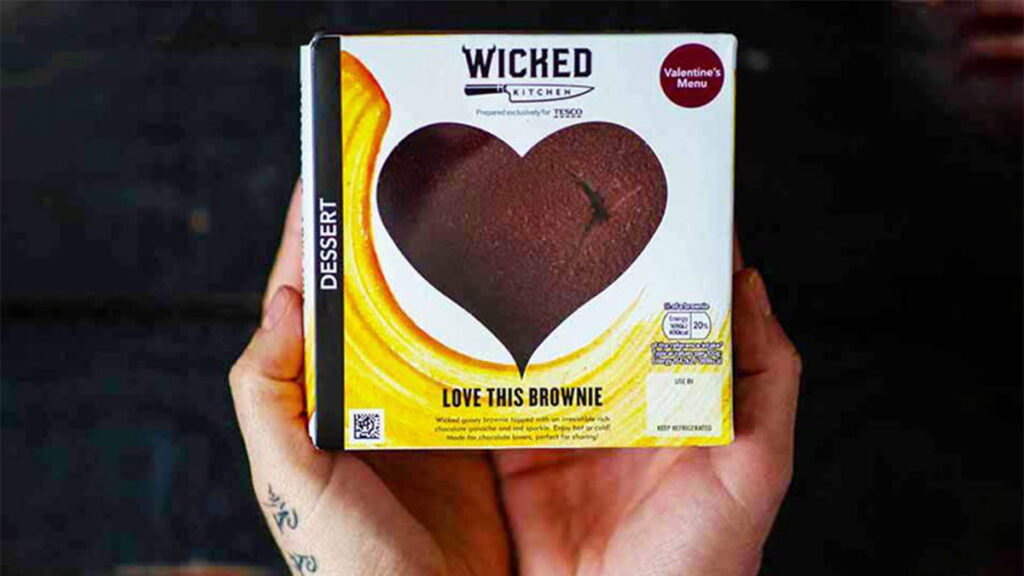 Tesco's Wicked Kitchen has created a vegan meal deal for two people for just £15.
Customers can gorge on crispy garlic mushrooms with smokey ketchup for starters, King Mushroom Medallions with Chili and Lime Noodles for main, and a heart-shaped brownie for dessert.
Moreover, customers can choose between Prosecco, Malbec, Pinot Grigio, or Pinot Grigio Blush.
Tesco's vegan Valentine's Meal Deal is available from February 8-14.
Co-Op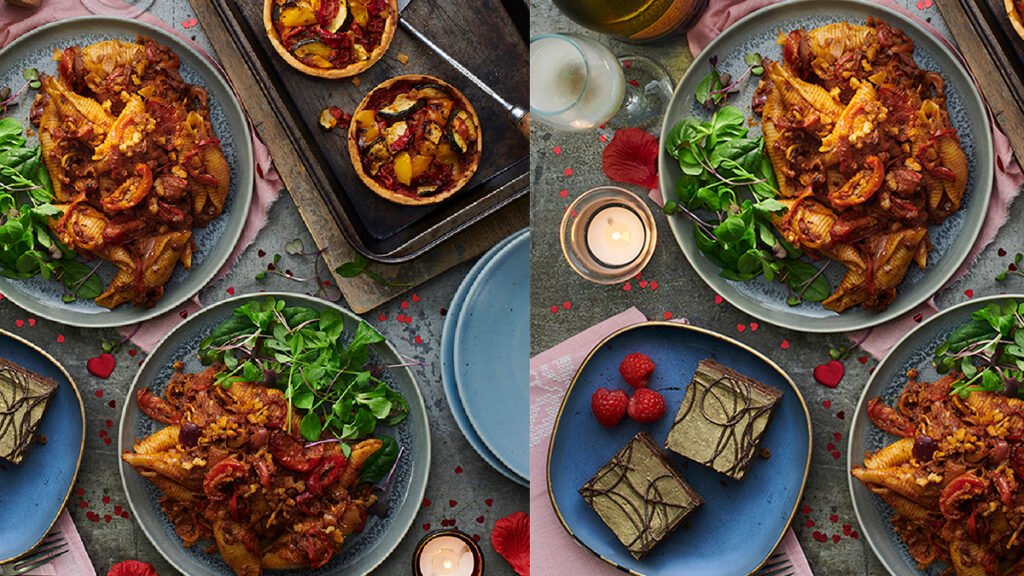 The Co-Op is also offering a £15 vegan Valentine's meal deal this year.
It features a tomato and vegetable tart for starters, a Mediterranean Vegetable Pasta Bake for mains and a Dark Chocolate and Cherry Brownie for dessert.
Sides include thick-cut chunky chips and a Pea Shoot and China Rose Salad.
Prosecco and red wine are available for drinks. However, customers can opt for soft drinks such as Coke.
Co-Op's vegan Valentine's Day meal deal is available from February 10-16.
Asda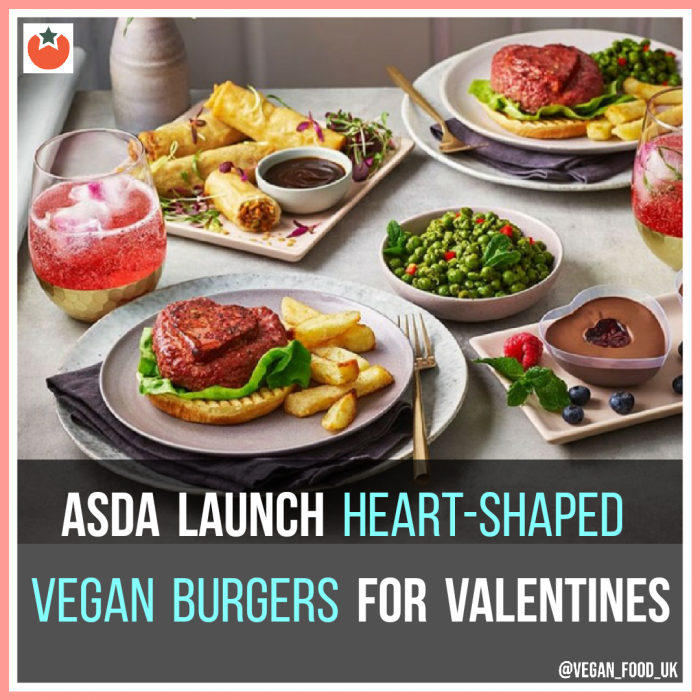 Supermarket giant Asda is quickly expanding its vegan options – and is even trialing a vegan butchers couter.
For Valentine's Day, Asda is offering its duck-free spring rolls for starters – which come with a Hoisin dip.
Its 'Melt my Heart Vegan Burgers' are available for the main course, and dessert is another heart-shaped treat: Ganache Hearts with a Raspberry Centre.
Asda's vegan Valentine's Day deal is available from February 4. 
Aldi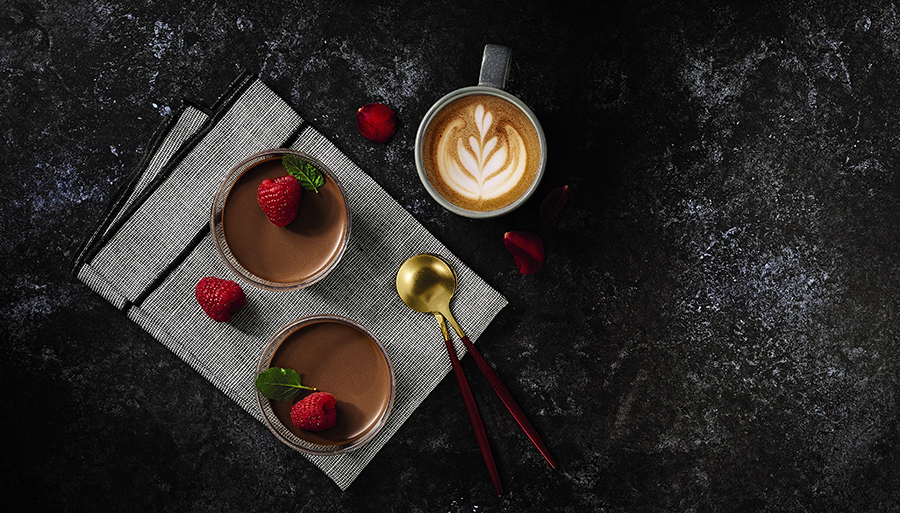 Affordable retailer Aldi has gone all out this Valentine's day.
For starters, choose from Green Olive Breadsticks with an Aubergine Dip or Half a Dozen Thai Vegetable Red Roses.
Customers can opt for meat-free Kievs or a vegan beef Bourguignon Pie for mains.
And for dessert, why not treat yourself to some chocolate pots?
Morrissons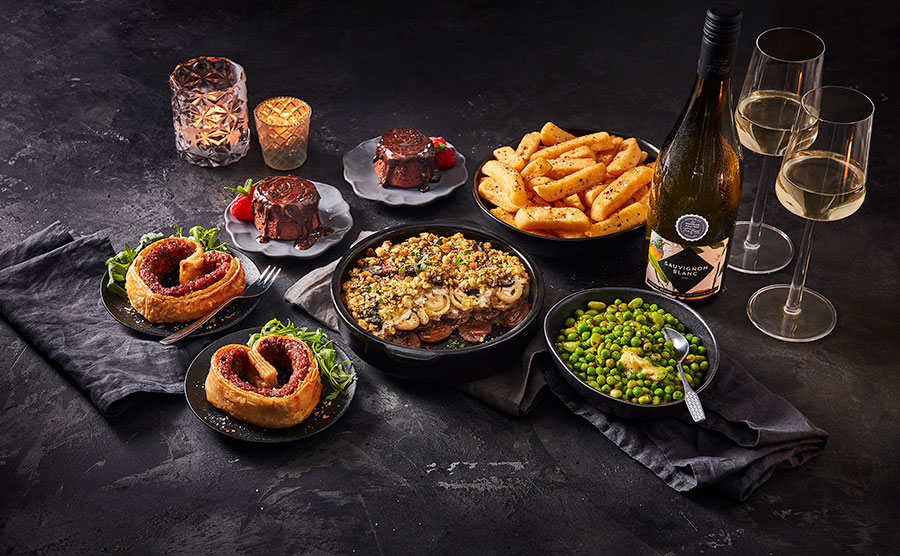 Heart-shaped Chorizo Palmier? Yes, please…
For mains, Morrissons is launching a vegan Mushroom and Leek Pasta Bake. It features veg including garden peas and edamame.
Chocolate Brownies are the only way to end the night – and Morrisons' vegan version cost only £2.50 for a twin pack.
Customers can opt for an array of wines and vegan-friendly prosecco.
Morrison's vegan meal deal is available from February 10-14.
Vegan Valentine's Day Recipes
For those a little more confident in the kitchen. Here's a three-course vegan meal for you to try.
If none of these take your fancy, check out PBN Recipes for more foodie-inspiration.
Cheerful Vegan Nachos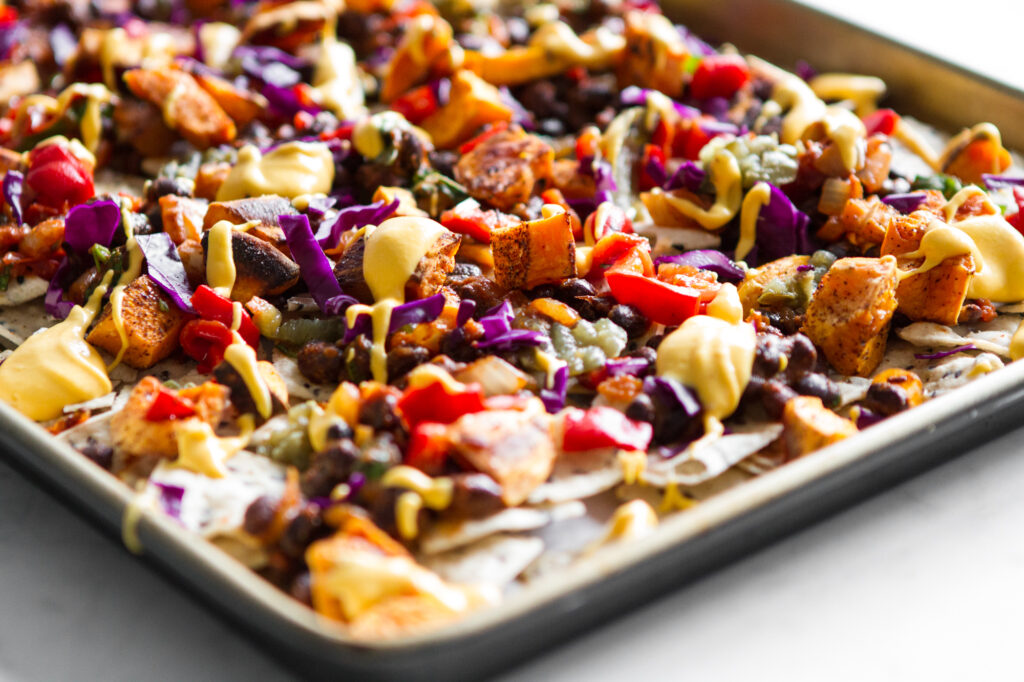 What could be more romantic than snuggling with your loved one and sharing a platter of delicious food?
These nachos are smothered in cool avocado, robust green onions, and flavorful pickled jalapeños – the perfect date night plate.
You can find the full recipe here
Vegan Truffle Mac & Cheese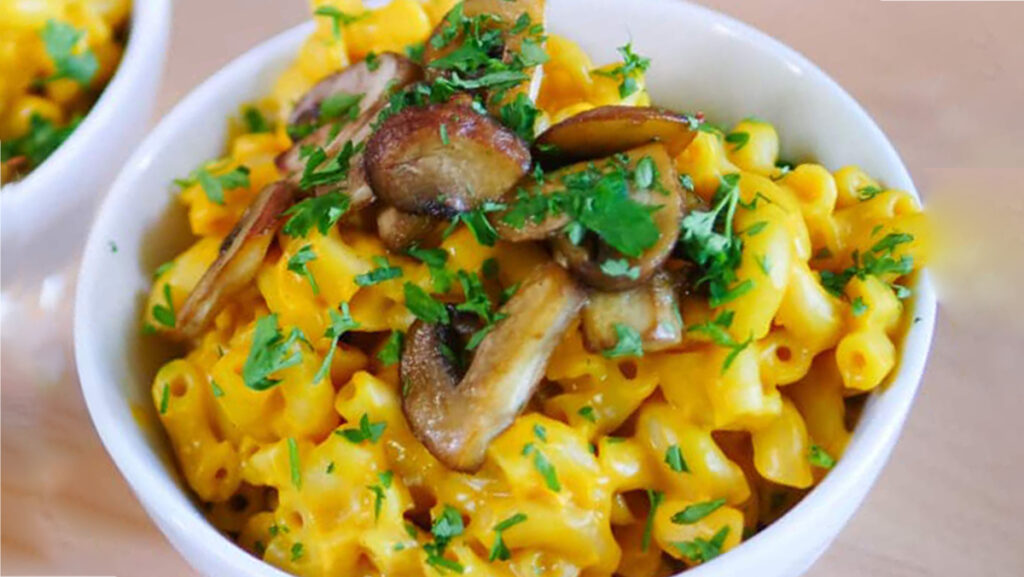 Gooey and shareable, with the sophisticated flavor of truffle, this dish makes a perfect Valentine's Day meal.
Even better than that, despite how fancy it sounds, according to The Edgy Veg, it's an easy meal to put together.
You can find the recipe here
Vegan Strawberry Shortcake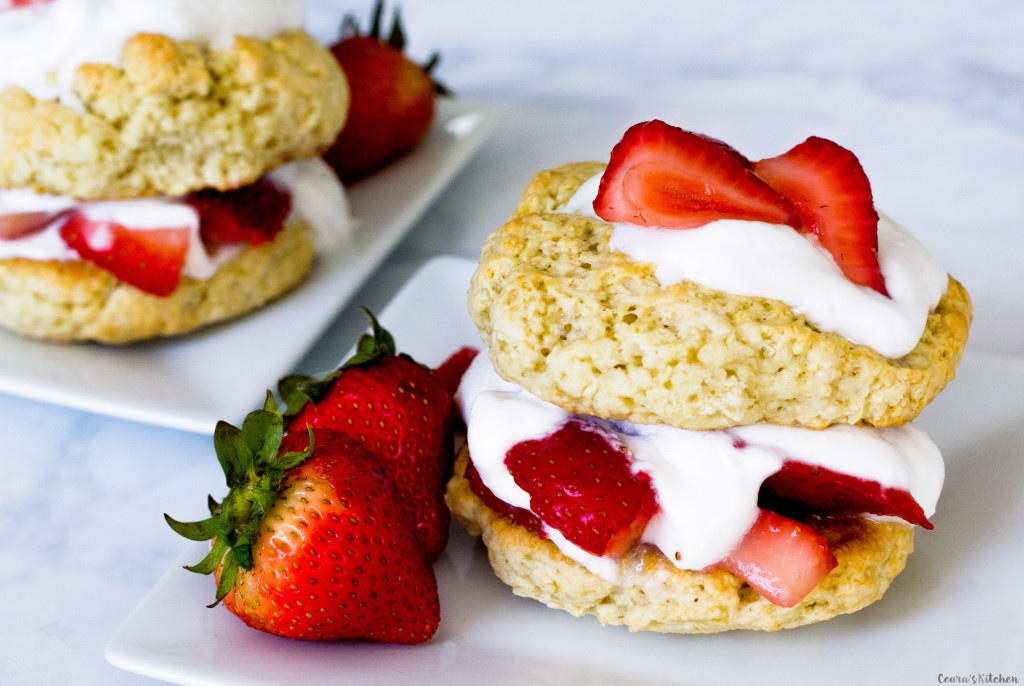 This delicious recipe is easier to make than it looks – with just five recipes. It combines the crispy, sweet biscuit with plump refreshing strawberries and rich coconut cream. 
Perfect as a dessert, with an afternoon tea, or simply enjoyed with a cuppa.
You can find the recipe here