A staggering number of Brits will be eating vegan Christmas recipes this year, according to recent polling.
A poll of 2,000 participants by cheese giant Applewood found 20 percent of Brits are planning a fully vegan Christmas meal this year – even if they're catering for just one vegan.
Vegan Christmas recipes
In a statement sent to Plant Based News, Lisa Harrison, Senior Brand Manager for Applewood Vegan and Mexicana Vegan, said the demand for its vegan cheeses is an 'indication of how popular a vegan lifestyle is now'.
"Research shows that vegans and vegetarians look set to make up a quarter of the British population in 2025, and eating a vegan diet could be the 'single biggest way' to reduce our environmental impact on Earth," she said.
"But, we were surprised by our survey results that show people are increasingly willing to forgo their traditional Christmas foodie treats for healthier alternatives even when it makes cooking vegan for the whole family."
With this in mind, we have compiled a list of five vegan Christmas dishes that even the most committed of meat-eaters will love.
1. Vegan Roast Chicken
This dish created by School Night Vegan (see image above) is sure to blow everyone away. It's a impressive centerpiece for any festive table.
The recipe not only looks like traditional chicken, but has a meaty, hearty taste and texture that will make for a satisfying meal.
2. Chestnut & Sage Stuffed, Roasted Cauliflower With Cashew Nuggets
This recipe was created by upmarket retailer Waitrose, and offers a tasty option for those who prefer to avoid meat alternatives.
According to Waitrose: "The idea of this may seem a little strange, but the result is wonderful! The crispy outside of the cauliflower contrasts with the juicy flesh, and the caramelised pesto filling is magnificent."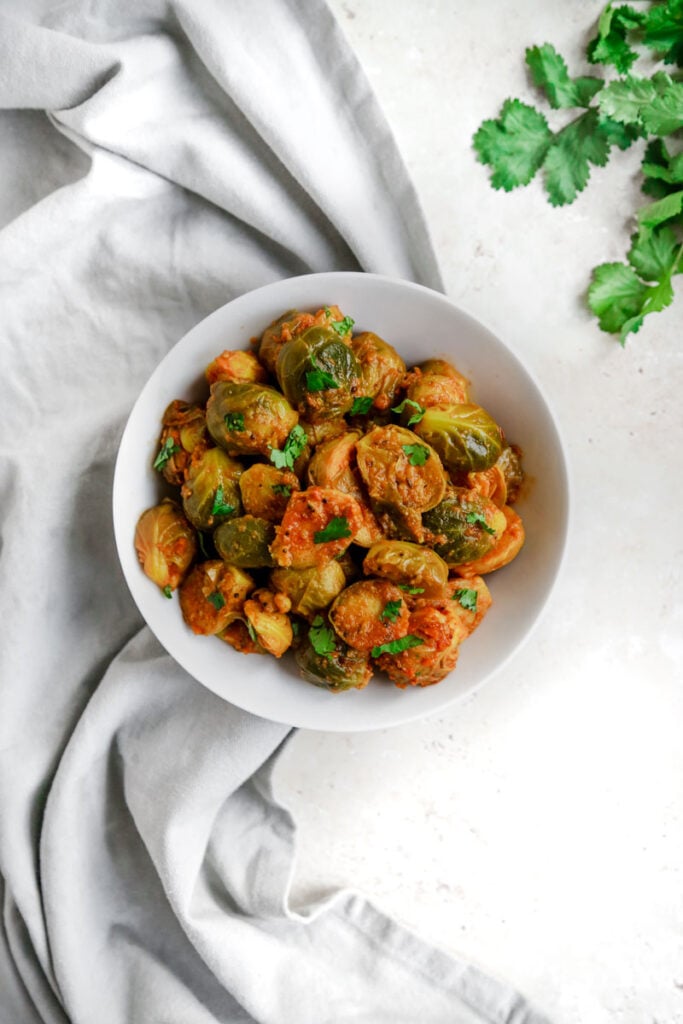 3. Curried Brussels Sprouts
While sprouts may be unpopular with some people, with the right seasoning and the cooking technique, they make a delicious side dish for vegans, meat-eaters, and everyone inbetween.
This recipe – created by Cooking With Parita – is 'perfect to spice up the holiday season'. And, it takes less than 30 minutes to make.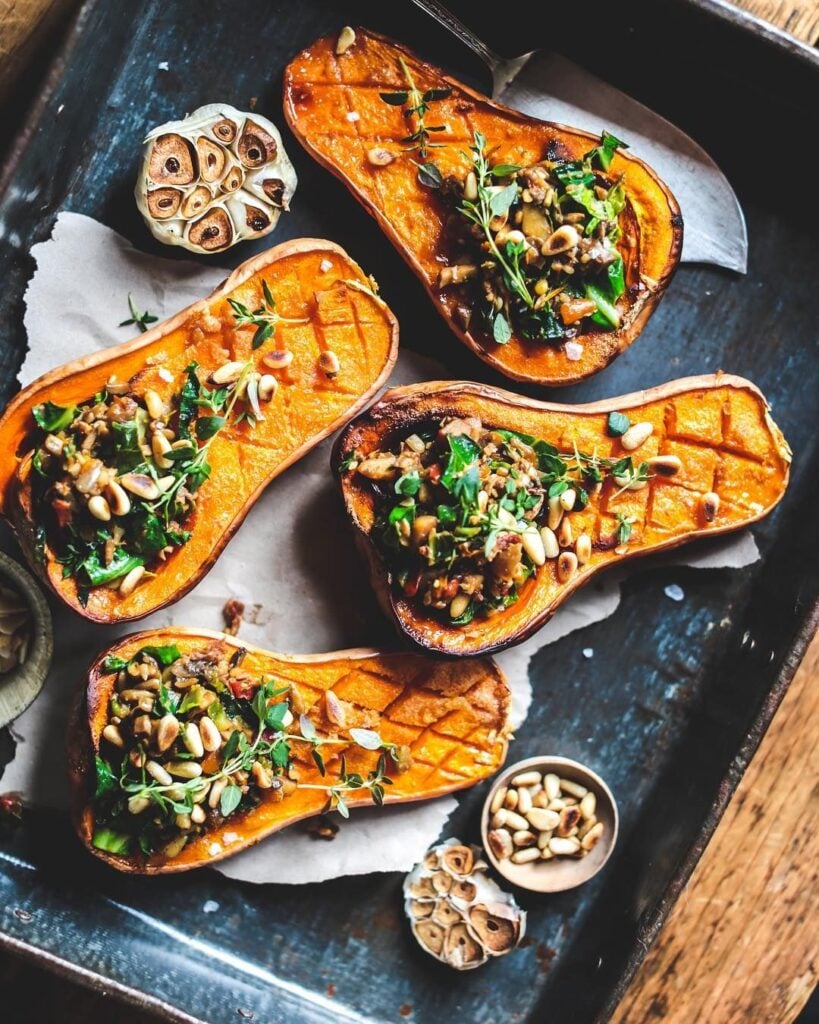 4. Baked Butternut Squash With Mushroom Filling
This vibrant centerpiece (below) is not only tasty and robust, but will also add a beautiful splash of color to your Christmas table. Plus, for the meat-lovers, the mushroom filling adds a meaty texture.
The recipe was created by Rebel Recipes, who said: "If you're looking for a main course for Christmas, this is it! Beautifully roasted Squash with a gorgeous mushroom filling, topped with toasted pine nuts."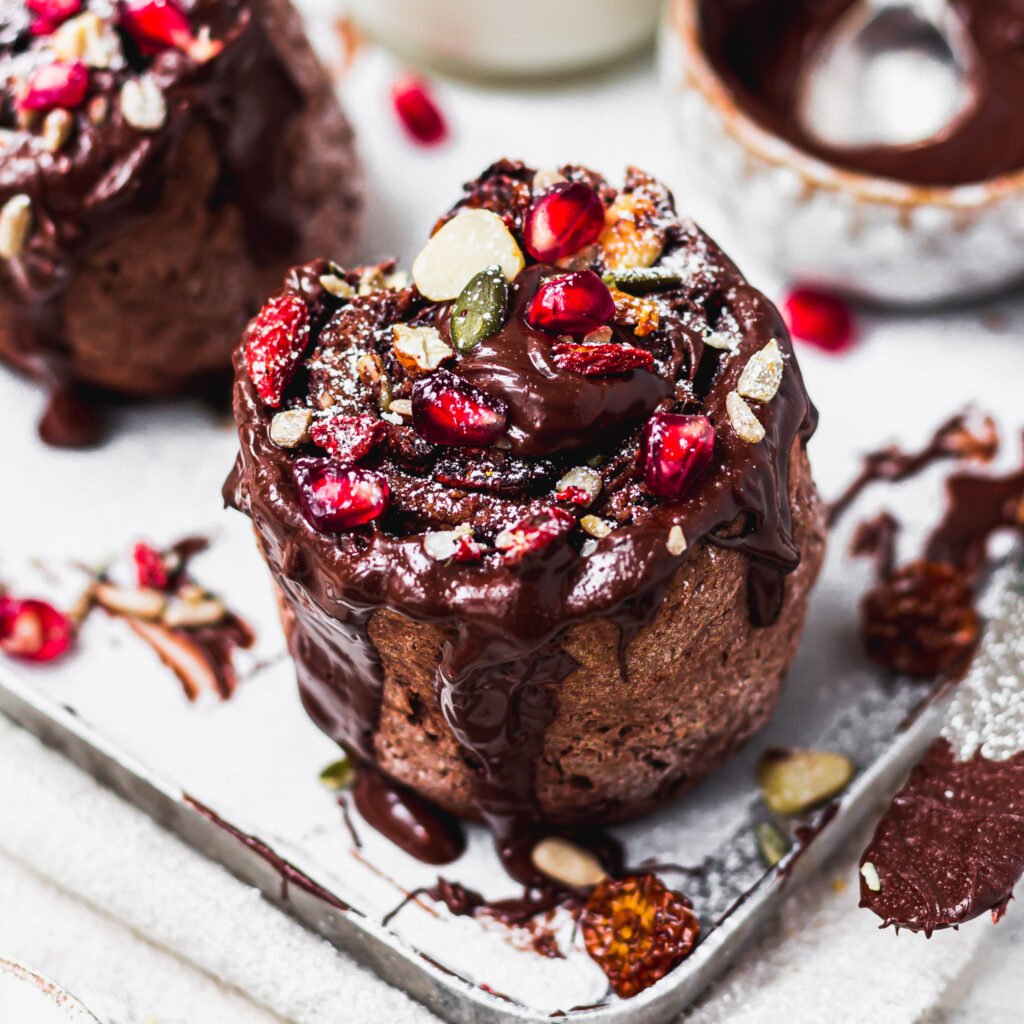 5. Double Chocolate Fruit And Nut Swirl Rolls
Every Christmas feast needs something sweet, and these double chocolate rolls fit the bill perfectly.
Nourishing Amy, who created the recipe, said: "Light and fluffy 25-minute double chocolate swirl rolls with a cacao infused dough, chocolate spread filling and lots of dried fruits and nuts. This small batch of buns is quick and easy to make and naturally vegan."