Coffee giant Starbucks is to launch oat milk across the US following a 'successful' regional trial.
The non-dairy milk, which was tested in 1,300 outlets at the beginning of the year in several states, will be available in all US stores by Spring 2021.
The move is part of the company's Pathway to a Planet Positive Future initiative, which seeks to slash carbon emissions, water, and waste by 50 percent in the next decade.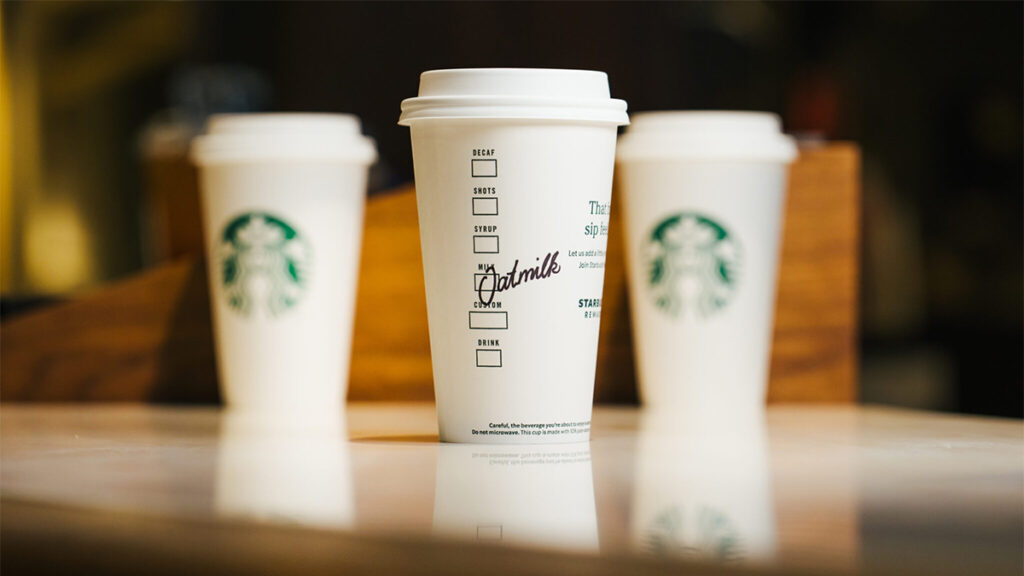 'A more circular economy'
"Our Planet Positive initiatives have a central role in our long-term business strategy, and directly address what our customers are asking for," said Kevin Johnson, Starbucks chief executive officer.
"We are moving toward a more circular economy, and we are doing so in a very intentional, transparent, and accountable way."
Plant-based milks
More than 132,000 people have signed a petition urging Starbucks to stop charging extra for vegan milk.
Animal-rights charity PETA, who created the petition, says it's 'awesome' the chain offers so many plant-based milks such as coconut, soy, and almond, but that consumers 'shouldn't have to pay extra'.
"Starbucks should be encouraging customers to choose animal-friendly, vegan milks rather than cow's milk," the petition states.
"Many other chains—including Wawa, Panera Bread, Pret A Manger, Tim Hortons, Stumptown Coffee Roasters, Noah's New York Bagels, Philz Coffee, and Costa Coffee—already offer dairy-free milk at no extra charge."
You can sign the petition here