Who imagined a world where vegans could be picky about plant-based food options adorning the supermarket shelves? Those days are finally upon us. And here at Plant Based News, we want to ensure you don't miss anything.
So, here's your weekly roundup of our favorite recent food launches.
US food launches
Two Flavors Of Impossible Sausage Debut In-Store
Vegan meat giant Impossible Foods is launching two iterations of its ground sausage products for the first time.
The Impossible Sausage is now available at Kroger, Ralphs, Fred Meyer, Albertsons, Wegmans, Stop & Shop, Hannaford, Safeway, Sprouts, among others across the US.
Moreover, the Savory version comes 'fully seasoned' with a peppery kick whilst the Impossible Sausage Spicy contains chili and cayenne pepper.
Shake Shack To Feature Slutty Vegan's Iconic Burgers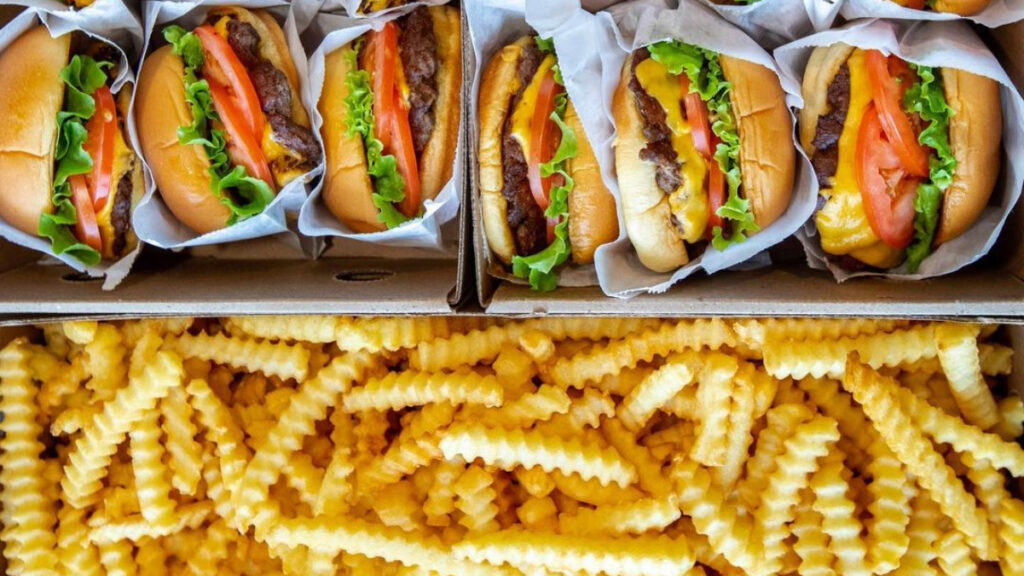 Vegan burger joint Slutty Vegan, founded by Pinky Cole, is set to debut at Shake Shack. The SluttyShack vegan burger features a Shake Shack vegan patty, Pinky's signature Slut Dust, caramelized onions, vegan mayo, and a Hawaiian bun.
Moreover, all proceeds will be donated to Giving Kitchen. This is an organization providing crisis mitigation in the foodservice industry.
Baskin-Robbins Adds New Vegan Flavor Made With Oat Milk
Ice-cream multinational Baskin-Robbins is adding a new vegan option to its 2,500 stores across the country this month.
Moreover, the brand new Non-Dairy Salted Fudge Bar is made with salted dark chocolate oat milk and adorned with fudge pieces and fudge ribbons.
You can find out more about Baskin-Robbins here
New Greek Style Yogurt Unveiled By Silk
Plant-based dairy player, Silk, is launching a new plant-based Greek Style yogurt in four flavors.
The Coconutmilk Yogurt Alternatives come in Strawberry, Vanilla, Blueberry, and Lemon. And all certified vegan, the yogurts provide a good source of calcium, vitamin D, and protein.
Lia Stierwalt is Senior Director of Marketing at Silk. In a statement, they said: "70 percent of plant-based beverage buyers are not yet buying plant-based yogurt alternatives. We saw an incredible opportunity to appeal to those who are already familiar with a plant-based lifestyle, as well as those who love Greek-style yogurt…As part of our product innovation process, we tested Silk Greek with many consumers. We are confident that we're delivering a fantastic tasting, high-protein, plant-based yogurt alternative."
You can shop the range online here
GOOD PLANeT Foods Releases 3 Snackable Vegan Cheese Wedges
Plant-based cheese brand Good PLANeT Foods has launched new vegan cheese wedges in three flavors: Original, Pepper Jack, and Smoked Gouda.
The products are made from coconut oil, chickpea protein, and boast of being free from a host of main food allergies. Moreover, they are Keto Certified.
They're available for $4.99 at HyVee and Wakefern, among 700 other stores across the US. To find availability in your area, visit GOOD PLANeT's website here.
UK products
Wicked Kitchen Is Bringing Out A Heap Of Vegan Snacks
Iconic vegan brand, Wicked Kitchen, which debuted in Tesco, is bringing out a host of new snacks. Renowned sign-up service Veganuary broke the news on social media yesterday, and the news was met with excitement.
The new range includes crackers in Chipotle Spiced and Sourdough Charcoal & Sesame, as well as three different types of cookies. These include Outrageously Orange & Chocolate, Double Trouble Chocolate, and Jazzy Jam Filled.
Additionally, there's Salt & Vinegar Squares⁠⁠, Pepper'd Cashews⁠⁠, Cocoa & Chia Seed Cashews⁠⁠, and two snack mixes: Holy Smoky Party and Sweet 'n' Spicy. To top it all off, there are also two iterations of pretzel things in
Sea Salt & Pepper and BBQ Baked Pretzel Grills⁠⁠.
Co-op Adds Plant Milk Latte To Its Gro Range
To add to its plant-based food range, GRO, Co-op is launching a new on-the-go latte at £1 a bottle.
The new flavor is Red Velvet and is made with coconut milk and cocoa, Vegan Food UK announced.
According to the brand, it has 'an oaty flavor with coffee'. Furthermore, it's 'rounded with sweet vanilla and cocoa notes at the end'.
Vegan Food UK is an online organization sharing vegan food news, reviews, vlogs, and more. It operates across multiple social media platforms, with a Facebook group, Facebook page, YouTube channel, and Instagram account.
The new product will be released nationwide on August 18.
Pizza Hut Teams Up With Beyond Meat
In unveiling a 'game-changing' new topping, UK pizza chain Pizza Hut has teamed up with Beyond Meat.
However, the new meat-free pepperoni meal is available for a limited time only.
The vegan meat alternative is made using rice and pea protein.