Widespread societal change towards a plant-based diet is possible, according to a food expert.
Dawn Carr is director of vegan corporate projects at animal advocacy charity PETA.
She's spoken to many companies who've created plant-based products, like Greggs when making its vegan sausage roll, for instance.
'Widespread change'
Carr discussed change while speaking as PETA recently announced the winners of its annual food awards.
She said: "The pandemic has demonstrated that widespread societal change is possible. That includes the explosive growth in the already booming demand for vegan foods.
"The winners of PETA's Vegan Food Awards [including KFC's Vegan Burger] are making it easier than ever to go vegan by dishing up everything from creamy dairy-free ice cream to satisfying vegan fried chicken."
The charity added that 'confining and killing animals for food' has led to the emergence of diseases. These include swine flu, bird flu, SARS, and now COVID-19′.
Meat reducers
Data gathered since March's COVID-19 lockdown also illustrates Carr's point. In April, The Vegan Society released polling data. It showed that more than 13 million Brits cut down on meat consumption during that point in the coronavirus pandemic.
It said this showed 'pressures on supermarkets and consumers alike are changing buying behavior towards a more ethical, compassionate alternative'.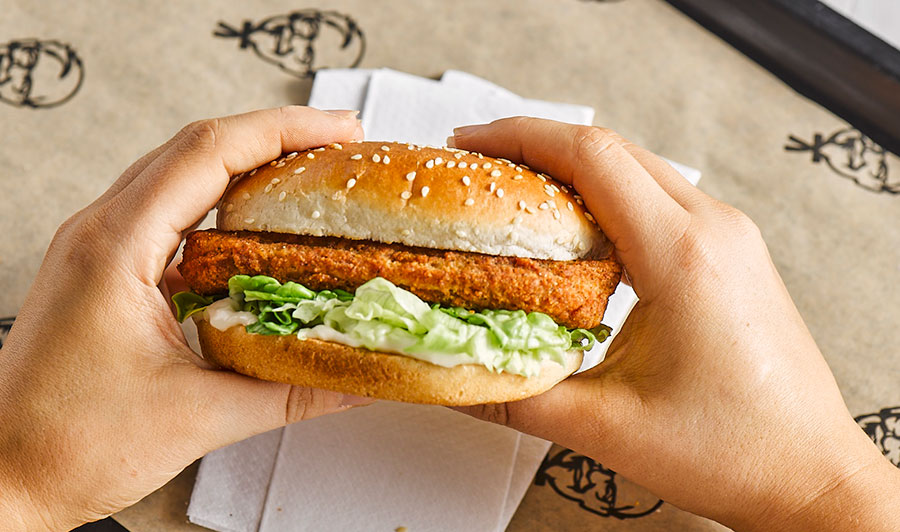 Long term plant-based changes
In addition to reducing meat, 15 percent of respondents said they cut down their dairy/egg intake over the lockdown period.
Many enjoyed alternatives, so as a result, half who tried vegan meat will keep buying it after lockdown.
It is a similar story with plant-based dairy. 54 percent who tried soy milk and 42 percent who tried almond milk planned to continue to buy them regularly for instance.
'Is the new normal vegan?'
Matt Turner, spokesperson for The Vegan Society, said it's 'no suprise' people are changing their buying habits. He cited the 'unprecedented success of Veganuary and the swathes of new vegan products hitting the shelves in recent months'.
Turner said people may have made the switch to plant-based alternatives during the COVID-19 pandemic for multiple reasons. These include 'convenience, cost, or concern for their own wellbeing, the environment and the rights of animals'.
He added that many Brits are trying alternatives for the first time. They are enjoying them so much, as a result they will keep buying them 'when we return to normal times'.
"They are purchasing items that they wouldn't have given a second look a few months ago," he said. "But are now seeing these brilliant vegan alternatives as the new normal."