Plant-based bacon and chicken by THIS is set to launch in 412 Asda stores across the U.K.
The vegan meat, described as 'hyper-realistic' will hit the supermarket's shelves this week.
Plant-based bacon
THIS, which has seen hyper-growth throughout the pandemic, recently launched in Sainsbury's, following its Tesco's launch. Subsequently, it is set to arrive in Asda – meaning it has become available in three of the 'big four' supermarkets within five months.
The plant-based bacon and chicken brand will launch two products in Asda. These are THIS™ isn't Bacon (RRP £2.95) and THIS™ isn't Chicken Salt & Pepper pieces, (RRP £3.65).
Plant-based meat in Asda
Andy Shovel is the co-Founder of THIS. In a statement sent to PBN, he said: "Launching into ASDA is a huge opportunity for us. The pandemic has definitely been a bit of a curveball but luckily people still like to eat.
"We've had to pivot our sales strategy from about 70 percent retail and 30 percent foodservice to mostly retail (85 percent). Fortunately, the demand for plant-based foods has really surged during the pandemic."
Vegan bacon
He added: "We want THIS™ to smash through the plant-based stereotypes and show meat-eaters that they really don't need to compromise when it comes to plant-based food.
"We launched just over a year ago – myself and co-founder Pete definitely had less grey hair back then but, being able to grow at such speed makes it worth it."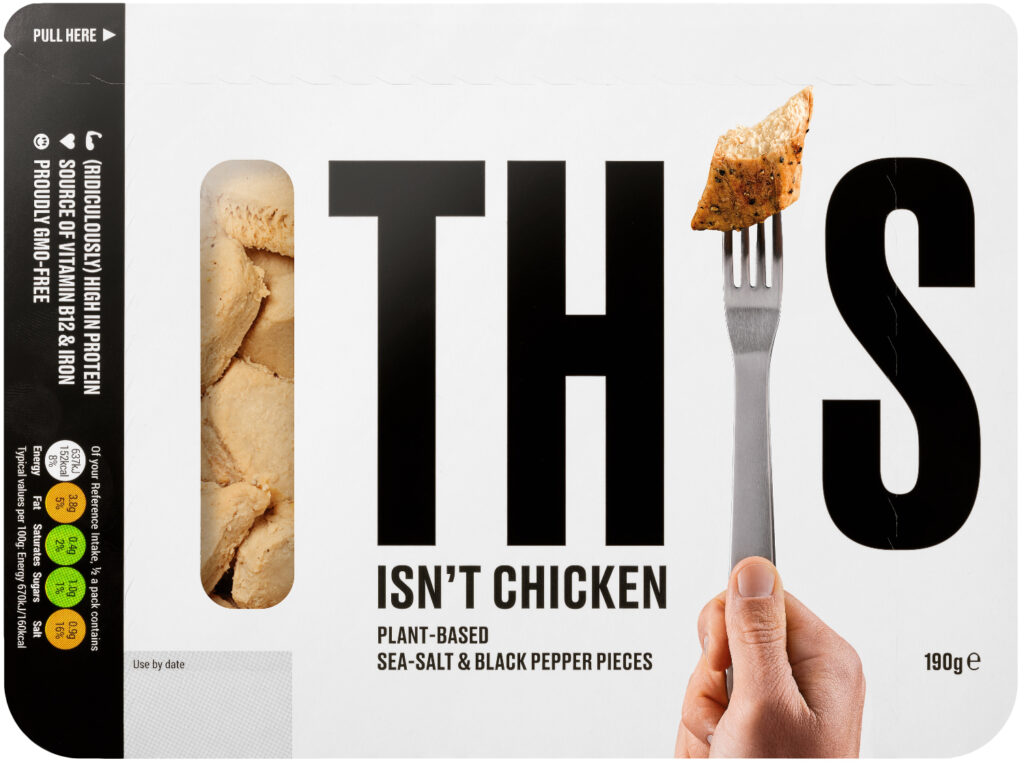 Changing diets
THIS' success comes in view of polling that suggests Brits are changing their diets as a result of the coronavirus pandemic.
The Vegan Society released polling data in April this year. In brief, it showed that more than 13 million Brits cut down on meat consumption during lockdown.
The Society said the data shows 'pressures on supermarkets and consumers alike are changing buying behavior towards more ethical alternatives'.
Supermarket
Matt Turner is spokesperson for The Vegan Society. He said 'after the unprecedented success of Veganuary' and the swathes of new vegan products – like plant-based bacon – hitting supermarket shelves in recent months, it's no surprise that many consumers have made the switch to plant-based alternatives during the COVID-19 pandemic.
He cited reasons including convenience, cost, or health concerns, the environment, animal rights for the changes.
"Many Brits are trying these alternatives for the first time. They are enjoying them so much they intend on keeping them in their shopping basket when we return to normal times.
"They are purchasing items that they wouldn't have given a second look a few months ago. But in this case are now seeing these brilliant vegan alternatives as the new normal."