Nearly one in five British consumers are planning to eat vegan pancakes this Shrove Tuesday (February 16). 
The data comes from a 2,000-person poll conducted by plant-based brand Squeaky Bean. 
It also found that more than half (57 percent) would be 'happy to try a vegan pancake this year'. And, that 35 percent of Londoners are planning on eating vegan this Shrove Tuesday. 
Vegan Biscoff Pancakes
This recipe is such a treat and it'll easily wow your friends and family. Or, just devour them yourself. We won't judge!
Check out this recipe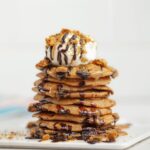 Moreover, the poll found Generation Z, millennials, and Generation X ( 18-44-year-olds) are more likely to make the switch to vegan pancakes. Almost one in three (32 percent) of 25-34-year-olds said they'll enjoy an animal product free option this year.
Shaking the Shrove Tuesday tradition
Sarah Augustine is Squeaky Bean's Co-Creator. In a statement sent to PBN, she said: "Shrove Tuesday has traditionally been a time to use up animal products such as milk and eggs. However, with interest growing in plant-based diets, and 582,000 people taking part in Veganuary 2021, many will seek a vegan option on Pancake Day too. 
"Our research shows that pancake lovers can be put off from cooking this delicious treat. So, our award-winning fluffy and original style pancakes make it easier than ever to tuck into tasty."
Vegan pancakes
Last year, Squeaky Bean scooped a major award for its ready-to-eat Fluffy American Style Pancakes and Original Sweet Pancakes.
The vegan pancakes only take 25 seconds to cook in the microwave. Moreover, they are available online and in-store from UK retailer Waitrose, retailing at £2.50 per pack.
Crispy Scallion Pancakes
Just as good as the ones you'd find at a night market, but better because you can add even more scallions!
Check out this recipe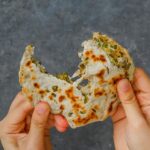 Charlotte McCarthy is a Vegan Buyer at Waitrose & Partners. She added: "Pancake Day is set to excite consumers this year. 
"With many restaurants continuing to be closed through lockdown, creating events at home that are centered around food can bring back enjoyable dining experiences.
"Whether you're keeping it traditional with toppings, or branching out into new and more unusual flavors, convenient and great tasting products can make Shrove Tuesday more delicious than ever."