Plant-based start-up Moku Foods has launched its first range of vegan jerky made from mushrooms, consisting of three flavors.
The company has environmentally-friendly roots and was created as a minimally-processed alternative to vegan jerky currently on the market.
Moku Foods' founder is entrepreneur Matt Feldman, who scored a spot on Forbes 30 under 30 list.
Vegan jerky
The vegan jerky is made from king oyster mushrooms. Other ingredients include coconut aminos, chickpea miso, and maple syrup.
Feldman, who is from Oahu, Hawaii, began testing the recipe in 2018. This was with a view to recreating his favorite snack, beef jerky, following his transition to a vegan lifestyle.
After a year of development, and a partnership with culinary experts Thomas Bowman and Ali Bouzari, the company was born.
Moku Foods has three flavors of its vegan jerky, which are Original, Hawaiian Teriyaki, and Sweet & Spicy. You can add it to sandwiches and salads. Moreover, the products are free from GMO, soy, and gluten.
Moku Foods' jerky
Sustainable
Feldman adopted a vegan lifestyle to help the environment. 'I learned more about the immense carbon footprint caused by industrial factory farming', he said.
Other vegan alternatives on the market included ingredients 'that sounded like they were made in a lab', however. As a result, he set out to create his own.
He added: "We're here to encourage everyone to take mindful steps towards a healthier, sustainable future – from our snack choices to our day-to-day routines."
Switching to vegan jerky saves up to 12 square ft. of land and 11 pounds of methane. In addition, it saves 107 gallons of water, the company claims. However, the taste and texture of beef jerky is not lost, according to Moku Foods.
Success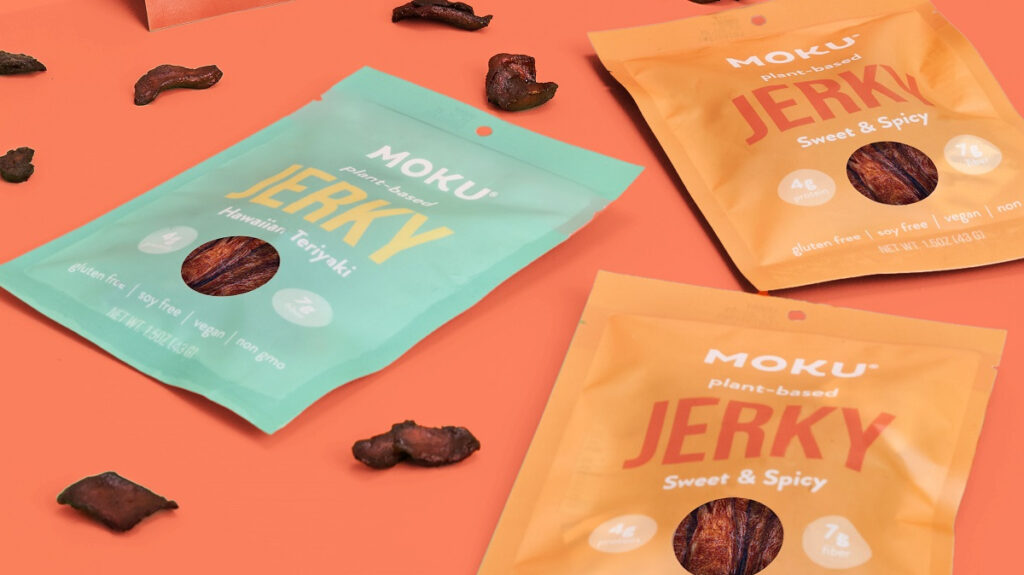 Moku Foods won a spot on Amazon's Emerging Brands Program, which aims to support up-and-coming companies.
Its investors include companies such as Siddhi Capital, Vanterra Capital, Mana Venture, Barrel Venture, and KBW Ventures.
You can order online via Moku Foods.