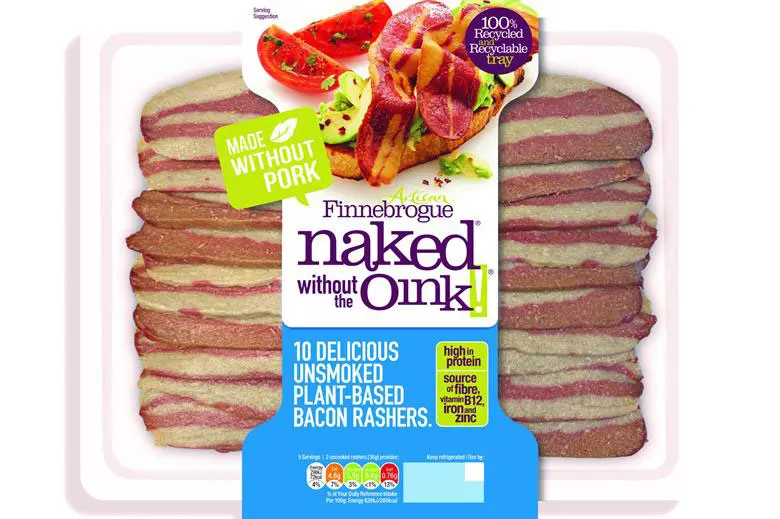 An Irish meat giant is launching vegan bacon which it says is 'good for people and the planet', according to leading food outlet The Grocer.
Finnebrogue, which describes itself as Ireland's leading sausage producer, says he is targetting health and climate-conscious consumers with its plant-based bacon.
Its new 'made without the oink' bacon – which is made from a pea protein-base – is now available in 600 Tesco stores across the U.K, with an RRP of £3 for a 180g pack.
'Good for customers and the planet'
According to Finnebrogue chairman Denis Lynn, the vegan bacon is 'ood for our customers and good for the planet'.
He added: "We looked at what was wrong with the plant-based bacon products already on supermarket shelves in order to figure out how to make our plant-based bacon the best it can be.
"There really is nothing like the taste and smell of proper bacon – but these delicious rashers are [meat-free] so absolutely everyone can be part of that special bacon-eating experience. It's not quite the same as the real thing, but we think it's getting there."
Vegan bacon
The new bacon joins a range of products which have recently become available, with interest surging: earlier this year, Waitrose revealed that online searches for vegan bacon on its site skyrocketed by a staggering 759 percent over the last year.
Retail giant Tesco has also seen demand for the product increase and added THIS vegan bacon to its shelves this year.
Speaking about the launch of THIS plant-based bacon and chicken in 744 of its stores, a spokesperson said: "We're really excited to be launching THIS™. We know that taste and product quality are the primary drivers for our meat-free customers, as well as the growing concern around health.
"The demand has grown at an astounding rate and will most likely continue as more and more consumers become environmentally and health-conscious."