As ever, plant-based food offerings are on the rise across the globe. Big brands are leading the charge this week, with two new vegan chicken nugget launches from Impossible Foods and Meatless Farm.
Elsewhere in the world, KFC and Pret a Manger are serving up some meatless marvels.
North America
Impossible Foods debuts vegan chicken nuggets
Global vegan meat giant, Impossible Foods, has this week announced the launch of its soy-based Impossible Chicken Nuggets. The news comes after a blind taste test found that seven out of 10 customers preferred it over a leading brand's non-vegan nuggets.
Each nugget features a golden, crispy breadcrumb coating with 'springy' white meat protein inside. Additionally, the brand claims they contain 25 percent less sodium than animal-based nuggets.
"We are tremendously excited about our Impossible Nuggets. But this launch isn't really about nuggets. It's about the historic inflection point we've reached. For the first time, consumers unquestionably prefer meat made from plants instead of meat from an iconic animal," CEO and Founder Pat Brown said in a statement.
Leading US retailers Walmart, Kroger, Albertsons, and Safeway are stocking the products later this month. Moreover, Impossible Foods is expanding availability to more than 10,000 stores across 2021.
Customers can purchase the nuggets at $7.99 for 'approximately' 20 frozen pieces in a bag.
UK
First vegan chicken product by Meatless Farm launched across UK supermarkets
Plant-based meat brand Meatless Farm is debuting its first-ever vegan chicken products in the UK at over 300 Tesco stores nationwide.
The southern-fried crumb plant-based chicken burgers are available in a two-pack for £2.75.
Michael Hunter is the Managing Director of Meatless Farm. In a statement, Hunter said: "Our first retail launch into chicken products is a significant area of growth for the business."
"To secure another listing from the UK's largest food retailer shows that plant-based is no longer a challenger category, but fast becoming part of daily British food culture as we become more concerned about health and the environment."
"It's therefore important for us to continue to develop exciting and innovative new products to cater for a range of consumer preferences and eating occasions. We knew our first retail chicken product had to be top-notch. So, after many tried and tested recipes, we've worked hard to ensure our chicken burger has the perfect texture and taste to make the swap from meat to plant-based easier for consumers."
BOSH! unveils plant-based ready-meal range in Morrisons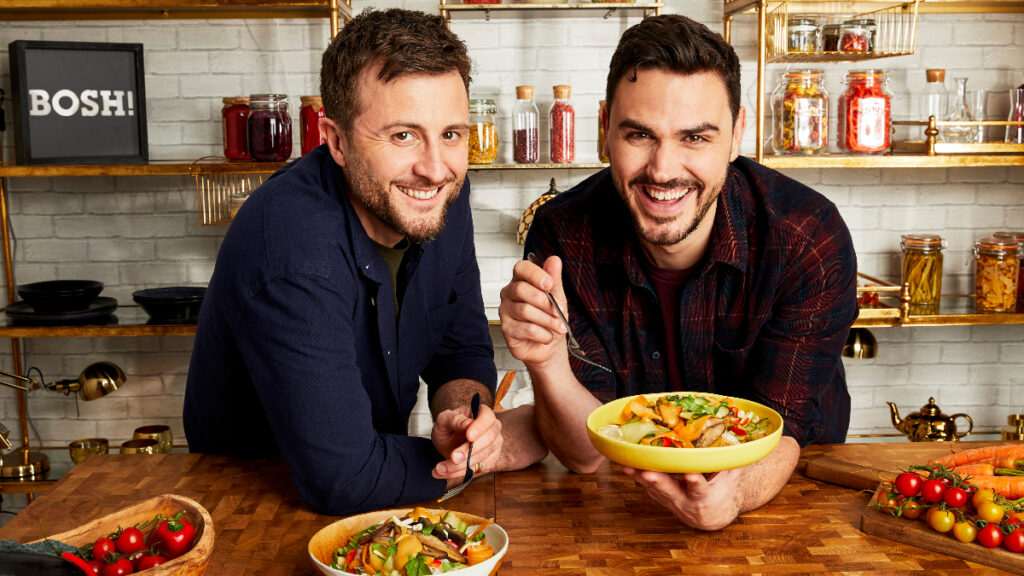 Renowned vegan chef duo BOSH! is launching a range of plant-based ready meals at Morrisons.
The best-selling authors teamed up with the Oscar Mayer Group on the six 'zero-prep' products.
They include the Smokin' Spag Bol, Smashin' Shepherd's Pie, Game Changing Lasagne, Ultimate Chili Non-Carne, Mighty Mac n' Greens, and Crackin' Jalfrezi Curry. Moreover, they're priced at £4 per 400g pack, and now available in store.
Pret adds vegan meat product to autumn menu
Sandwich franchise Pret a Manger is launching a Meatless Meatball Protein Pot as part of its autumn menu. The latest plant-based offering features Meatless Farm's Meatless Meatballs, mushrooms, and a tomato sauce topped with beans.
The company launched it due to the success of its 'iconic' Meatless Hot Wrap last Veganuary.
Customers can purchase the pot for £3.85 nationwide.
Middle East
Dubai-based Halal company unveils plant-based brand
Indoguna Productions FZCO, a Halal meat producer based in Dubai, is moving into the plant-based protein sector.
The brand, Arlene, is produced in a state-of-the-art facility and the company hopes its range of vegan meals can appeal to vegans and meat-eaters alike.
Inspired by Asian and Western cuisines, the products are available at select Waitrose and Spinneys stores in the United Arab Emirates (UAE). The range includes Dan Dan Sauce With Noodles, Chili Sin Carne With Rice, and Chili Gyozas.
In a statement sent to PBN, Founder Helene Raudaschl said: "With the launch of Arlene in the UAE, more people will have the opportunity to enjoy the nutritional and environmental benefits of a plant-based diet."
Asia
KFC China adds Oatly's vegan ice cream to menus
Global fast-food giant, KFC, is adding Oatly to its plant-based offerings in China, VegNews reports. Now, Oatly's oat-based Strawberry and Chocolate flavors are available in single-serve containers at 12 yen (US$1.86).
It comes as KFC China is increasing its plant-based offerings, following the launch of its Plant-Based Spicy Beef Wrap earlier this year.
Oceania
Fast-food chain Guzman y Gomez unveils first plant-based filling
Mexican fast-food giant Guzman y Gomez is launching its first-ever plant-based filling in partnership with Fable Food across Australia chains.
The Shredded Shiitake Mushroom filling has been developed over three years. And, it can be added to any menu items, from burritos, tacos, to nachos.
GyG's Founder and CEO Steven Marks said: "For years and years, GYG has been tasting and trialing every plant-based option on the market. And we've finally found the one with Fable.
"You will not find a more delicious, clean plant-based filling than our incredible Shredded Shiitake Mushrooms. It's so full of flavor, it's honestly the best mushroom I've ever had."