UK supermarket Iceland is launching a frozen Greggs vegan range.
The line, which is exclusive to Iceland, includes Greggs' iconic Vegan Sausage Roll and Vegan Steak Bake.
Launching online from January 1 and instore from January 2, the products will cost £2.50 for a four-pack of rolls and two-pack of bakes – meaning a single sausage roll costs just 63p.
Greggs vegan sausage roll
In a statement sent to Plant Based News, a spokesperson said: "Launched with much fanfare in 2019, Greggs Vegan Sausage Rolls (£2.50, 4pk) are here in frozen form.
"The tasty Vegan Sausage Rolls take only 30 minutes to bake in the oven from frozen before shoppers can get their teeth into golden layers of crisp puff pastry and a delicious bespoke Quorn filling.
"As they can be baked any time of day or night, the rolls are a convenient treat for the whole family."
Greggs vegan steak bake
They added that Greggs vegan steak bake mirror the bakery's non-vegan variant.
"These tasty vegan-friendly snacks are created with savoury flavoured Quorn and diced onions in a rich gravy, all wrapped in a light and crisp puff pastry."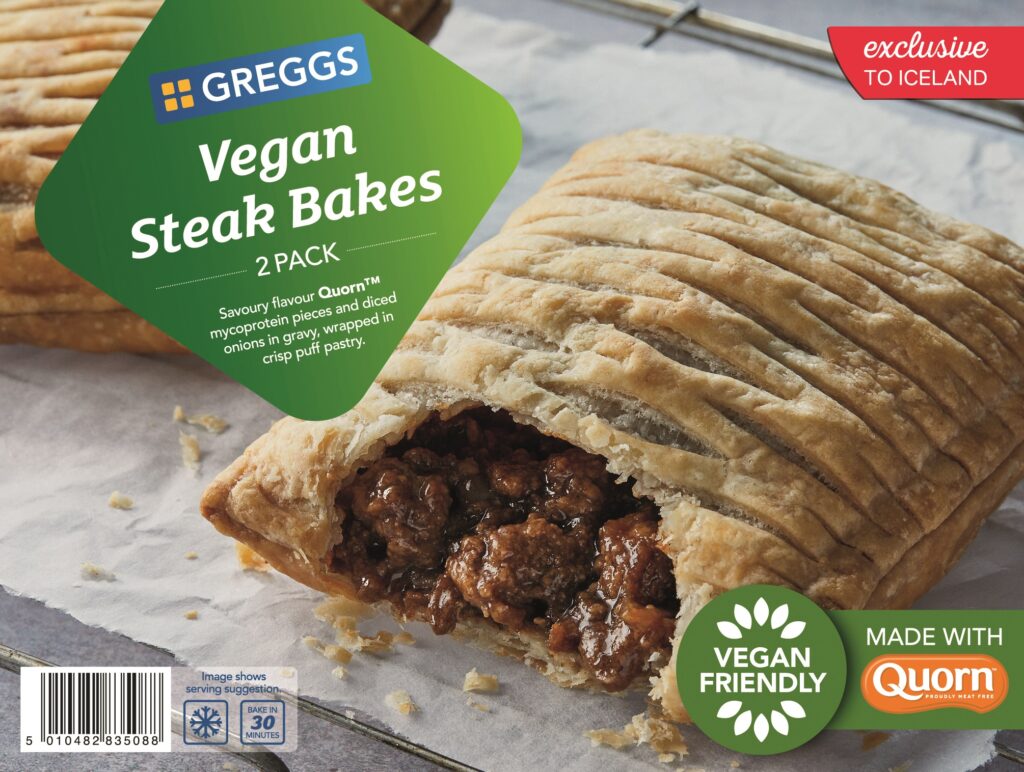 Iceland vegan food
Iceland already offers a range of own-brand vegan options, including its now-iconic No Bull Burger, which launched in April 2018, and went on to outsell the store's Wagyu beef burger.
Following the success of the patty, Iceland expanded its plant-based offering, announcing a slew of new products in October 2018.
Wanted more'
Speaking about the new products, Iceland's Head Chef Neil Nugent told The Guardian: "We had tremendous success with the No Bull Burger and it's clear our customers want more from us.
"In creating this range, we have embraced the nation's love for alternative plant-based foods in an innovative and exciting way.
"The growth of the vegan food market in the UK has been rapid, with 56 percent of adults now saying that they are adopting vegan behavior when conducting their supermarket shop."