The Hershey Company is launching plant-based chocolate as part of its 'better-for-you' category. 
The confectionery giant has partnered with ASR Group – which co-lead an equity investment in Bonumose, a start-up company with 'breakthrough innovations in plant-based food ingredients, including rare and natural sugars'.
No specific details about the plant-based chocolate alternatives have been announced.
Hershey's 'better-for-you' category
"We are the leader in US confection. And, our consumers rely on us to understand their needs for everyday moments, seasons, and special occasions, offering high-quality and great tasting candy that's accessible for everyone, said Kristen Riggs, Chief Growth Officer at Hershey. 
"Expanding our expertise, building new capabilities and delivering more choices in better-for-you confection is the next big category opportunity for us to lead."
Homemade Vegan Bounty Bars
These homemade coconut chocolate bars (vegan Bounty bars) are the perfect dessert if you love coconut and chocolate.
Check out this recipe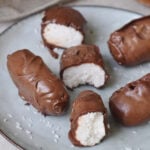 "We're setting the foundation for long-term sustainable growth in the better-for-you category," added Hershey President Chuck Raup. 
"Everything we do is led by our consumers and our commitment to deliver only the most delicious snacks."
Raup then concluded: "We're driven to provide more choices to ensure they enjoy our brands and products in ways that are right for them."
Vegan chocolate
Last year, chocolate giant Lindt launched a range of vegan chocolate bars made from oat milk. 
Moreover, the bars are wrapped in fully recyclable packaging, and come in three flavors: Hazelnut, Salted Caramel, and Cookie.
Similarly, Swiss conglomerate Nestlé announced the upcoming launch of its vegan KitKat.
The new dairy-free bar – called KitKat V – will be launched later in the year in several countries across the globe. It will debut through the KitKat Chocolatory as well as selected retailers, to test the opportunity for a wider roll-out.