Greggs is being inundated with requests to launch a vegan chicken bake amongst other meat-free pasties. 
The high-street chain's vegan offerings have been a roaring success in recent years. Last year, it announced a £7 million bonus for staff after a bumper year – which is largely credited to the release of its vegan sausage roll in January 2018.
Since then, it has launched vegan donuts, hot cross buns, and a meatless steak bake.
Vegan chicken bake
On Twitter, Greggs wrote: "The Vegan Sausage Roll was crowned your favorite vegan Greggs item… but what should we vegan next?"
A vegan chicken bake was one of the most popular requests, along with a dairy-free bean and cheese pasty and plant-milks such as oat and soy.
"Give me a vegan chicken bake and I will love you forever," one user wrote.
"Vegan cheese and onion pasty… there are so many tasty melty vegan cheeses… This would be a winner.. my fav pre-vegan days," another customer commented.
Last year, CEO Roger Whiteside said vegan chicken is the 'way forward', adding that he'd 'seen some good products out there'. 
Cheesy Bean Bake
Greggs might be expanding its plant-based offering – but in the mean time – this cheesy bean bake will keep you satisfied!
Check out this recipe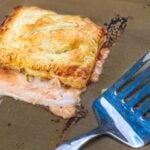 Greggs' vegan options
In 2019, the bakery revealed it is working on vegan versions of all its bestselling products.
"We're working away to see if we can come up with a version of all our bestselling lines… People want vegan options," Whiteside told LBC.
"If we can produce something that tastes just as good as the meat version, then that will sell very successfully. "
---
Your support is vital!
We want to grow our online platforms to create awareness about topics such as ethical consumerism, environmentalism, and the plant-based lifestyle. Not a false narrative – but information that empowers people to make better choices as we're here to change the conversation…
Moreover, PBN delivers exclusive stories and relevant content in a challenging commercial environment. Your contribution helps us to cover the costs that our service requires. Please consider contributing (no matter how small) to keep the information flowing so you can remain informed and have life-changing interviews and stories to share.