Burger King is launching a new vegan burger, according to Vegan Food UK.
Vegan Food UK is an online organization sharing vegan food news, reviews, vlogs, and more. It operates across multiple social media platforms, with a Facebook group, Facebook page, YouTube channel, and Instagram account.
It recently reported the fast-food chain will 'upgrade' its classic Veggie Bean Burger so it is suitable for vegans*.
Burger King's Vegan Burger
"Adapted from the popular Veggie Bean Burger, the new sandwich includes two signature veggie patties on a toasted sesame seed bun. [It is] topped with fresh-cut lettuce, juicy tomatoes, ketchup, and vegan mayo," the organization wrote.
"The updated menu item is now 100 percent vegan and will be available from January 11."
The burger is said to retail around £4.59 on its own, or £5.59 with a drink.
'Specially trained'
Burger King UK confirmed to Plant Based News that there are 'new procedures in place to prepare vegan orders to avoid meat and dairy contact' when it comes to this new bean burger.
A spokesperson said: "Our staff have been specially trained to prepare the Vegan Bean Burger, a process that will involve using separate utensils to any of our non-vegan products. The Vegan patty will be placed in a dedicated coloured pan and heated in a clean and sanitised microwave.
"The Vegan Society has recognized our efforts in our new processes and certified the new product as vegan. We advise that despite strict measures being implemented, the product may contain traces of dairy and egg, as the manufacturer also produces products containing these allergens. "
Plant-Based Whopper
This is not the first burger the fast food giant has created to appeal to meat reducers – though it is the first to lack all animal ingredients.
Burger King made a significant foray into the meat-free market back in 2019, when it launched its Impossible Whopper in the US, trialing the sandwich in 59 stores in St. Louis. The burger contained the plant-based patty made by Impossible Foods, but also featured mayo (though customers could request it without).
The outlet said the Impossible Whopper 'exceeded expectations' and it has since rolled it out across all of Burger King's 7,000 US outlets.
According to a Burger King spokesperson: "[The Impossible Whopper has] become one of the most successful product launches in brand history, leading to outstanding comparable sales of positive five percent this past quarter."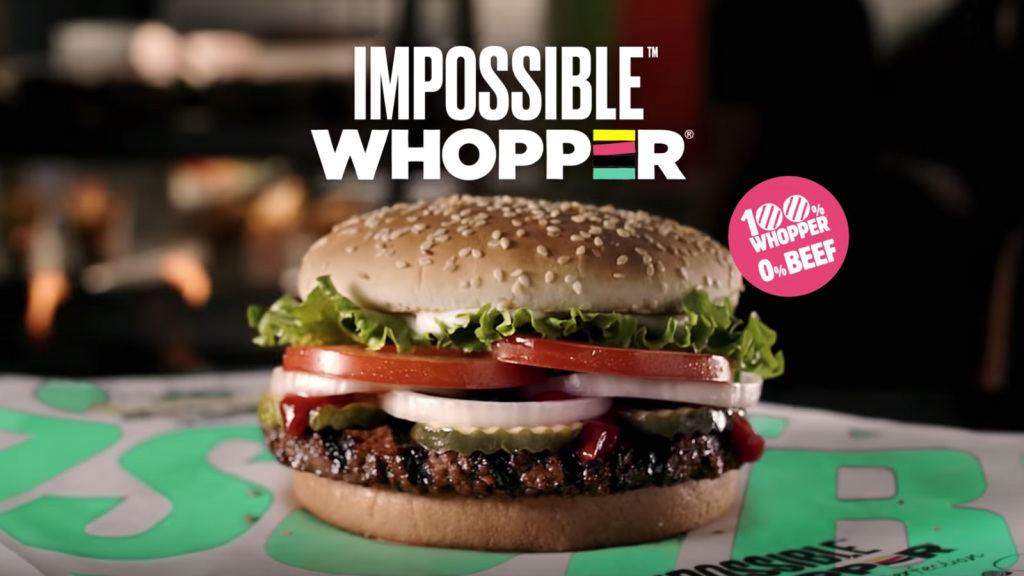 'Plant-Based not Vegan'
While some vegans have embraced the Impossible Whopper, ordering it without mayo as an animal-free option, others have chosen to eschew it because of Impossible Foods' history of animal testing.
Impossible Foods itself describes its patty as plant-based rather than vegan. This is because one of its ingredients – soy leghemoglobin aka 'heme' – was fed to rats in order to test its safety. In excess of 180 rats were killed as a result of the testing.
*This article was updated on January 7 to reflect Burger King's comments about the Bean Burger being suitable for vegans.