Budget Retailer Aldi is launching a vegan Christmas sandwich – priced at £1.69.
The festive meal launches in stores on November 1 – which is coincidentally World Vegan Day.
According to Aldi, it sold a record number of sandwiches in the lead up to Christmas last year. However, this is the first time the Plant Menu Vegan Feast Sandwich (£1.69) has been part of its festive range.
Aldi Christmas vegan sandwich
An Aldi representative sent a statement to PBN. It said: "The perfect plant-based festive feast on the go, the Plant Menu Vegan Feast Sandwich is set to be a crowd-pleaser for both vegans and non-vegans alike."
They added that the sandwich features a parsnip fritter and shredded apple, sliced cabbage, and sultanas. In addition, it contains fried onions, spinach leaves and cranberry chutney.
Options
Aldi has launched several vegan Christmas options this year, not only mains, but also starters, sides, and a dessert.
Part of the line-up is a vegan turkey called the Plant Menu Vegan Turkey, for instance.
Aldi made the meat-alternative from a soy base and stuffed it with a cranberry, red pepper, apricot, and pumpkin seed filling, with a barbecue glaze.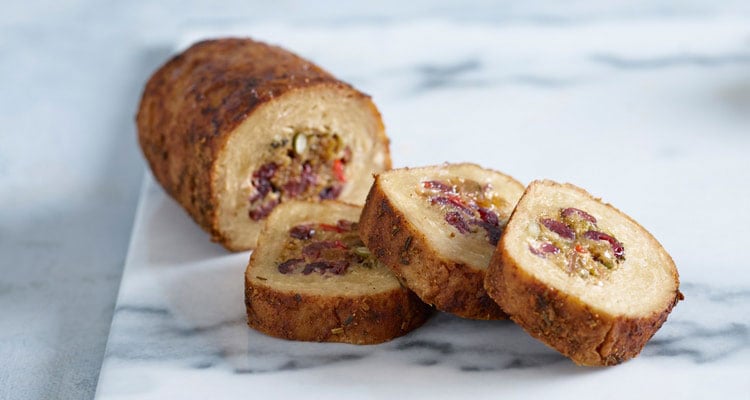 Aldi vegan Christmas range
Other options in the range include Plant Menu Vegan Pigs in Blankets – vegan cocktail sausages wrapped in puff pastry.
Starters and sides include Vegetable Tempura Nests, Vegan Fusion Skewers, Vegan Thai Roses, and No Duck Spring Roll. Aldi is also offering three different flavors of Specially Selected Vegan Stuffing Balls. They are cranberry, apricot & mandarin, and sage & onion.
Likewise, when it comes to pudding, the store has created an option. The Specially Selected Chocolate Orange Vegan Melt in the Middle Pudding features a dark chocolate sponge with an orange-flavored compote center.
Christmas hamper
Moreover, Aldi has also launched a vegan Christmas hamper this year priced at £29.99. It includes Christmas pudding, strawberry creme chocolates, and chocolate chip cookies.
Other items in it are Medjoul dates, a bottle of Merlot, Peruvian dark chocolate, and strawberry gummy candies. Lastly, Earl Grey tea bags and salted caramel truffles also join the line-up.
Aldi describes the hamper as a 'wonderful selection of delicious vegan treats'.