Eating animals is a 'significant cofactor' in the genesis of new human diseases, according to an epidemiologist.
Gregory Gray is an infectious disease epidemiologist at Duke University in North Carolina. His comments come in light of the current coronavirus pandemic.
The coronavirus is understood to have originated from a wet market in Wuhan, China, in December 2019. Since then the disease has spread globally, killing more than 42,000 people at the time of writing.
Significant cofactor
Speaking to Popular Science, Gray said 'we would probably have less contact with animals that we're either growing or ceasing to capture from the wild for food' if we stopped eating animals. This reduction in contact would reduce the opportunity for transmission.
Popular Science adds: "Gray considers eating animals as a 'cofactor' in the genesis of new human diseases – and a significant one."
However, going vegan would not stop the transmission of every single zoonotic disease, Gray said, as 'we would still have contact with animals that may harbor pathogens that are foreign to the human immune system'.
Popular Science adds that whether or not people eat animals, 'humans and animals will always closely coexist in one way or another', citing companion animals like cats and dogs, and invasive species like bed bugs.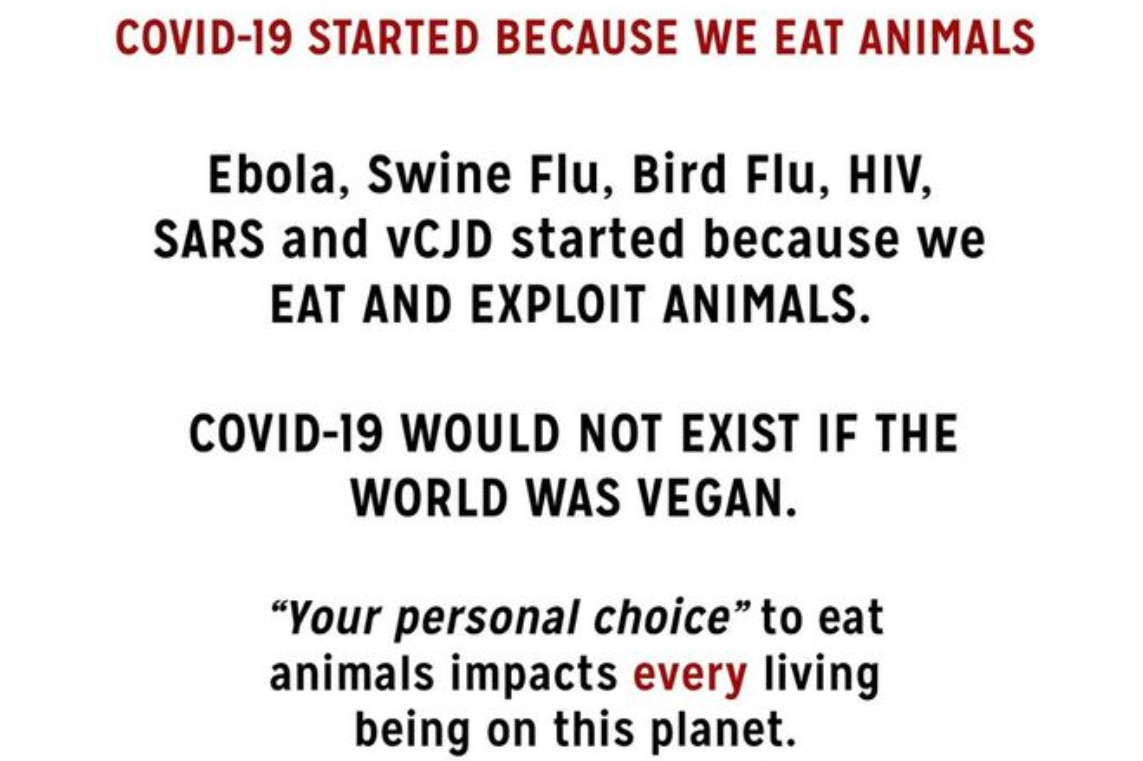 Eating animals
The article, titled A vegan world wouldn't keep diseases like COVID-19 from infecting humans, attempts to debunk a claim made by vegan activist Earthling Ed that 'COVID-19 started because we eat animals', and 'COVID-19 would not exist if the world was vegan'.
Writing for Plant Based News, Winters said: "I have never stated that all zoonotic disease originate from animal exploitation and…I also did not claim that it was the physical consumption of animals that caused COVID-19 to be passed to humans.
"Instead, it was because 'the exploitation of animals creates environments where the likelihood of spillovers occurring is significantly increased, and if we weren't using animals for food we wouldn't have created situations where many of these diseases, including the latest coronavirus, were passed to humans'."
More opportunities
Popular Science agrees with this remit, writing: "The more opportunities a virus has to cross over to humans, the higher its chances of becoming an epidemic-causing disease."
However, the author of the piece concludes that as 'mass veganism is unlikely to happen', there is no point considering whether veganism could mitigate many of these types of pandemics, saying: "If we were all, theoretically, to stop eating animals, the disease vector that is our contact with animals for eating purposes would go away.
"But, since eating animals is a global norm and a necessity in many places, it's illogical to surmise what the world would be like if we were all vegan. We certainly wouldn't stop having other relationships with animals."