Doctors have filed a complaint with the director of the Iowa Department of Public Health demanding that local slaughterhouses with COVID-19 outbreaks should be shut down immediately in the interest of public health.
The Physician's Committee for Responsible Medicine, which reports a membership of more than 12,000 healthcare professionals including 77 doctors in Iowa, filed the complaint with Gerd Clabaugh, MPA, on June 25.
Complaint
In the complaint, the doctors argue that 'meatpacking facilities should be replaced with cleaner, safer facilities that produce plant-based protein' as the 'current public health emergency highlights the need to transition the food production system away from animal agriculture'.
Additionally, they add, 'meat products increase the risk of chronic diseases, including those that have helped make COVID-19 so deadly', citing a study published in the European Heart Journal which shows that patients with high blood pressure have twice the risk of dying from the virus.
COVID-19 hotspots
The complaint follows U.S. meatpacking facilities being branded 'COVID-19 hotpots' by a top analyst earlier this year, as infection levels within the facilities outpaced the rest of the country.
According to the Midwest Center for Investigative Reporting, which has been compiling data of the positive cases and deaths, as of June 30, there have been at least 26,300 reported positive cases tied to meatpacking facilities in at least 244 plants in 33 states, and at least 95 reported worker deaths at 39 plants in 24 states.
PCRM cites a June 2 article in the Des Moines Register saying 815 workers at two Tyson meat processing facilities in western Iowa have tested positive for COVID-19, while Impossible Foods – a leading manufacturer of plant-based protein 'reports zero coronavirus cases at its facility in Oakland, Calif'.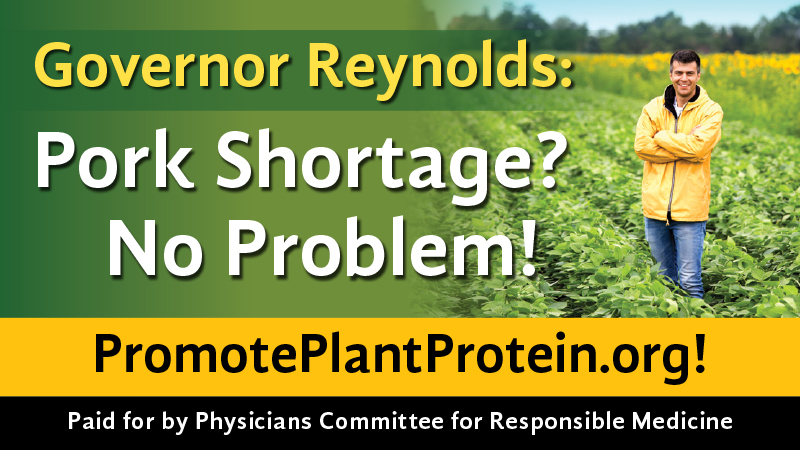 'Virus-free plant-based protein'
"Through grants and tax credits, Governor Reynolds should support companies that produce healthful, virus-free plant-based protein," said Susan Levin, MS, RD, director of nutrition education for the Physicians Committee.
"A transition from fatty pork to plant-based protein will improve heart health in the heartland, and shutting down the slaughterhouses will result in fewer coronavirus infections among workers."
In addition to the complaint, PCRM has installed two billboards in Des Moins, Iowa, directly addressing Governor Kim Reynolds urging her to promote plant-protein for public health. The two boards, which will remain in place until July 26, say: "Governor Reynolds: Pork Shortage? No Problem! PromotePlantProtein.org!"