Claims that taking large doses of Vitamin C can prevent or cure coronavirus are not currently supported by evidence – and focusing on these claims instead of the proper advice is irresponsible, a registered dietician has told Plant Based News.
The virus – which is understood to have originated from a wet market in Wuhan, China in December 2019 – has spread globally killing almost 40,000 people at the time of writing.
Amid the pandemic, health experts have described the sharing rate of misinformation and pseudoscience as 'through the roof'.
Vitamin C
Multiple memes about vitamin C have been shared online, including one which has been widely circulated on Facebook and quotes a now-deceased doctor named Robert F. Cathcart saying: "I have not seen any flu yet that was not cured or markedly ameliorated by massive doses of vitamin C."
According to Factcheck.org, Andrew Saul aka 'The Megavitamin Man' posted the meme, saying: "The coronavirus pandemic can be dramatically slowed, or stopped completely, with the immediate widespread use of high doses of vitamin C."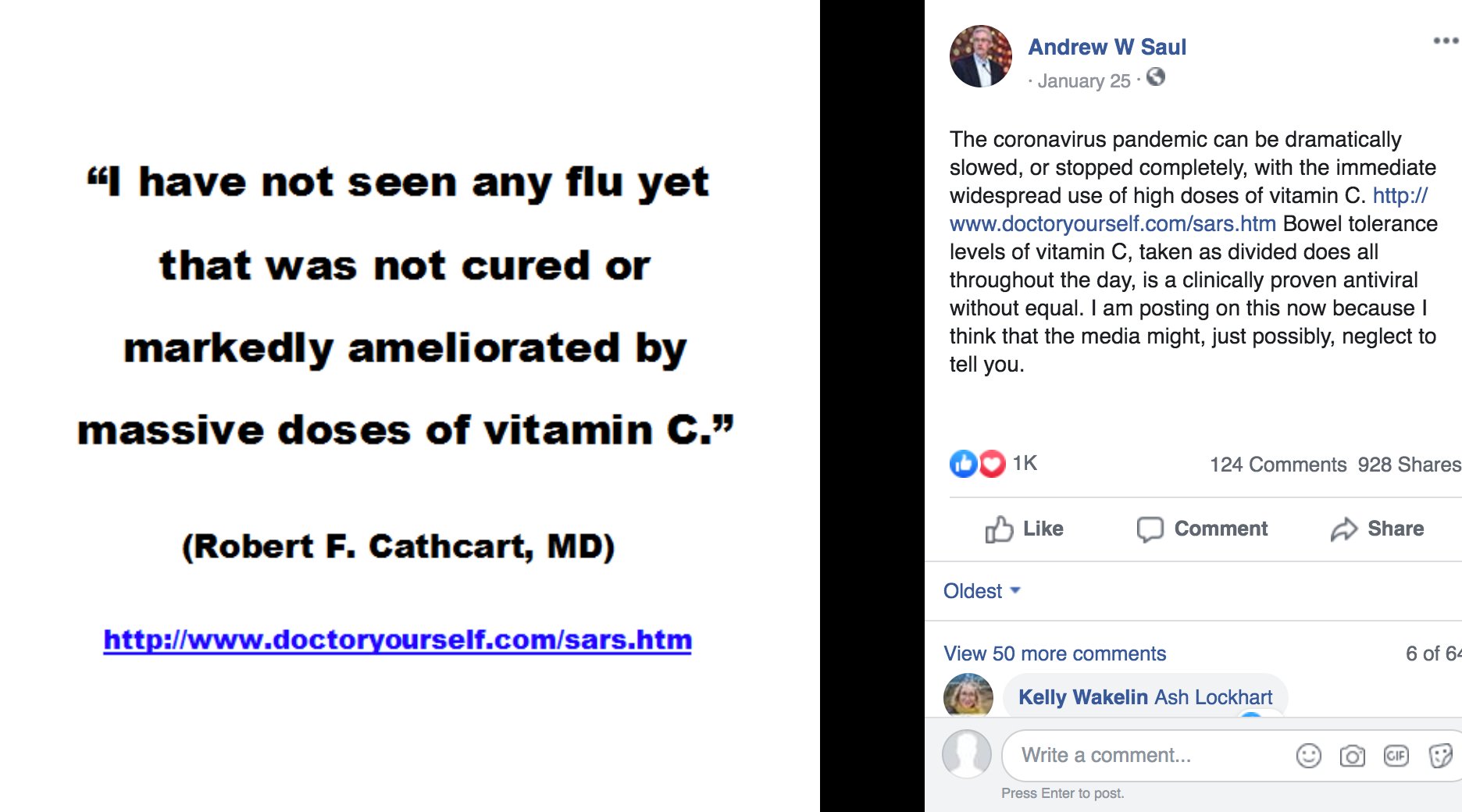 'No known evidence'
But Claire Fudge, a British Dietetic Association spokesperson and Registered Dietitian, told PBN: "There is no known evidence to my knowledge that taking excessive amounts of Vitamin C by way of supplementation will prevent coronavirus.
"Vitamin C is an antioxidant and there have been numerous trials but these are difficult to compare due to different doses, timings, and length of studies. Vitamin C levels do drop during periods of illness such as the common cold, so there is a basis for current studies and questions being raised."
'Exercise caution'
She added that contrary to popular belief, taking a Vitamin C supplement will not ward off the common cold or SARS-Cov2, saying: "The most recent research and a Cochrane review does not support for the general population that taking high doses of vitamin C reduces the common cold.
"It is possible it may reduce the duration by about a day but does not reduce incidence. For athletes and soldiers under intense physiological stress, taking vitamin C reduced the incidence of catching a cold by 50 percent.
"However, we should exercise caution in some of these older studies in athletes under high levels of physical stress with high doses of vitamin C and it may not show as much benefit in a longer-term study."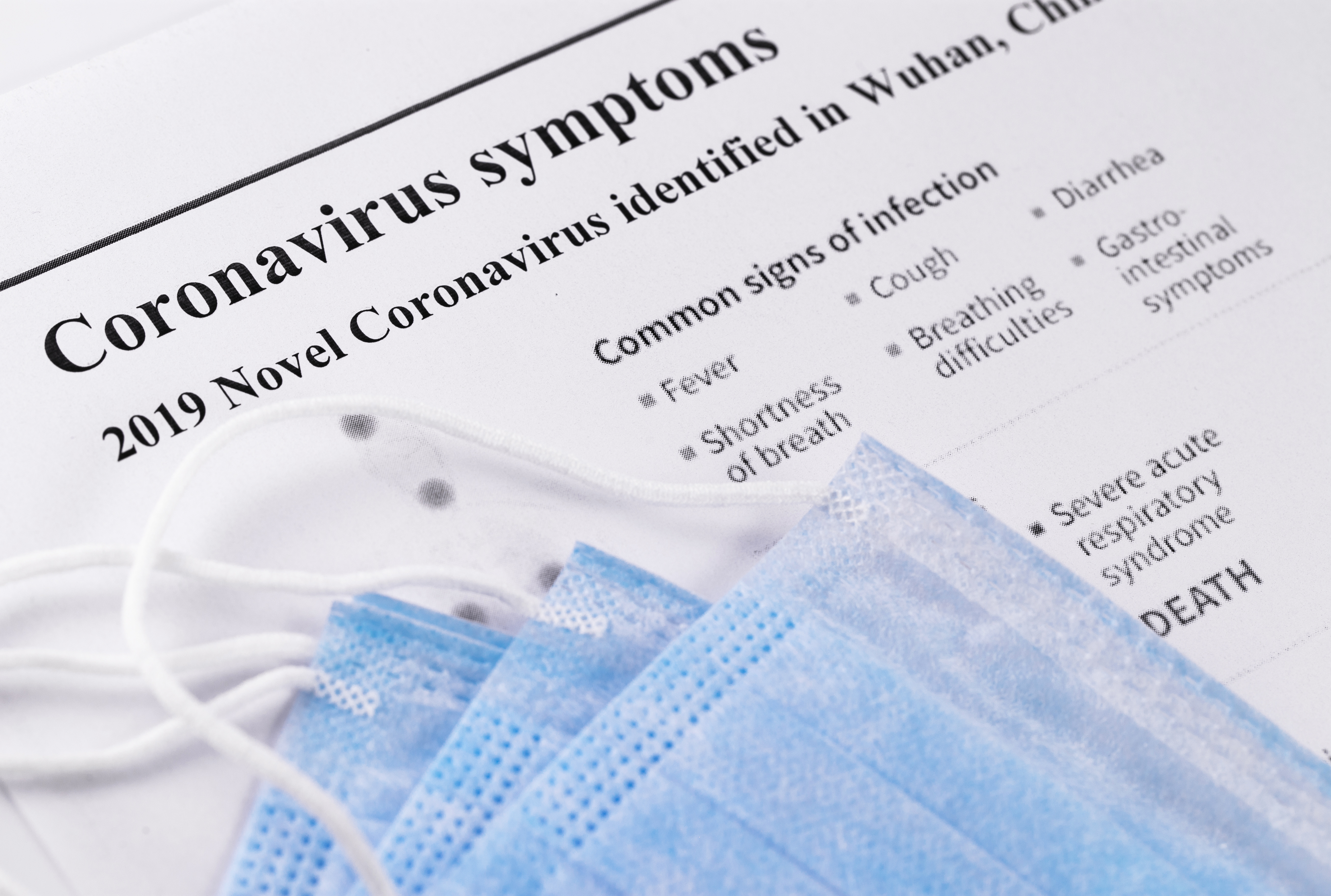 Immune system
When it comes to suggestions that people can 'boost' their immune systems by eating certain foods or taking particular supplements, Fudge says it is not so simple.
"We can't simply 'boost' the immune system or take a supplement that will interact with the immune system to work magic," she told PBN.
"Of course, if there is a specific deficiency of any vitamin or mineral involved in immune function, then it may decrease immunity and therefore by optimizing your nutritional intake with food should supply all the micronutrients that we require."
Treating coronavirus with vitamin C
A number of articles republished recently focused on vitamin C as a possible cure to the coronavirus. According to the New York Post, Long Island-based pulmonologist and critical-care specialist Dr. Andrew Weber has been giving intensive-care patients 1,500 milligrams of intravenous vitamin C (the current RDA of Vitamin C in the UK is 40mg per day).
Dr. Webber told the Post: "The patients who received vitamin C did significantly better than those who did not get vitamin C. It helps a tremendous amount, but it is not highlighted because it's not a sexy drug."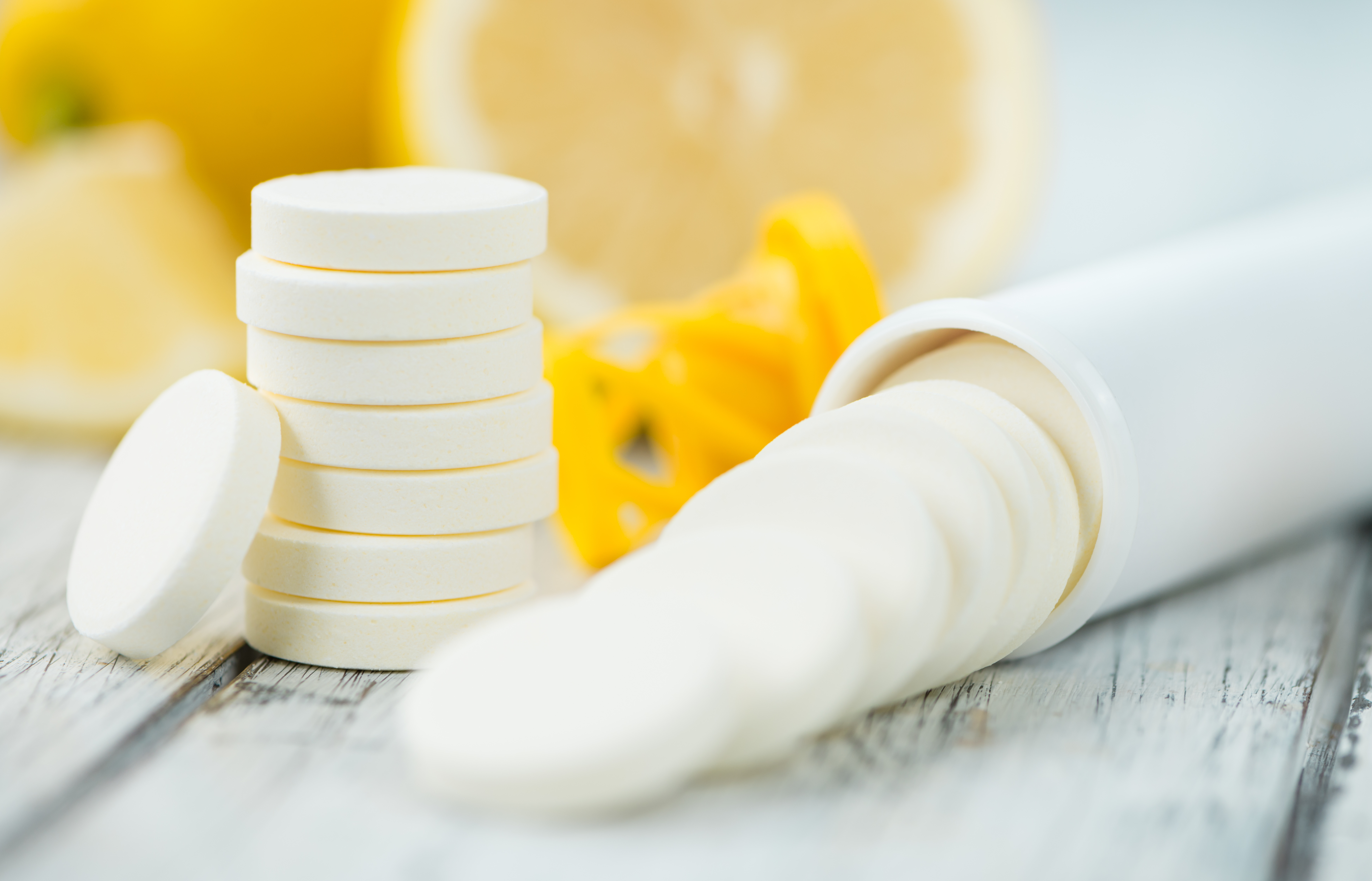 Current evidence
Claire Fudge told PBN that there is no evidence currently available to support this theory – although trials are currently being undertaken.
"Research has started at Wuhan University with 140 patients to test very high doses of IV vitamin C including a 12g infusion twice a day for seven days, proposing that this could improve outcomes or symptoms," she said.
"This will not be completed until September 2020 and there is no evidence currently that that vitamin C will prevent or indeed treat SARS covid 2."
This response is based on the evidence that is currently have available, and could change depending on the outcome of the research.
'No magic bullet'
According to Claire Fudge, based there is no 'magic bullet' to safeguard ourselves. She suggests following government advice, and suggests we can also focus on supporting our immune systems.
She said: "When it comes to nutrition, there isn't one nutrient or vitamin that will 'boost' the immune system or 'increase' your immunity. There are a few that can support or maintain it. A simple well-balanced diet including all major food groups (fats, carbohydrate, and proteins with a healthy dose of varied fruit and veg) will ensure that you have all the necessary micronutrients (like Vitamin A,C,D,E,B12, Folic acid, iron, zinc, copper, and selenium) needed to maintain immune functioning.
"We should also avoid yo-yo dieting, focus on good quality sleep, keeping well hydrated and keeping your mouth moist. Saliva has antimicrobial effects."
Additionally, the BDA has warned against spreading misinformation, as doing so can detract from the most important area to focus on – which is the advice given by the government, including good hand washing techniques for at least 20 seconds and social distancing from people by 2 meters.