Dairy-free is dominating the conversation – and the industry needs to strategize to regain relevance, according to a report by the Agriculture and Horticulture Development Board (AHDB).
The AHDB – which represents farmers and growers – admits that dairy is 'at risk of losing market share where consumers do not value it in their diet', adding that 'dairy-free brands are capitalizing on a thirst for innovation'.
The report titled Keeping dairy relevant says that dairy-free represents 56 percent of the total dairy conversation – a stat that's grown by 30 percent in the past few months.
Changing consumers
The report charts a number of key events in the rise of dairy-free, including Pizza Hut launching vegan cheese and Veganuary 2018.
It also looks at who is ditching milk. Those aged 16-24 are giving up dairy in greater numbers than any other age group. It shows that 83 percent of millennials consume milk, with 78 percent buying butter.
According to the report, those who have already given up dairy are more susceptible to negative messaging about the industry, claiming that negative information from animal welfare groups may be inaccurate.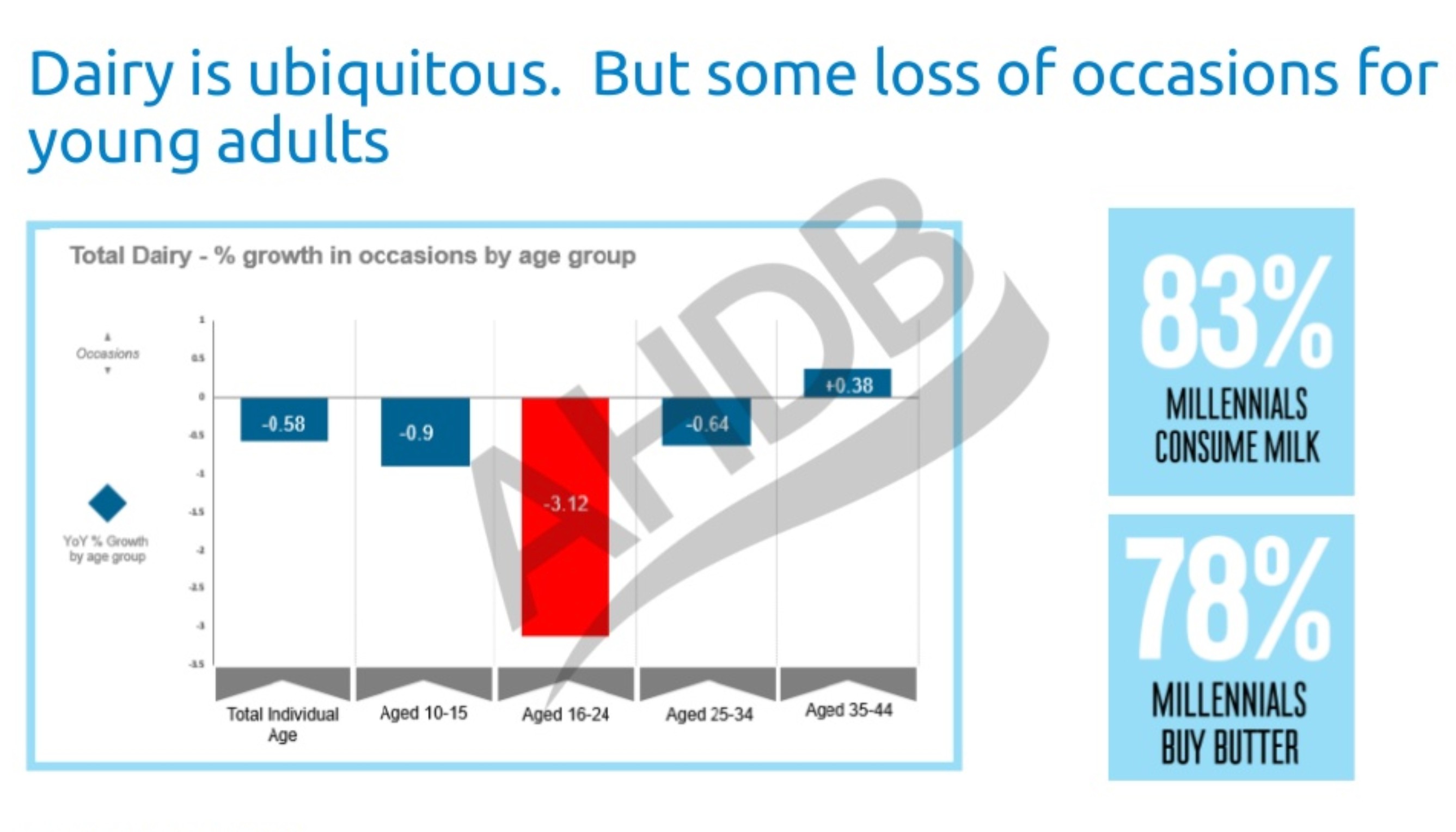 Alternatives
The branding of dairy alternative products accounts for some of the consumer shift, with AHDB highlighting that companies producing these products market them 'very effectively'.
This includes adding new flavors, good packaging, appeal to lifestyle and Instagram-ability.
But it believes the dairy sector can regain relevance, saying it needs to innovate to do so by 'building a story, hitting the coffee break, and finding a tribe'.
£1.2 million campaign
The report follows August's announcement of a £1.2 million campaign by AHBD in conjunction with UK Dairy – a continuation of a 2017 program designed to target millennials and combat the vegan message.
Attitudinal research after the 2017 instalment of the campaign reportedly showed that eight percent of participants were less likely to reduce dairy intake, and eight percent were less likely to replace dairy products with alternatives.
CEO Judith Bryans said that there are plans in the works to target the UK's generation Z next – who, according to recent research, drink 550 percent more vegan milk than their older counterparts.
Growth of non-dairy
The global dairy-alternative market is expected to exceed $24 billion USD within eight years, according to market researching reporting.
The sector, which was valued at $9.8 billion in 2017 is forecast to grow at a CAGR [Compound Annual Growth Rate] of 12.4 percent until 2025.
The sharp rise in veganism is one of the reasons for the sector's growth, as well as lactose intolerance, dairy allergies, and the general growth of the beverage market.
Non-dairy
This latest prediction is one of a slew of reports highlighting the growing shift towards non-dairy products. Research published last year suggested the alternative market is set to grow as teens increasingly turn away from milk. According to the research by Barclays in the UK, people between the ages of 16 and 24 (Generation Z) are consuming 550 percent more vegan milk than their older counterparts.
Traditional dairy companies would do well to learn from the success of the younger industry, according to a report by Rabobank, with Tom Bailey, Senior Analyst – Dairy, saying: "Global demand for dairy is expected to grow by 2.5 percent for years to come, with demand for non-fluid categories offsetting weak fluid milk sales.
"While it's not essential to diversify into dairy alternatives, it would be wise for the dairy industry to at least learn one thing from the success of dairy alternatives, which may be putting the consumer first and trading in the old grass-to-glass model for glass-to-grass."
?