The dawn of veganism is upon us and yet for some reason we can't seem to shake the notion that plant-based cooking (and indeed eating) is something of a lonely venture.
I've often thought it's in need of a little image overhaul and what better way to do that than to create a cookbook with 'sharing' at the absolute core.
To my mind, the only way to win people over is by plying them with wonderful vegan food. Food that not only feeds the soul but also encourages kinship. After all, there's nothing so basic, or beautiful, as breaking bread with one another – in my humble opinion, food is much more than simply fuel, it is the foundation of human connection.
A powerful way that we can communicate a message of compassion and quite simply, let the recipes do the talking.
Gentle approach
From my experience, I always find it most effective to let others come to veganism in their own time and in their own way. My new cookbook – Cook Share Eat Vegan: Delicious plant-based recipes for Everyone – has a similarly gentle approach, using recipes that are accessible and inclusive but also pack a punch in the flavour department.
My preferred method is to offer familiar recipes with a twist – such as my obsessively good Polenta Pizza (see below), which utilizes the surprisingly under-used (and naturally gluten-free) cornmeal ingredient as the base.
Topped with roasted squash and wilted spinach, as well as my cheezy sunflower seed dressing, it's the perfect party food … cut into rectangular pieces and serve simply on a rustic serving board for added charm.
Ice-breaker
Food is without a doubt, the ideal ice-breaker to any gathering and none more so than a vegan one. Whether it's a sit-down meal or something a little less formal, making sure things run smoothly is always crucial to the success of any event.
No-one wants to see the host in a kitchen-induced panic, which is why I always like to have an array of dishes pre-prepared in order for guests to help themselves – my Curried Chickpea & Pine-nut Pasties make for super little appetisers, as do my Sweet & Sticky Cauliflower Florets.
For the less heat-inclined, you can never go wrong with a platter of my Crispy Potato Chips with a Parsley Almond Sauce but you'd best make a double batch because these things will literally fly off the plate. Alternatively, keep it fresh with a gargantuan bowl of my Salsa-style Panzanella Salad with Griddled Nectarine…the ultimate chips & dip scenario, if you ask me.
Something sweet
Making sure any meal is suitably rounded off with an appropriate pud is always of paramount importance to me, which is why I'll never see you out the door without a little something to sweeten the journey home.
If I'm being super lazy, I'll opt for my Chocolate Orange Pots (with a hazelnut & cacao nib crumb) otherwise it's all about my Vegan Pavlova (with poached rhubarb & vanilla yoghurt – see below) … sure, it takes a little more effort but the result (and wow factor) is so worth it.
It's also a great way to show non-vegans that you can still have your cake (or meringue) and eat it. Finish the evening off with some Dill Coated Cashew Cheeze (with homemade nut-pulp crackers) and you have yourself a plant-based winner that is guaranteed to have many of the more reluctant attendees coming back with an inquisitive Dickens-esque 'more?'
Recipes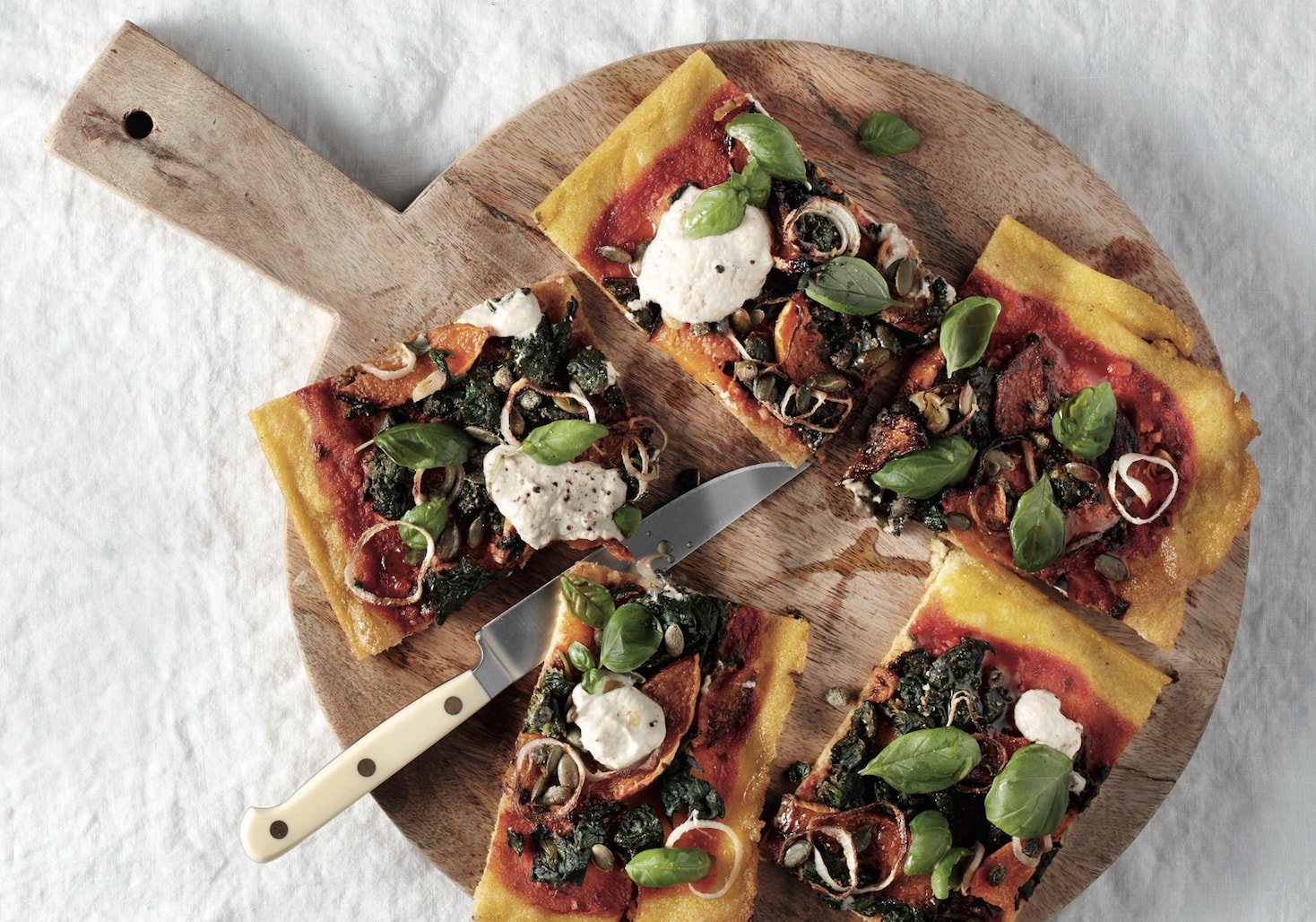 Polenta Pizza with spinach & roasted squash
Serves 4-6
Polenta is a bit of an obsession of my mine. I enjoy it for breakfast, adore it cut into wedges and fried, and think it makes a pretty epic substitute for mash. But this easy pizza crust might just pip everything else to the post when it comes to how best to consume this super-versatile ingredient.
Basically a fancy vehicle for toppings, this crispy, crunchy, flavourful base brings a bit of unexpected wow factor to the table. Perfect for parties, it's sure to make even the most low-key affair go off with a bang.
Ingredients
Base
700ml water
175g polenta
1 tablespoon extra virgin olive oil
sea salt flakes and black pepper
Pizza sauce
3 tablespoons passata (sieved tomatoes)
1 heaped tablespoon tomato purée
1 teaspoon oregano
1 garlic clove, minced
½ tablespoon maple syrup
½ tablespoon balsamic vinegar
50ml water
sea salt flakes and black pepper
Toppings
½ butternut squash, peeled and cut into bitesized pieces
1 heaped teaspoon oregano
1 tablespoon olive oil
200g spinach
2 shallots, sliced
2 heaped tablespoons freshly chopped basil,
plus extra to garnish
2 tablespoons pumpkin seeds
2 tablespoons nutritional yeast (optional),
plus extra to garnish
sea salt flakes and black pepper
'Cheesy' sunflower seed sauce
70g sunflower seeds
1 small garlic clove, minced
juice of ½ orange
1 teaspoon Dijon mustard
1 teaspoon maple syrup
½ teaspoon sea salt flakes
1 tablespoon nutritional yeast (optional)
125ml water
Method
1. Preheat the oven to 220°C (200°C fan), Gas Mark 7. Line a baking tray with baking paper.
2. For the base, place the measured water in a saucepan and bring to the boil. Generously salt the water, whisk in the polenta and cook over a medium heat, stirring vigorously, for 15–20 minutes, or until it thickens. Add the oil, season and continue to cook, stirring, until it becomes rubbery and pliable.
3. Tip the polenta mixture on to the prepared baking tray and spread it to the edges using a spatula. Transfer to the refrigerator and leave for 30 minutes to firm.
4. Meanwhile, prepare the toppings. Put the squash, oregano and olive oil in a bowl and toss to coat. Season generously and roast for 30 minutes, or until golden and crispy. Remove from the oven and set aside until needed.
5. Increase the heat to 240°C ( 220°C fan), Gas Mark 9 and bring a large saucepan of water to the boil. Add the spinach to the pan and cook until wilted, then remove with a slotted spoon and squeeze out any excess liquid before mincing to a rough pulp. Season and set aside until needed.
6. To make the pizza sauce, add the passata, tomato purée, oregano, garlic, maple syrup, balsamic vinegar and measured water to a bowl and whisk together to combine. Season and set aside.
7. Once firm, bake the pizza base for 20–25 minutes until the edges begin to crisp.
8. Spread the base with the pizza sauce and top with the sliced shallots, wilted spinach, basil, roasted squash, pumpkin seeds and the nutritional yeast, if using. Bake for a further 15–20 minutes, or until the edges are crispy and golden.
9. Meanwhile, place all the 'cheesy' sauce ingredients in a bowl and whizz together with a hand-held blender until completely smooth.
10. To serve, cut the pizza into squares, drizzle over the sauce and garnish with a little extra basil and/or nutritional yeast.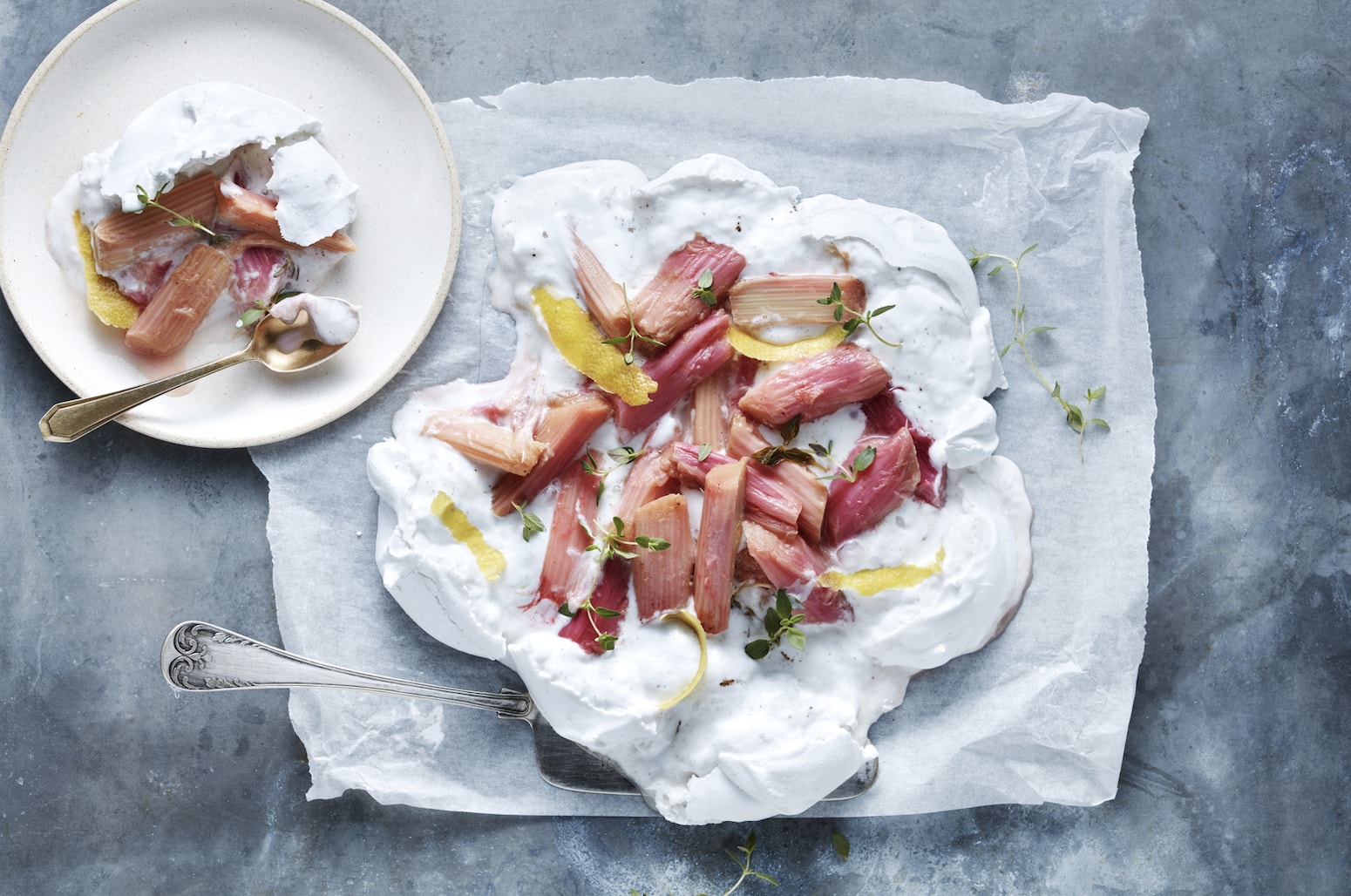 Vegan Pawith poached rhubarb & vanilla yogurt
Serves 6-8
Pavlova – the holy grail of vegan desserts if ever there was one. Who would have thought that chickpea liquid would be the answer to our prayers? A stand mixer or electric mixer is pretty crucial here, and I advise whisking until it's as firm as you can humanly get it before transferring it to the tray. It's also crucial that you allow the meringue to cool completely in the oven before removing it.
I like to make it a day in advance to avoid any meringue-induced meltdowns, but if you're not serving it immediately, be sure to keep it in an airtight container. If you prefer to make slightly smaller meringues, reduce the cooking time by about 30 minutes.
Of course, the topping possibilities are endless but the pale pink of the rhubarb paired with the cool soft white of the yogurt is absolute perfection in my opinion. Enjoy!
Ingredients
100ml chilled aquafaba (reserved chickpea liquid)
½ teaspoon cream of tartar
125g caster sugar
400ml coconut yogurt
1 vanilla pod, split lengthways and seeds scraped
400g rhubarb, cut diagonally into 6cm chunks
4 tablespoons raw cane sugar
1 strip of lemon rind
1 lemon thyme sprig
Method
1. Preheat the oven to 120°C (100°C fan), Gas Mark ½. Line a large baking sheet with baking paper.
2. Place the aquafaba in a stand mixer with the whisk attachment added and whisk on a medium setting until it becomes thick and frothy. (Alternatively, a large mixing bowl and hand-held electric whisk will work equally well, although it may be a little more tasking on the arms.)
3. Add the cream of tartar and whisk on high setting for at least 10 minutes until thick peaks begin to form. Gradually add the caster sugar, one tablespoon at a time, until it is glossy and thick – this may take anywhere up to 30 minutes but it is crucial the mixture is as stiff as possible, so be patient.
4. Secure the baking paper on the sheet with a dot of meringue under each corner, then spoon over the meringue and shape it into a rough rectangle using a spatula, spreading it out to almost meet the edges of the tray. Transfer to the oven and cook for 3½ hours, then turn off the heat and leave to cool completely in the oven for at least 6 hours, ideally overnight. Transfer to an airtight container until needed.
5. Whisk the coconut yogurt and vanilla seeds (reserving the pod) together to combine. Refrigerate until needed.
6. Place the rhubarb in a saucepan along with the cane sugar, lemon rind, thyme and vanilla pod. Pour over just enough water to cover (200–250ml), bring to a very gentle simmer and cook for 10–12 minutes, or until the rhubarb is just cooked through. Leave it to cool in the syrup, then refrigerate for several hours, or until needed.
7. To assemble, place the pavlova on a large platter and layer over the coconut yogurt first followed by the chilled rhubarb. Serve immediately and let everyone help themselves.