The ketogenic diet is currently extremely popular – with lots of people trying it out in as a way to drop pounds fast.
It involves consuming large amounts of fat and very few carbs, in a bid to get the body into ketosis – a state where it is burning fat for energy when it doesn't have enough carbohydrates to burn. These diets are often high in animal products, though some people adopt vegan ketogenic diets.
In this exclusive Plant Based News video, PBN Founder Klaus Mitchell talks to top medical professionals, who talk through some essential reading for any keto enthusiasts.
Here are the nine studies you should read before eating an animal product-heavy keto diet.
Director of Nutritional Education at PCRM, Susan Levin, M.S., R.D., C.S.S.D., says: "Here at the Physician's Committee, Dr. Neal Barnard led a team of researchers, dieticians, physicians, who walked about 99 people through a diet intervention."
During this study, researchers compared the effects of a low-fat vegan diet and conventional diabetes diet recommendations on glycemia, weight, and plasma lipids.
They concluded that: "Both diets were associated with sustained reductions in weight and plasma lipid concentrations. In an analysis controlling for medication changes, a low-fat vegan diet appeared to improve glycemia and plasma lipids more than did conventional diabetes diet recommendations."
Cardiologist Dr. Joel Khan told Plant Based News: "Patients come to me all the time, saying 'doc, I want to do that low carb thing, I see athletes doing it, I see Hollywood people doing it… can jump into that low carb, high-fat diet, I'd like to drop some weight'.
"What I bring up is this key study you need to be aware of."
The objective of this study was to 'elucidate the long-term effects of low carb diets on mortality and cardiovascular disease incidence [CVD]'.
After systematically reviewing all pertinent data, scientists concluded: "Low-carbohydrate diets were associated with a significantly higher risk of all-cause mortality and they were not significantly associated with a risk of CVD mortality and incidence."
According to General Practitioner Dr. Gemma Newman: "One of the problems with a conventional low carb high-fat diet, is that a third of people who do it notice an increase in their cholesterol levels.
"This study showed that a plant-based low carb high-fat diet – the so-called 'eco Atkins' diet – then you have the potential to reduce your cholesterol even more than what you can achieve with a wholefood plant-based diet.
"If you're going for low carb high-fat, always make it plant-based."
As the study concluded: "A low-carbohydrate plant-based diet has lipid-lowering advantages over a high-carbohydrate, low-fat weight-loss diet in improving heart disease risk factors not seen with conventional low-fat diets with animal products."
This seminal paper led by leading plant-based medic Dr. Dean Ornish looked at how 'intensive lifestyle changes may lead to regression of coronary atherosclerosis after one year'.
During the study, 48 patients with moderate to severe coronary heart disease were either treated with usual-care or asked to undertake a number of intensive lifestyle changes. These included following a low-fat whole foods plant-based diet, aerobic exercise, stress management training, smoking cessation, and group psychosocial support.
According to PCRM's Susan Levin: "After about a year, what he found was amazing. The plaque in the control group [who were undergoing standard medical care] actually worsened…whereas the people on the intervention trial – the low fat plant-based diet – their plaque started to disappear. 82 percent of them had plaque formation that was going away. Chest pain diminished almost immediately, and their cholesterol dropped as well."
Essential viewing for anyone interested in the keto diet.Subscribe to PBN's YouTube Channel here
This study led by leading plant-based surgeon Dr. Esselstyn looked at the potential of a plant-based diet to reverse coronary artery disease [CAD]. While a smaller study had shown arrest and reversal of the condition, Esselstyn wanted to conduct this follow-up in order to overcome skepticism. Researchers followed 198 consecutive patients.
Top plant-based physician Dr. Neal Barnard says: "Dr. Esselstyn brought in people who had heart disease, who were at risk of death, who were on a list of medications as long as your arm. He said 'let's go to the cause' – the cholesterol, the animal fat that's in meat, dairy products and fish. He threw those off the plate completely. This was a completely vegan diet."
Cholesterol improved, blood pressure fell, and the patients lost weight as they enjoyed saturated fat-free healthy vegan foods. Dr. Barnard adds: "The arteries were starting to open up again, their chest pain melted away…they were really living again."
The study concluded: "Plant-based nutrition has the potential for a large effect on the CVD epidemic."
"There's so many questions about protein, protein, protein," says cardiologist Dr. Joel Kahn. "The idea that we need chicken to be a weightlifter…that we're putting our health at risk if we're not eating lots of animal protein. We're seeing that disappear as we see world-class athletes on a whole food plant-based diet…There's science behind this."
Some of the science can be found in this study, which examines the associations of animal and plant protein intake with risk of mortality. Researchers analyzed the diets of 85,013 women and 46,329 men over three decades, linking what they ate to their health and mortality.
The study concluded: "Higher animal protein intake was positively, whereas plant protein was inversely, associated with mortality, especially among individuals with at least one lifestyle risk factors. Substitution of plant protein for animal protein, especially from processed red meat, was associated with lower mortality, suggesting the importance of protein source."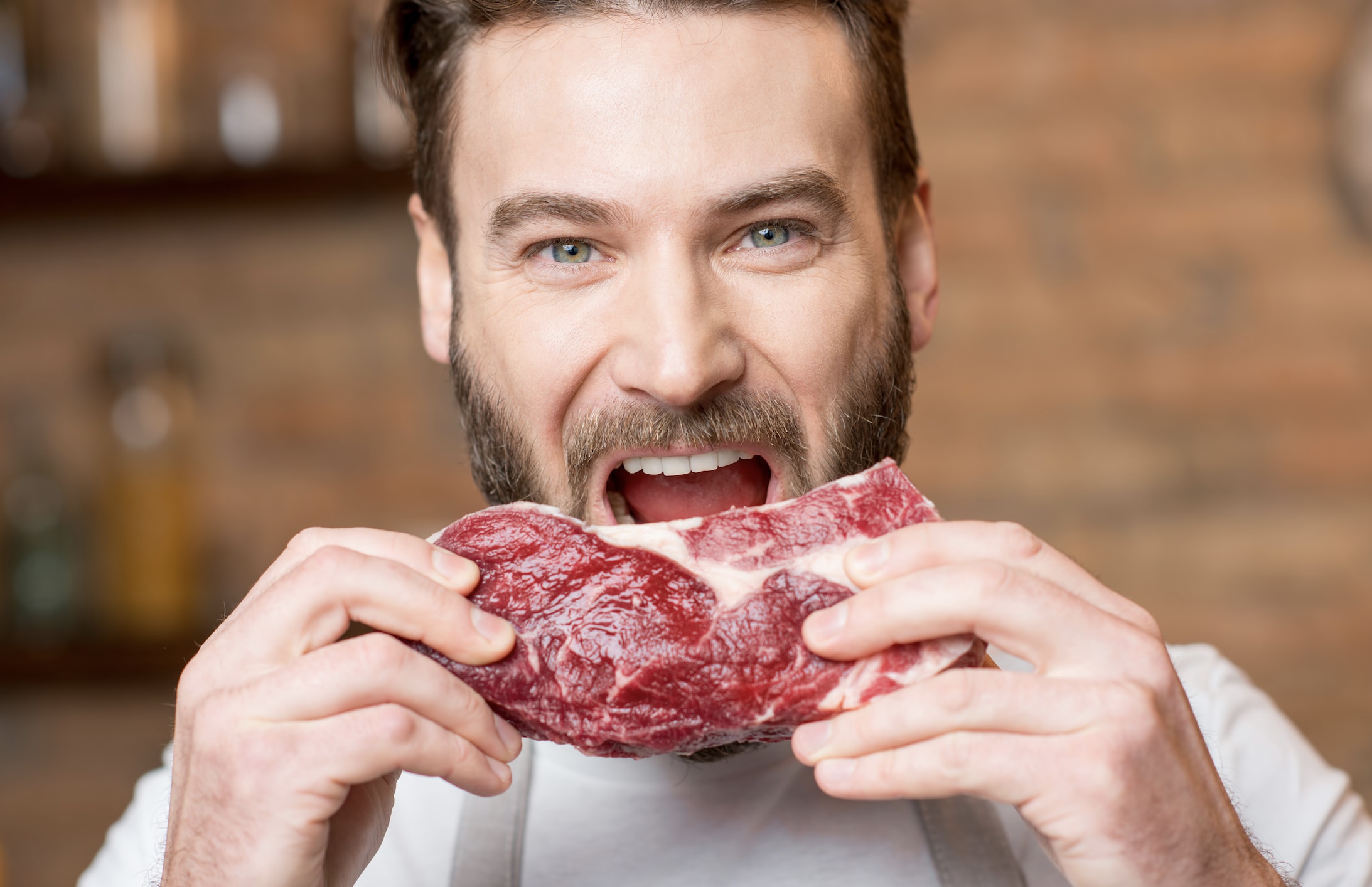 Director of Nutritional Education at PCRM, Susan Levin, M.S., R.D., C.S.S.D., says: "An important group that has been studied over the decades is the Seventh Day Adventists. This is a very health-conscious group of people because they are asked to do things like avoid caffeine, avoid alcohol, and avoid meat. Interestingly most of them stick to those first two criteria but the last one – avoiding meat – some do some don't. For researchers this sets up a very natural experiment to see what meat-eating does to health outcomes."
Researchers found an incremental increase in diabetes risk as participants increased their intake of animal products. In addition, those who abstained from animal products had, on average, lower body mass. Only the vegans were in the healthy weight category, with all others – vegetarians, pescetarians, and meat eaters increasing in weight (in that order) and all in the overweight categories.
The study concluded: "Vegetarians, especially vegans, with otherwise diverse characteristics but stable diets, do have lower systolic and diastolic BP and less hypertension than omnivores. This is only partly due to their lower body mass."
This study, led by Dr. Dean Ornish, took a group of participants and divided them into two groups: a control group taking standard medical advice, and a group employing lifestyle changes including a healthy vegan diet.
According to Dr. Neal Barnard: "What he found, was that among the people who were in the control group, about six of them couldn't wait anymore, they had to go ahead and have surgery or radiation before the study was over because the cancer was progressing too quickly.
"In the vegan group, nobody needed treatment in this year-long study because they were tracking their blood tests, their prostate-specific antigen [PSA] showed that their cancer wasn't progressing. In fact, for them, their PSA levels actually dropped by about four percent overall, over the course of the year."
The study concluded: "Intensive lifestyle changes may affect the progression of early, low grade prostate cancer in men. Further studies and longer term followup are warranted."
"This study provided a foundation for the mountain of evidence we now have that a whole food plant-based diet is optimal for our health,"says General Practitioner Dr. Gemma Newman.
"Some of the primary findings that help us in his study are that nutrition is the primary foundation for health, that we don't need as much protein as we think we need, and that if we have a low animal protein diet we are far less likely to suffer from things like heart disease, several forms of cancer, and diabetes – compared to if we have a high animal protein diet."
Conclusion
Speaking about low carb, high-fat diets which contain animal fat, plant-based physician Dr. Anthony Hadj adds: "Ketogenic diets can aid in weight loss, but they are not sustainable in the long term, they are not sustainable for the planet from an environmental perspective, and they unfortunately do not have the outcomes that we hoped for.
"They drive disease. They don't deny it."