A former corporate worker transformed his mindset and his physical health after ditching his 'junk food vegan' ways.
Ben Raue, 45, from Chicago decided to embark on a 90-day health and fitness transformation, using a plant-based diet and vegan supplements from Vivo.
Vivo offers a range of products including Vivo Perform Powder (Raw Plant Protein & BCAA) ;Vivo Sustain (Plant Based BCAA & Coconut Water); Vivo Thrive; Vivo Maca Powder (Organic); and Vivo Matcha (Organic)
Before the transformation
Despite studying for an environmental science related degree, Raue ended up running his own employment outsourcing company. Years of working about something he had no passion for led to him ditching his career to become a meditation coach several years ago.
When Raue was shortly into his new career, his father was diagnosed with a rare form of lung cancer and given a 10 percent chance of living for two years – leading Raue to 'dive full-time into researching alternative and integrative health therapies'. Through the research, they found an Integrative Oncologist who combined both conventional treatments and a nutrition-based protocol. Over six years later, his father is alive and well.
Personal burnout
After his father's illness, Raue experienced a personal burnout, and spent a few years traveling through Thailand, India, and Central America to continue his meditation and self-inquiry practice. Although he experienced many 'moments of deep peace' throughout these years, he still felt a sense of unease that he was only focusing on inner growth, and not taking action externally in the world.
He describes his full transformation experience.
What sparked your interest in your transformation?
Around the beginning of 2018, I rewatched the documentary What the Health which ignited a spark in me and made me want to clean up my eating to more of a whole food plant-based diet.
I also rewatched Cowspiracy which brought back to mind the extraordinary impact animal agriculture was having on human rights, rainforest, species extinction, climate change, ocean dead zones, and more.
Refueled by these documentaries, I signed up for a vegan fest in January of 2018 in Tulum, Mexico. This was my 'aha' moment. I decided to become the change I wanted to see in the world and dedicate my time and career to promoting a vegan diet, for the people, the planet, and the animals. My first step in the journey? My 90-day health and fitness transformation.
What was the motivation behind your transformation?
My motivation for my 90-day journey was to demonstrate to the world that you can thrive on a vegan diet.
Most vegans are already aware of this fact but a majority of the population believes there is a lack of protein in a vegan diet and eating plant-based is not an optimal diet for fitness.
What were the first changes you made?
Although I had been vegan for two years prior to my 90-day transformation, I was a bit of a 'junk-food' vegan including pizzas, ice cream, and eating out almost daily.
In addition, I was going to the gym once or twice a week, but I had little direction or motivation to change. The first thing I did was write down my purpose, my goals, and what I wanted to accomplish after the 90 days.
The second step was to get support. This was a critical step, as it gave me clear direction and took the guesswork out of my diet and fitness goals.
What did your 90-day training program look like?
The program evolved over the 90 days. For the first month, I worked out on weights about an hour a day, five-six days a week. I worked on each muscle group two days per week: chest, shoulders, triceps one day.
The next day: back and biceps. Then a leg day. I incorporated abs three-four times per week. I repeated this pattern each week with a day off (or just cardio) in-between.
In regards to cardio, I started at 20 minutes of HIIT (high-intensity interval training) three-five days per week and moved closer to 30-40 minutes towards the end of the month.
Although I didn't notice a significant improvement during the first month, I definitely felt strong and more alive. Cardio was starting to get easier and I was primed for month two.
After the first month
The second month was much easier to get through the workouts. I found my 60 minutes turning into 75 to 90-minute workouts. I followed a similar routine to the first month but added a few more sets into the routine. As the weather was getting nicer, I found I was complimenting my back and bicep days with some basic calisthenics at the park – a little Derek Simnett inspiration.
About six weeks into the program, I started to shift my cardio to more steady-state, as opposed to the HIIT. I started noticing more fat burning from the steady state cardio, which was mostly a slow jog. By the end of the second month, I felt like I was becoming unstoppable.
The third month I turned up the heat even more. I found myself working about 60-90 minutes per day in the gym on weights, and six days a week of 45 minutes of steady-state cardio. During the final two weeks, I did an hour of cardio with about 1 ½ hours in the gym on weights. I realize this is beyond what most trainers would recommend, but honestly, I felt amazing. I walked out of the gym each day energized and feeling on top of the world.
What changes did you make to your diet?
The easiest way to sum up my diet is to say that I went from eating processed vegan foods (pizza, chocolate bars, a lot of Thai food, Indian food, chips and guac) to more of a whole foods plant-based diet.
In addition, I became a bit of a smoothie junkie and I still am today. This allowed me to get in a ton of fruit, veggies, and my protein powder. I only ate out in restaurants maybe two or three times the entire 90 days. I counted my calories very closely for the first time in my life and that made a huge difference. I kept my calories often between 2000 and 2500.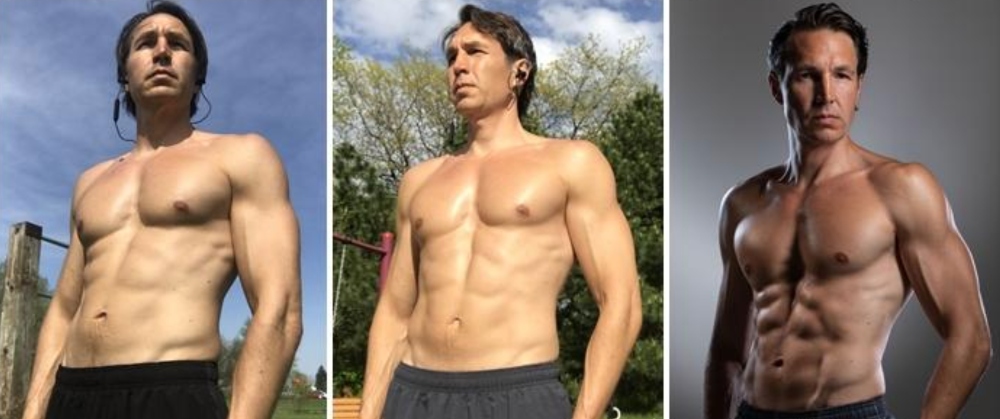 What supplements did you use?
I used Vivo Life protein powder twice daily. On the last month of the program, most days I also supplemented with a ¼ scoop of vegan BCAAs (branched-chain amino acids).
My favorite food during the transformation was smoothies. Here's a quick recipe that I love: 2 cups of soy milk, a full scoop of the Salted Maca Caramel protein powder, 2 brown-spotted bananas, 4 large dates, 2 cups of frozen mixed berries, three shakes of cinnamon, and top it off with some cacao nibs. Warning: I recommend sitting when taking the first sip.
Other sources of protein I incorporated in my diet included lentils, lentil pasta, quinoa, a lot of black and kidney beans, soybeans, soy milk, and brown rice.
What is the biggest thing you have learned during this journey?
Having a compelling purpose bigger than yourself not only will drive you to success, but also more happiness and gratitude.
The transformation has helped in numerous ways. For one, it has given me the confidence to take on new and bigger challenges. It has inspired friends and family to change to a more plant-based diet. It has opened doors to create new connections in the vegan community. It was well worth the effort
What are your plans for the future?
I have a couple of major projects in the works. First, my YouTube channel will be launched this summer. The goal of the channel is to inspire happier, healthier, more conscious living. An emphasis on this channel will be transformation interviews on health, fitness, and even condition-reversing transformations.
Secondly, I am helping people to transition to a vegan diet and accomplish their own transformations through one-on-one online coaching, with an emphasis on motivation, support, and commitment.
What advice would you give someone looking to make positive changes in their own life?
First, set a lofty goal. Second, find very compelling reasons to accomplish your goal. Find a reason that will keep you going through difficult times. Third, during your transformation phase make your transformation your priority.
Avoid circumstances and situations that don't support your goals. Replace unhealthy habits with healthy ones. Become obsessed about learning about veganism, fitness, and self-improvement. These actions made all the difference in my transformation success.
This article contains affiliate links. Vivo creates 100 percent plant-based, carbon neutral health products including protein powder, matcha, and other items which can support your vegan lifestyle.
?To get 10 percent off your first Vivo order use code PBN10.