Veganuary Co-founder Matthew Glover appeared on British TV show This Morning today – to put forward the argument for veganism.
Arguing against veganism was journalist Julie Bindel, a radical feminist journalist who has written for The Guardian, among other major newspapers.
So far, around 135,000 people have signed up to take part in Veganuary this year, a huge increase on around 60,000 in 2017.
Animals
During the segment titled Is Veganuary the latest new year trend?, Glover told show hosts Eamonn Holmes and Ruth Langsford that he is primarily vegan for compassionate reasons.
After joking that the 'hardest thing about Veganuary is how to pronounce it', he revealed: "Witnessing some of the cruelty that happens on farms, I felt bad about that.
"My mother's family were butchers and meat traders, so I spent time in slaughterhouses, and I didn't like how animals were treated."
Moral compass
When the question of compassion was put to Bindel, she said: "I don't have a strong moral compass so I'm not a vegetarian.
"I'm not a masochist – so I'm not vegan."
According to Bindel, she is 'concerned' about the environment – and is concerned that the number of avocados vegans eat is destroying the rainforest.
Animal ag
But according to Glover: "Many vegans do it for environmental reasons – 90 percent of the Amazon rainforest is being cleared for animal agriculture – to graze livestock and to grown feed.
"Avocados aren't really the issue."
Bindel moved on to health, saying the vegan diet often isn't healthy – and vegans can be very judgemental.
"You can drink a bottle of vodka, eat a bag of chips, and smoke 20 cigarettes and they are still vegan," she said.
Health
Glover said: "There is a lot of science to show that a plant-based diet is healthy: vegans live longer than vegetarians, who live longer than meat eaters.
"Vegans are less likely to have heart disease, type 2 diabetes, and are more likely to have a lower body mass.
"In addition, when we do our survey in February, 97 percent of the people who respond say they feel healthier after one month on a plant-based diet."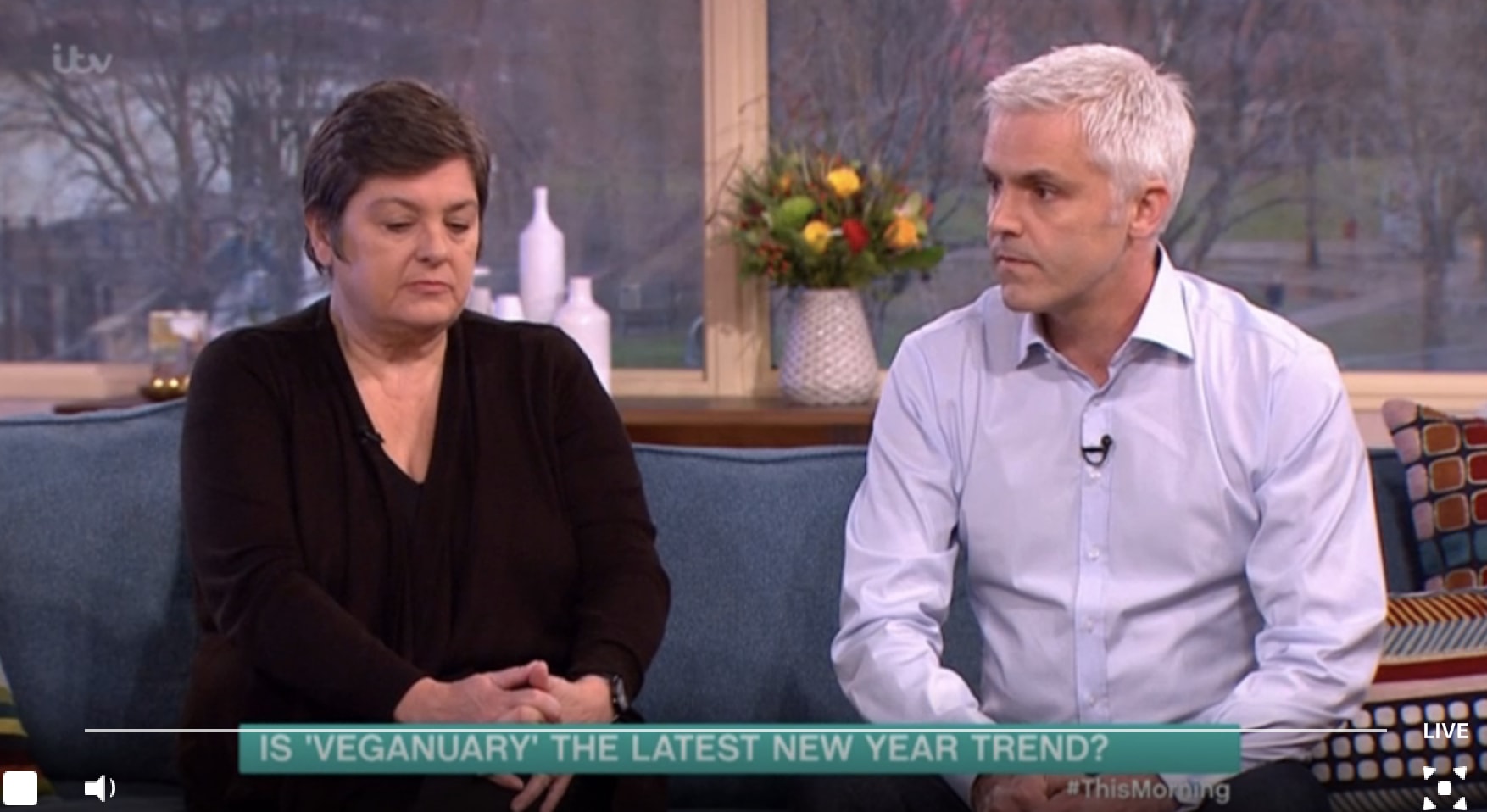 Fundamentalist
Bindel said she would consider trying a plant-based diet, but added: "The problem with this fundamental version of veganism is that no one talks about how much time it takes to cook meals, plan the meals, and do the shopping.
"And for women, in particular, who have dependants, whether it's three small kids or an elderly parent and those with children, they can't afford the time."
Glover said: "That's why we wrote the Veganuary book (How To Go Vegan: The why, the how, and everything you need to make going vegan easy) – to give people meal planning tips, nutritional advice, and the environmental information and how animals are treated."
You cansign up for Veganuary here
You canbuy Veganuary's book here