One of Planet Organic's London branches has stopped using glue traps to catch mice after more than 500 people signed a petition urging it so do so.
The petition, created by Chantal Di Donato, asked CEO Peter Marsh to ditch the traps from its Westbourne Grove branch on welfare grounds, saying they are inhumane and cause immense suffering to the animals.
Speaking to PBN, Peter Marsh said: "We listened, so we decided to stop using them.
"Nobody likes glue traps. We stopped using them, but it's a real problem, because nothing else is as effective."
In addition, the branch cancelled Sunday night's plans 'to bring in the exterminators'.
'Cruel'
Vegan customer Di Donato launched the petition because she wanted the retailers to implement 'some kind of standards when it comes to animal welfare'.
She told PBN: "[Glue traps] are cruel, the mice are stuck there, and they're crying – I've seen it. It's just crazy.
"I acknowledge that Planet Organic isn't a fully vegan place, but I want some kind of standards when it comes to animal welfare.
"I know people look at rats and mice like they're nothing, but they're living beings."
The petition features resources showcasing the cruelty of glue traps
Petition
Writing in the petition, Di Donato, who has shopped in the store for more than 10 years, said: "Glue traps are perhaps the most cruel way to capture any creature.
"I agree that stores and restaurants have to maintain their hygiene standards, and I would not like to eat in a mouse or insect-infested venue, so of course they need to remove them.
"But there are humane ways to do so and glue traps are not the solution."
She suggested a PETA-approved humane mousetrap as an alternative.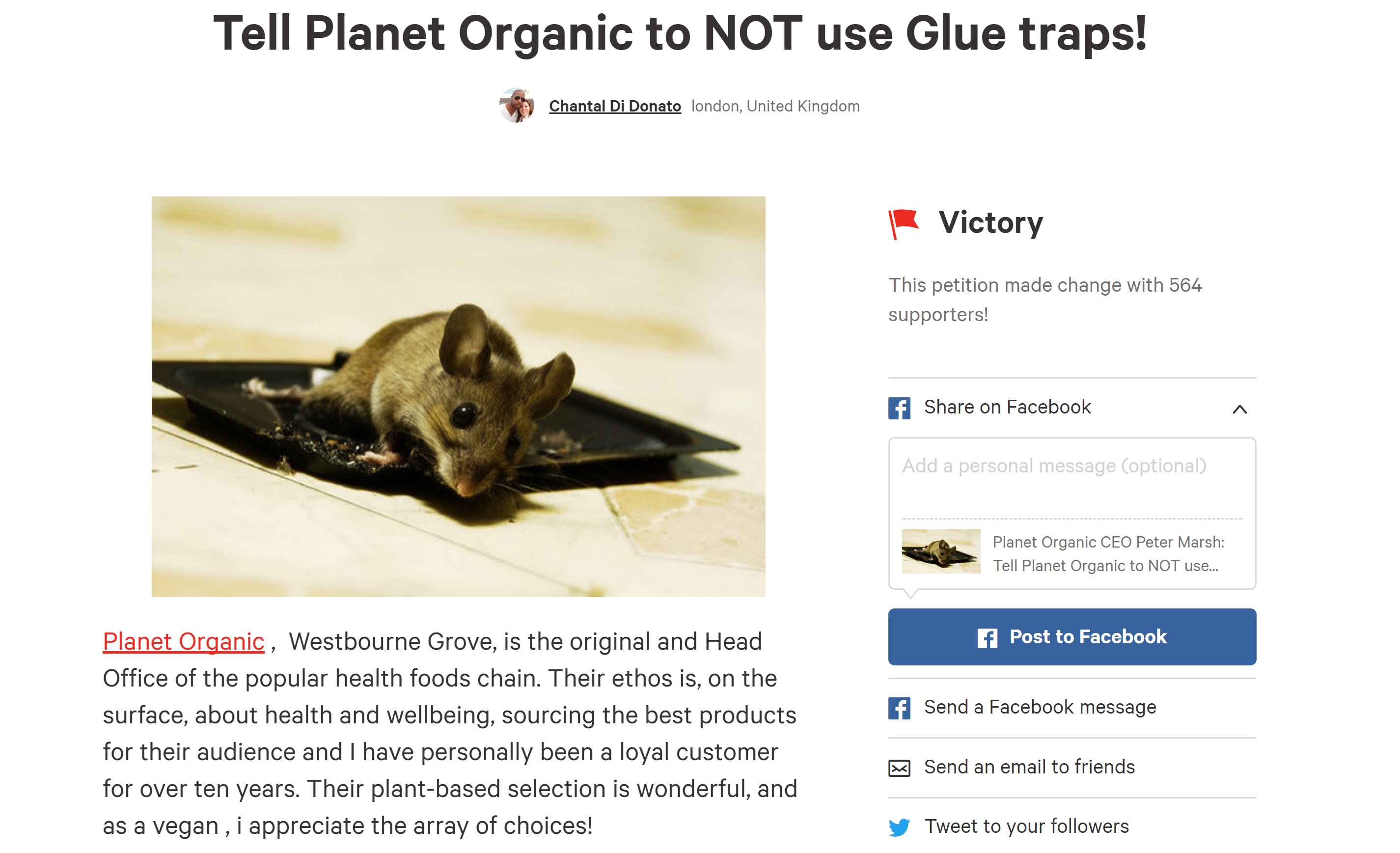 Response
Responding to the petition, the store's CEO Peter Marsh said: "Planet Organic always endeavours to operate ethically and in the best interests of the environment.
"We don't like glue traps and treat them as an option of the very last resort and only then with Soil Association approval.
"We will not be using glue traps in our store in Westbourne Grove whilst we endeavour to find better solution to a problem that is not Planet Organic specific and is affecting many retailers."
'Complicated'
Marsh also stressed that 'London has got a real problem' with rats and mice.
He told PBN: "It's a long and complicated subject, and we could spend hours talking about it.
"The whole of London has got a real problem. The lesser methods don't work.
"It's an issue we have to resolve, but unfortunately there are very few alternatives."
READ MORE:
Vegan Powerlifter 'Stoked' With World Championships Performance
Poll Shows 47% Of Americans 'Agree With Ban On Slaughterhouses'