UK talk radio station LBC conducted a segment on veganism last week, which saw a caller claim the "vegan lobby" was funded by Bill Gates.
It all started when presenter Iain Dale referenced a recent event at which environment secretary Thérèse Coffey stated that meat was still "very much on my dietary plate."
He then went on to discuss the rising popularity of veganism, before welcoming Naomi Hallum from non-profit vegan organization Gen V. She spoke about the growth of the lifestyle, as well as the detrimental effects of meat and dairy in terms of ethics, the environment, and health. 
She told Dale about the vast land use of animal farming (which has been highlighted as possibly one of the most pressing environmental issues we face), as well as the greenhouse gas emissions and pandemic risks associated with farming.
Despite Dale's admittance that he's not sure about veganism, the pair appeared to have an amicable discussion. Towards the end of Hallum's segment, Dale told her that she'd been closer than anyone else to convincing him to adopt a vegan lifestyle. He added that it was an "absolute pleasure" to talk to her.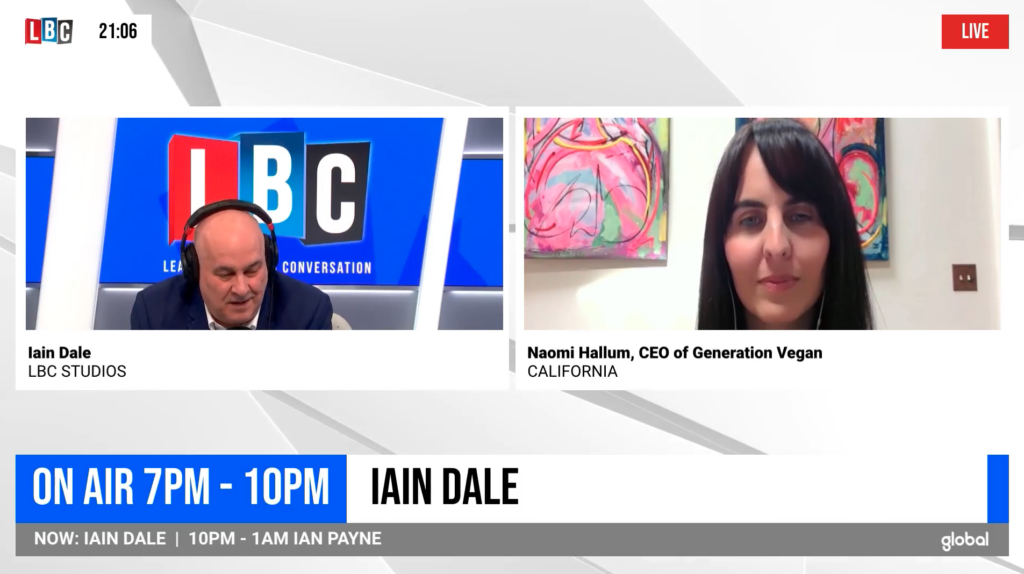 Callers fight back
Despite Hallum presenting an argument well-backed up by science, some listeners were less than convinced.
One caller, Mike from Colchester, described Hallum as "very articulate," but went on to say: "the problem is, she got about 15 minutes unchallenged."
According to Mike, Hallum (who had referenced studies from the bodies including the World Health Organization and University of Oxford) was wrong.
Mike then added that there were people on his "side of the fence" who "would destroy every single one of those arguments with reasoned logic." He said that vegans always say the same facts that he can "knock down with a feather."
While Mike said that he wouldn't discuss all her claims, he did attempt to discredit her argument about the negative environmental impact of beef. He did this by referencing a farm called White Oak Pastures, which he claimed has a negative carbon footprint. By mentioning the apparent carbon footprint of one farm, Mike appeared to be attempting to refute scientific evidence that beef farming as a whole is the most environmentally destructive food.
Speaking to Plant Based News about Mike's claim, Hallum said: "Cows are the number one agricultural source of greenhouse gases worldwide, and while there are certainly practices that beef and dairy farmers can implement to reduce their carbon footprint – there's literally no way that they can have a 'minus carbon footprint'."
'Vegan activism is horrendous'
"Veganism is okay, most regular vegans are great. But vegan activism is horrendous," Mike went on to say. "And they get all of these people coming on, getting all of this time without being challenged ever. They never get challenged."
Mike's words may come as a surprise to many, as the UK media isn't well-known for treating vegans with much fairness or respect. It regularly publishes anti-vegan content, and pundits like Piers Morgan often shout over them and make scientifically inaccurate claims about plant-based food. 
Dale refuted the idea that vegans weren't ever challenged, saying: "she [Hallum] knew perfectly well that I wasn't a great fan of vegan food."
The conversation took a turn when Mike seemed to claim that vegans were allowed to put forward their arguments unchallenged because they are powerful and have money. To this, Dale responded: "the vegan lobby I wouldn't say is one of the more well-funded lobbies in the world. 
An incredulous-sounding Mike then said: "Oh, they are! One of the richest men in the world is behind it I'm not going to mention that person's name, he's into software quite a lot."
Bill Gates conspiracy
Dale then replied: "Oh no you're not going to tell me Bill Gates? Is this a Bill Gates conspiracy?" He then went on to say that they were "doing so well" before Mike went down that "rabbit hole."
After it became clear that Mike was talking about Gates, Dale told him: "My ears are closed at this point, my ears are closed now, because you've undermined your total argument."
To this, Mike said: "but it's all public knowledge, he's the one who's saying to eat less meat. Your colleagues would be able to back me up on that."
After Dale asked him what was wrong with Gates saying we should eat less meat, Mike replied: "Well, follow the money. That's all I'm saying, Iain, you're into politics. You have to destroy the other side for your argument to win."
To this, Dale said: "No, sorry, no sorry. Not listening anymore," before hanging up the phone.
Needless to say, there is no evidence at all that Gates – or any other software billionaire – is funding the "vegan lobby."