Among the sea of junk food vegan eateries that keep popping up in London, visiting a superfood-laden plant-based café can be a breath of fresh air.
Don't get me wrong – I love my comfort food – but finding nutritious vegan fare in the city can be a drag.
I'm all about whole food plant-based treats, and hear this: Pride Kitchen Café is plant-based, gluten-free, and refined sugar-free.
On a scale from one to 'when did I become this person?', how cool is that?
Fittingly located in the heart of Covent Garden's Neal's Yard, which is renowned for its conscious and ethical living spots, Pride Kitchen looks quite unnassuming at first glance.
But don't let the casual vibe fool you: the service, the dishes, and the atmosphere are of the highest quality.
Offerings
Serving dishes like smoothie bowls, buddha bowls, raw cakes, and various toasts, Pride's signature fare is the super salads.
Notable eats on the menu include the classic acai bowl, the homemade chickpea flatbread farinata, probiotic on toast, and the Asian Pride burger.
Diners can also customize their own salads, choosing from highly nutritious ingredients – which is what I did.
Meal
I went for a base of quinoa, added cherry tomatoes, roasted sweet potatoes, and spiralized cucumber for veggies, black beluga lentils and chickpea omelette as protein, and settled on a cashew cheezy dressing.
To drink, I had to order the rose & raspberry latte. I mean… where else would I have that opportunity?
And let me tell you: not only was I impressed by how delicious these simple ingredients tasted, but I also left feeling full and satiated, which does not happen often when it comes to salads.
The dish was a thing of beauty. The ingredients were carefully divided, and topped with pumpkin seeds, watercress, and naturally, an edible flower.
My favorite part of the whole experience? The chickpea omelette, which came on the side. That really was something else – the smooth, creamy consistency and the subtle egg-y taste did it for me.
And the latte was an entirely unique experience in itself. Although I couldn't exactly identify the raspberry flavor, the unmistakeable, rich rose aroma was delightful.
Falling in love
Founded by former art director and graphic designer David Bez, Pride Kitchen Café is an oasis among the more common greasy vegan junk.
Bez told Plant Based News about how he was wandering through Neal's Yard one day – when he saw the empty shop and fell in love.
"I wanted to open a café there, I had no money or experience, but I was in love," he said.
"I raised 10K through a crowdfunding campaign and on April 2016 I opened my dream café: plant-based, gluten-free, and refined sugar-free."
Bez, who is originally from Milan, started making salads at his desk at his job at the time six years ago – and started uploading recipes to his blog.
From there, to his first bestselling book, SaladLove, to opening his first café, things happened quite quickly.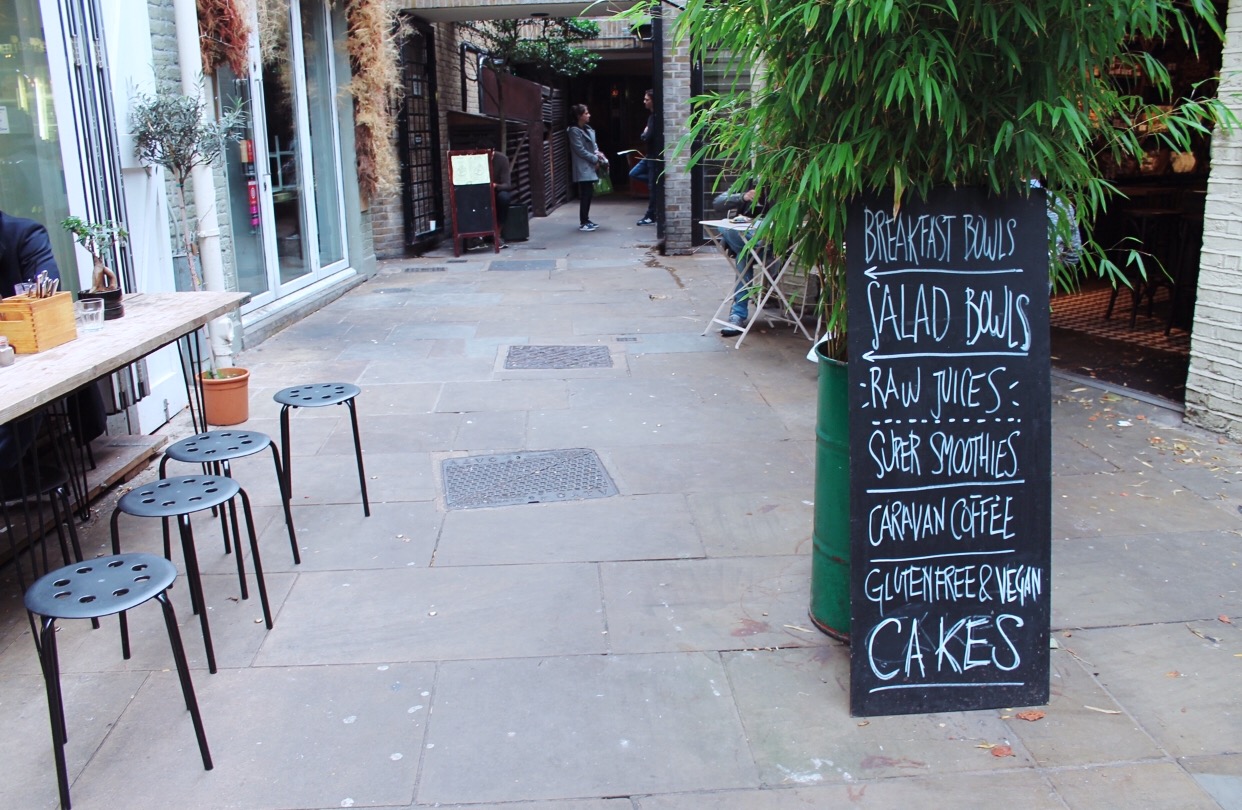 Plant-based
Bez, who has lived in London for the past 10 years, believes the city still lacks healthy vegan-conscious options.
"I feel vegans and vegetarians are still too much on the classic carbs and soy world, and they eat too many processed foods," he says.
"We need more plant based whole food options in the market, not just salads, but in any direction."
Talking about his diet, Bez admits that he is still transitioning to becoming 100 percent plant-based .?
He adds: "I'm learning on the way, and trying to take people with me in this journey.
"That's why I've created a plant-based restaurant: my future – and our future – is there."
The Italian entrepreneur will also be hosting a workshop focusing on 'lacto-fermentation for beginners' next month.
READ MORE:
Vegan Jet Pilot Releases Plant Based Health Guide For Flyers
This Woman Wants To Change The Vegan Milk Market With A New Product
YouTube Sensation 'The Edgy Veg' Launches 'Revolutionary' New Vegan Cookbook