Controversial TV host Piers Morgan labeled vegans 'terrorists' during an on-air debate about the ethics of milk – attacking the character of vegan activist Joey Carbstrong.
Carbstrong was invited onto Good Morning Britain along with celebrity chef Anthony Worrall Thompson to discuss whether milk is murder.
While Worrall Thompson engaged in debate with Carbstrong – who described dairy farming as an atrocity – Morgan changed the topic of the conversation to a personal attack, talking about the activist's criminal past.
Milk is murder
During the segment, Co-host Susanna Reid said: "People will be familiar with the phrase 'meat is murder', and even that in its time was a controversial statement. But to say milk is murder is taking that quite far, isn't it? Lots of people – vegetarians for example – will happily consume dairy products – and not think they are doing anything wrong."
Carbstrong said: "They are disconnected from the process. 50 percent of the cow flesh in this country comes from spent dairy cows. All of the animals in the dairy industry will end up in a slaughterhouse, so they will be killed against their will."
Reid answered: "So an efficient use of those animals then."
Carbstrong replied: "It doesn't make it moral whether it's an efficient use of an animal. If we were talking about dogs in those slaughterhouses, we'd never say that that's moral."
'The food chain'
Reid admitted that 'we have a totally different view of our animals at home', and the vegan activist agreed, saying: "We'd never subject them to the abuse we do to cows."
"But this is the food chain," said Worrell Thompson. "You know, the spider eats the fly, the cat eats the mouse, a tiger would eat us if we got in its way. That's what's been going on for 8,000 years – we've been drinking milk. Our bodies have actually mutated to produce an enzyme called lactase which which allows lactose [milk sugar] to be digested by our gut."
Piers Morgan interjected saying: "I think the problem with the vegan movement at the moment, is that a lot of people might be tempted to take up a more vegan-based diet, but they hate this type of vegan terrorism stuff."
"Take the vegans out of the picture," said Carbstrong. "It's about the animals."
'No way to debate'
After discussing the ethics of exploiting animals for their milk, Morgan asked the vegan if he was a man of peace, saying 'this is what it boils down to'.
"I don't believe in harming other human beings or animals," he replied.
Morgan said: "So in September 2011, you were arrested when police found a loaded sawn-off pump action shotgun."
'Character attack'
Carbstrong said: "Oh, a character attack." Morgan said: "No, a fact," and asked why he was carrying a weapon.
Carbstrong asked: "Has this got anything to do with the topic at hand? Would this be relevant if I was speaking up against dog abuse or child abuse? It's true – I was incarcerated for something I did in my past. But this is no way to have a debate on dairy…Just because I did something wrong in the past, doesn't mean I can't do something right now."
Anthony Worrell Thompson told Piers Morgan to 'leave [Carbstrong] alone' saying people are allowed to make mistakes in their past. He added that he 'respects vegans' and called them 'pure'.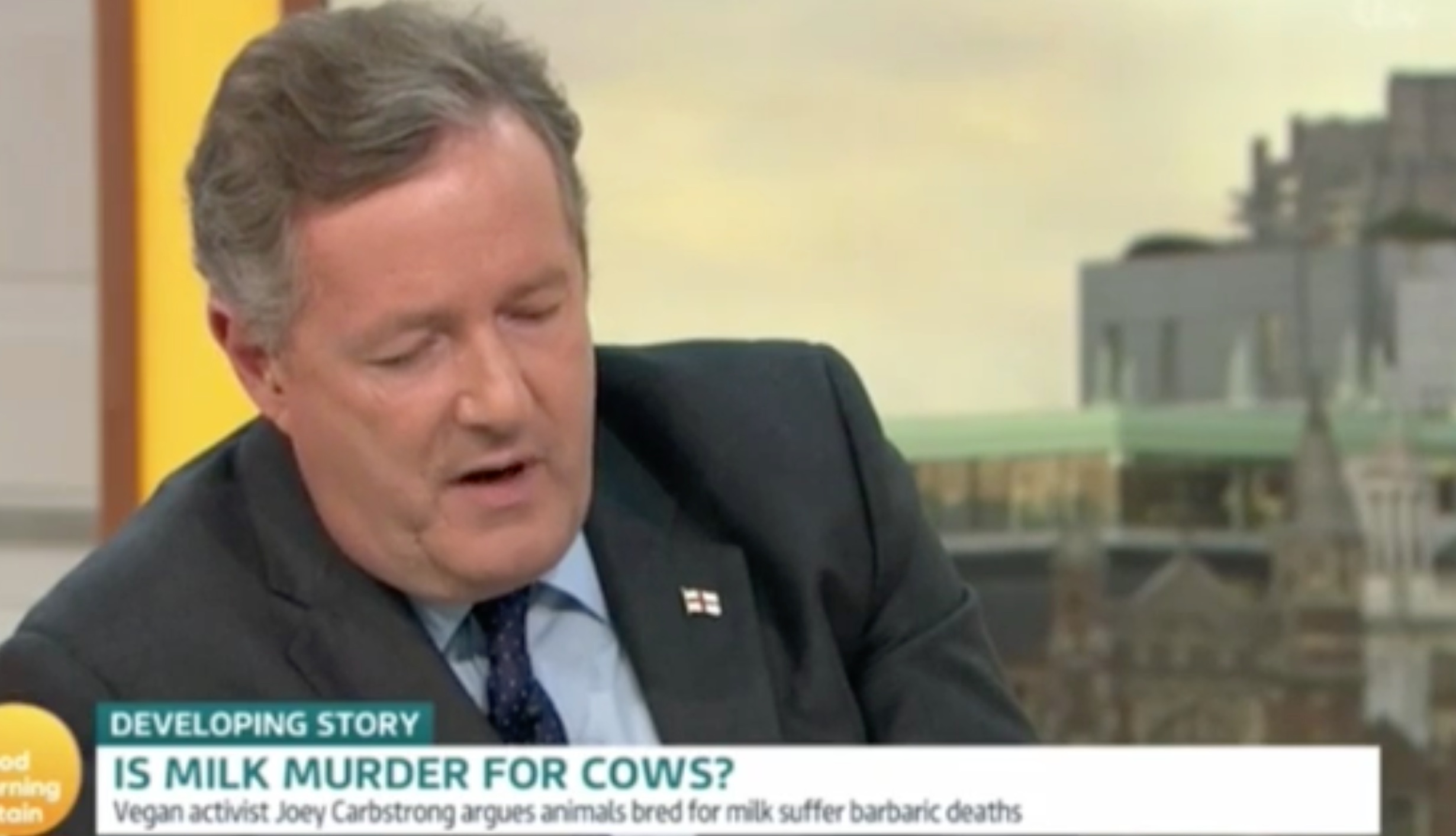 Conviction
Joey Carbstrong has spoken at length about his past. According to the activist, spending six months in prison made him question the path he was taking. He decided to dedicate his life to advocacy and fighting for the rights of animals.
He has been criticized in the past for some of his statements, including saying that hunters deserve to die.
In recent years, he has softened his approach, telling The Telegraph: "Now I promote a peaceful, love-based approach in my advocacy. I never used to be like that, but I am now. Any of these things I will publicly condemn."
Piers Morgan
Morgan often engages in loud debate with vegans on Good Morning Britain – and earlier this year was credited with helping charity Veganuary have its most successful campaign yet, when the TV host ranted about the initiative to his audience.
Morgan called Veganuary 'hell' – and labelled vegans 'plant murderers'. Despite this, the charity's Co-founder Matthew Glover thanked the TV star for promoting the cause.
Glover told Plant Based News: "If we had ever agreed with Piers Morgan on anything we might have been concerned but as it is, so many people loathe the man that his tweets have actually made people sign up to take part in Veganuary. So we have something to thank him for. He is inadvertently making the world a kinder place."