Dogs in Bali are being snatched from the street and then fed to unsuspecting tourists, according to a new report.
Animal protection charity Animals Australia recently conducted an investigation into Bali's dog meat trade. The report – called Bali's hidden meat trade – and its disturbing connection to Australian tourism – makes sobering reading.
According to a spokesman: "Dumped in bamboo crates or plastic rice sacks, terrified dogs await the nightly slaughter with legs tied and mouths taped shut. They may languish like this for hours or days without food or water. One by one they will be brutally slaughtered in full view of their companions.
"And business is booming. Year on year, seven times more dogs are slaughtered in Bali than in China's notorious Yulin Dog Eating Festival."
Brutal
Many locals believe that torturing the animals makes the meat tastier, and so the dogs usually suffer unimaginably before they die.
An undercover investigator working with the charity set out to discover just how bad the situation is.
He said: "I began the investigation by pinpointing and getting to know the key players in Bali's completely unregulated dog-meat industry. Eventually, they invited me to join them as their gangs stole, hunted, poisoned and killed dogs.
"I focused on my camera work but it was gut-wrenching to hear these dogs… screaming and wailing in terror and sorrow.
"As an animal cruelty investigator, I have trained myself to cope with cruelty, but nothing prepared me for the brutal catching of dogs in the village."
Misled
The undercover investigator spoke to a seller who said he was selling dog meat – but told tourists
Animals Australia says that it is usually street food vendors who sell the dog meat under the guise of chicken – but around 70 restaurants in Bali also sell it.
By labeling it 'satay', meat-eating tourists often simply assume it is chicken meat.
Animals Australia campaign director Lyn White, said: "Tourists will walk down a street, they'll see a street store selling satay but what they are not realising is the letters RW on the store mean it is dog meat being served."
One of the excruciating ways the dogs are killed is by poisoning, according to New South Wales Poisons Information Centre director Dr Andrew Dawson. Consuming the meat could lead to nausea, muscle aches, shortness of breath and may also cause organ and nerve damage.
Dr Dawson said: "If you are eating, for example, a curry and it was including bits of the animal stomach or the heart, then you would expect really high concentrations of cyanide… which could be fatal."
Lyn White added: "Poisoned meat is entering the food chain.The dog-meat trade breaches animal cruelty laws and food safety laws. That is a statement of fact."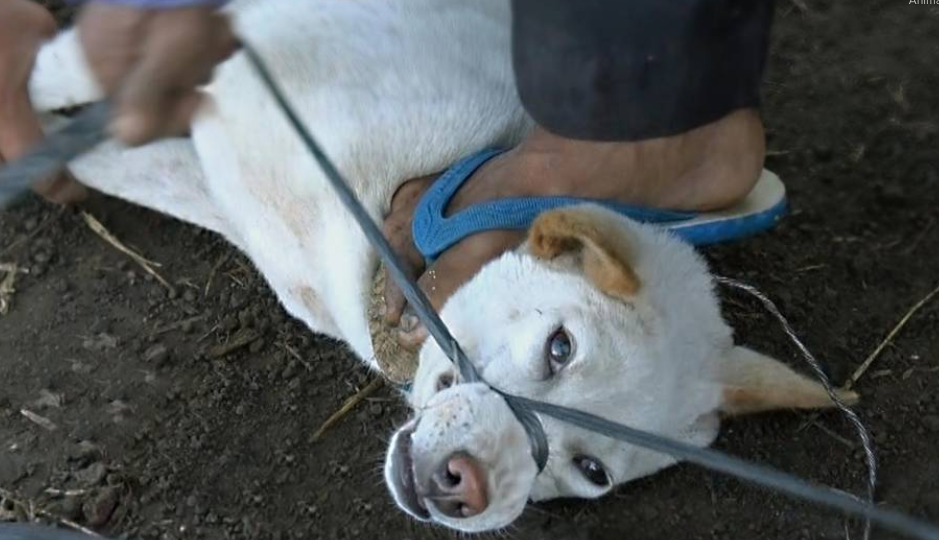 Hope for the future
A growing number of people are starting to fight to end the trade, including the Balinese Animal Welfare Association, which tries to protect the island's dogs.
There's a lot to do though: an estimated 70,000 dogs are slaughtered every year for food.
While vegan activists will see the consumption of dogs as being equally traumatic as the senseless global slaughter of any other animals, this undercover report is bound the shock many around the world.
The charity adds: "Like those who see dogs only as 'meat', many of us have been raised to see pigs, lambs, cows and chickens as food, rather than as the unique and curious individuals that they are. Given the opportunity they too will 'befriend' humans and show love and loyalty.
"Scientists now know that cows have best friends; sheep can learn to respond to their own name; chickens have cognitive abilities beyond that of young children; and pigs show empathy and can play video games designed for chimps."
READ MORE:
Crackdown At Yulin Dog Meat Festival As Police Shut Down Stalls
Dog Meat 'Not Popular' In Yulin, China – Despite Controversial Festival