Billboards urging the public to slash their risk of a 'severe' COVID-19 case will be seen by around 12 million people.
The ads – designed by Plant Based News' in-house creative team for vegan charity Viva! -will be placed across the West Midlands and Bristol.
They read 'Slash your risk of Covid-19. Ditch animals, eat plants – simple!' and are being displayed throughout November and December.
'Go plant-based'
Robbie Lockie is the creative director and co-founder of Plant Based News. He said: "It is always an honor to work with Viva! on thought-provoking campaigns such as this.
"These billboards are exactly what the U.K needs right now, as deaths from COVID-19 are back on the rise. Unfortunately, many people do not know how a healthy diet can curb the severity of the disease.
"There has truly never been more of a compelling time to stop eating animal products and go plant-based than now."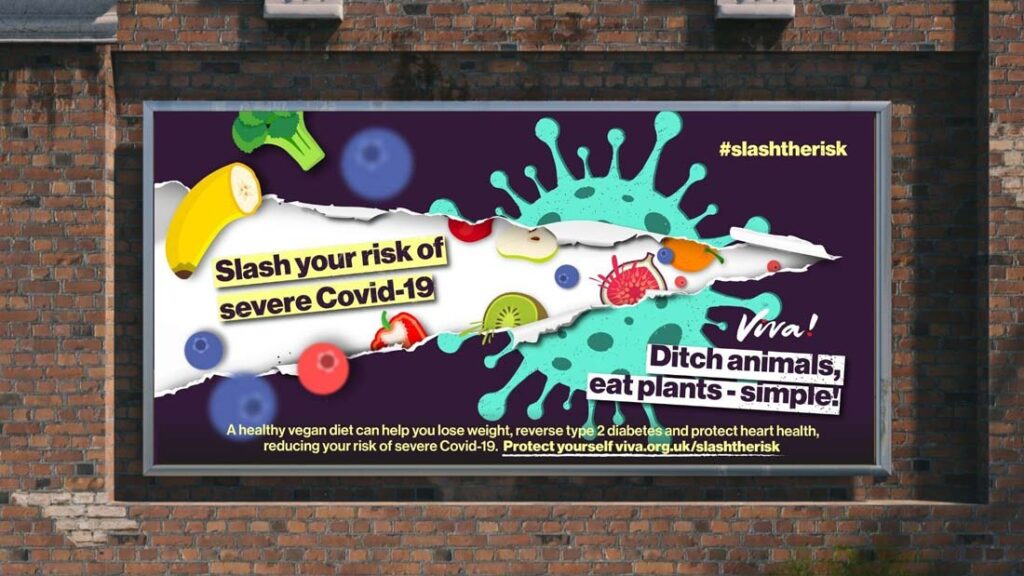 Can diet worsen the severity of COVID-19?
"Conditions such as cardiovascular disease, hypertension, obesity, diabetes, cancer, kidney disease, and COPD are the main underlying causes making COVID-19 more likely to result in severe, life-threatening disease," Viva states*.
"A vegan diet can help you lose weight, reverse diabetes, lower your blood pressure and cholesterol. This reduces your risk of severe COVID-19."
Dr. Greger
Moreover, renowned plant-based medic Dr Greger has warned that an unhealthy diet may worsen the severity of COVID-19.
In a video, he said: "One of the reasons why the U.S now has the highest number of deaths compared to any other country in the world is because of pre-existing conditions.
"Obesity, T2 diabetes, heart disease, hypertension… Every single one of them can not just be prevented and stopped but reversed with a healthy enough plant-based diet.
"Obesity is increasing the risk of a severe course of COVID-19 by six-seven times. That's for a BMI over 28. That's not even obese, that's just overweight."
*(Emami et al., 2020; Finer et al., 2020; Yang et al., 2020; Wang et al., 2020; Zheng et al., 2020; Zhou et al., 2020)