Joanna Lumley is calling on Tesco to let campaigners film inside sheds used for breeding chickens – and to share the footage with the public.
The actor and national treasure has joined forces with animal protection organization Open Cages in a bid to expose the conditions endured by animals reared for cheap meat.
'Frankenchicken'
According to Open Cages, the 'vast majority of chicken in the UK comes from Frankenchicken: animals unnaturally bred to grow so fast that they often cannot stand'.
The organization adds: "Typical Tesco chicken factory farms contain tens of thousands of birds who are never allowed outside. The animals are forced to live on their own faeces which causes painful chemical burns. Animal welfare experts agree that the way these chickens live causes painful suffering, with companies all across Europe abandoning such practices – whilst Tesco continues to allow them."
Campaigners from the animal protection group visited Tesco's headquarters last week, to deliver their challenge to the supermarket and ask Tesco CEO Dave Lewis to allow Open Cages investigators to film the last two days of a typical meat chicken's life.
They request to film a shed housing 40,000 birds; what happens to the sick and lame chickens; the full slaughter process, and to engage with Open Cages in a public debate.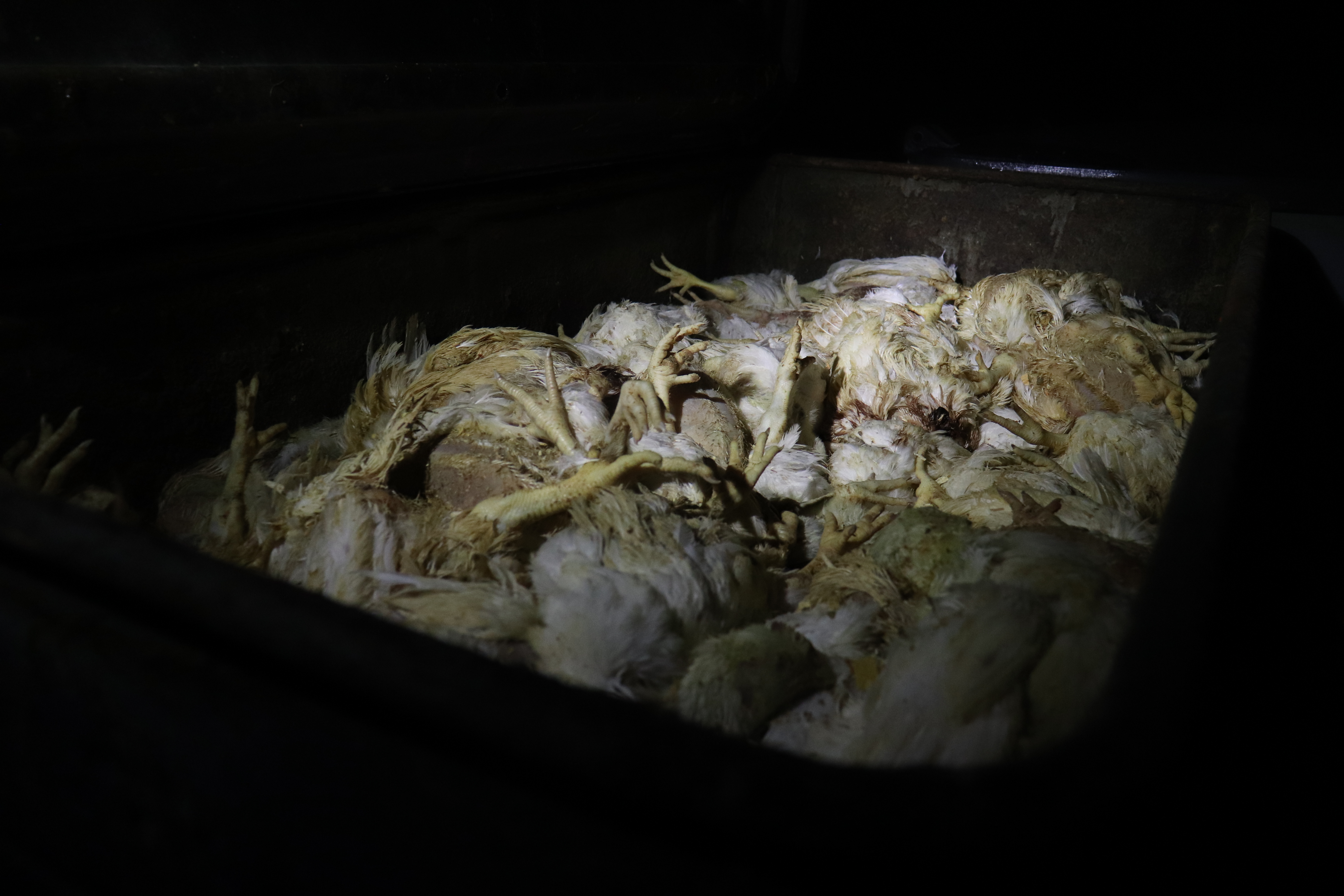 Animal suffering
Last year, Open Cages released an investigation of a farm that supplied Tesco until June of last year. Footage revealed 'chickens writhing in their own filth, collapsing and dying under the weight of their heavy, weak bodies and having their necks snapped by employees'.
According to the organization, it has 'continuously exposed rampant cruelty inherent to Tesco's chicken rearing practices with releases of undercover footage'. But it says the retail giant has refused to acknowledge any problems with its policies – leading to the request Open Cages is making to film the conditions faced by the chickens sold by Tesco.
Open Cages is calling on Tesco to sign the Better Chicken Commitment. Iconic names such as KFC, Marks & Spencer, and Waitrose have joined the initiative in a strong move to address the suffering of broiler chickens by 2026.
'How cheap chicken is made'
"Tesco is the leading retailer of chicken meat in the UK. For years they've told the public that they're committed to high welfare standards for their birds – but they don't always put their money where their mouth is," Joanna Lumley said in a statement sent to Plant Based News.
"This is why I'm joining Open Cages in calling on Tesco to let us film how their cheap chicken is made."
Connor Jackson, CEO of Open Cages, added: "Joanna is challenging Tesco because, like us, she cares about animals. Increasingly, loyal customers are disgusted by the unnatural way Tesco produces cheap chicken: but their concerns are met with slogans and spin.
"So, Tesco, let's settle this once and for all: let us film how your chicken is made or admit that your animal welfare standards are failing."
'Chicken Commitment'
A statement from Tesco said: "All our fresh chicken meets or exceeds government-approved industry welfare standards, as well as Red Tractor.
"Our Organic and Finest brands meet the Better Chicken Commitment and in April we'll be extending our range to include RSPA Assured, higher welfare, affordable chicken which will meet all points of the Better Chicken Commitment."
Open Cages' petition, urging Tesco to do the sign the Better Chicken Commitment, can be found here