An investigation by the Bureau of Investigative Journalism [TBIJ] has revealed there are nearly 800 livestock 'mega farms' throughout the UK.
The biggest of these factory units have the capacity to house more than a million chickens, 2,000 dairy cows or 20,000 pigs – with most of the animals constantly kept inside.
Growth
Since 2011, the number of intensive farms – which are classified by The Environment Agency as having the capacity to house at least 40,000 poultry birds or 2,000 pigs grown for meat, or 750 breeding pigs (sows) – has increased by 26 per cent to 1,674 intensive farms (pig and poultry) in the UK.
Nearly half of these (almost 800) are sizeable enough to be considered US-style 'mega farms'. These are defined in the US as housing 125,000 broiler chickens, 82,000 laying hens, 2,500 pigs, 700 dairy or 1,000 beef cattle.
According to TBIJ, the two largest biggest farms its journalists recorded 'have the capacity to house 1.7 million and 1.4 million chickens apiece'. Large intensive farms supply well-known chains.
It says: "The majority of Britain's poultry meat is produced by a handful of large companies including Faccenda, Moy Park, Cargill, 2 Sisters and Banham Poultry – all of which are privately-owned.
"Tesco, Sainsbury's, Morrisons, Asda, McDonalds, and Nando's are among the supermarkets and fast food chains who source meat from companies operating megafarms, our investigation has found."
Demand
The report says farmers claim they are 'led by consumers'.
In other words, the only way to meet the massive demand for cheap meat, is to intensively farm animals in these volumes.
Demand for low cost poultry is especially high – almost one billion of the birds are slaughtered annually – the vast majority of them intensively farmed. TBIJ says: "The efficiency of the system is illustrated in the product prices.
"A review of five major supermarket chickens shows basic, value or own brand chicken – raised on intensive farms – costs between £1.99 and £2.73 per kg for a whole roasting bird.
"Organic chicken – i.e. birds kept in a smaller flock, given access to the outdoors, and fed on additive and GM-free grain grown on that farm – costs between £6.00 and £7.04 per kg per roasting bird.
"Growing free-range and organic chickens requires a lot of space – about four square metres per animal for organic birds. Intensive farms typically have about 15 chickens per square metre, or an area about the size of an A4 sheet of paper for each bird."
Space
"If we tried to grow a billion [organic] birds a year, that would be a lot of land. It's a balancing act and it's demand driven," Richard Griffiths, Chief Executive of the British Poultry Council, said, adding that there has been 'little demand' to stop the growth of intensive farms in favor of organic farming.
He claimed: "Intensive farms maintain high environmental, hygiene and welfare standards when they are run properly, these are high health and welfare farms.
"The husbandry of the birds is the crucial element here. I think people think of hens roaming around a farm but that image is no longer the case – that's not how chicken is farmed any more."
Dr Zoë Davies, Chief Executive of the National Pig Association (NPA), the industry body for pig farmers, added: "People like the idea of a family farm. They don't know what an actual farm looks like."
She said in order to compete with cheap meat from abroad, farmers must rear livestock intensively.
Inhumane
But many believe these methods are cruel and inhuman. TBIJ spoke to welfare organization Compassion in World Farming (CIWF), which has launched a campaign that shines attention on what it describes as 'the UK's factory farming hotspots'.
CIWF claims there are nearly 17 million factory farmed animals in Herefordshire alone. This means the county has 88 times more factory-farmed animals than it does humans.
Campaigns Director, Emma Slawinski, said: "Bringing animals off the land and cramming them into factory farms is not only cruel to animals but also has far reaching effects on human health, wildlife and the planet.
"It sounds like a space-saving idea but this ignores the fact that vast amounts of land are used elsewhere to grow food for them – often in huge crop fields doused in chemical pesticides and fertilisers – squeezing wildlife out, as industrial farming methods sweep the planet."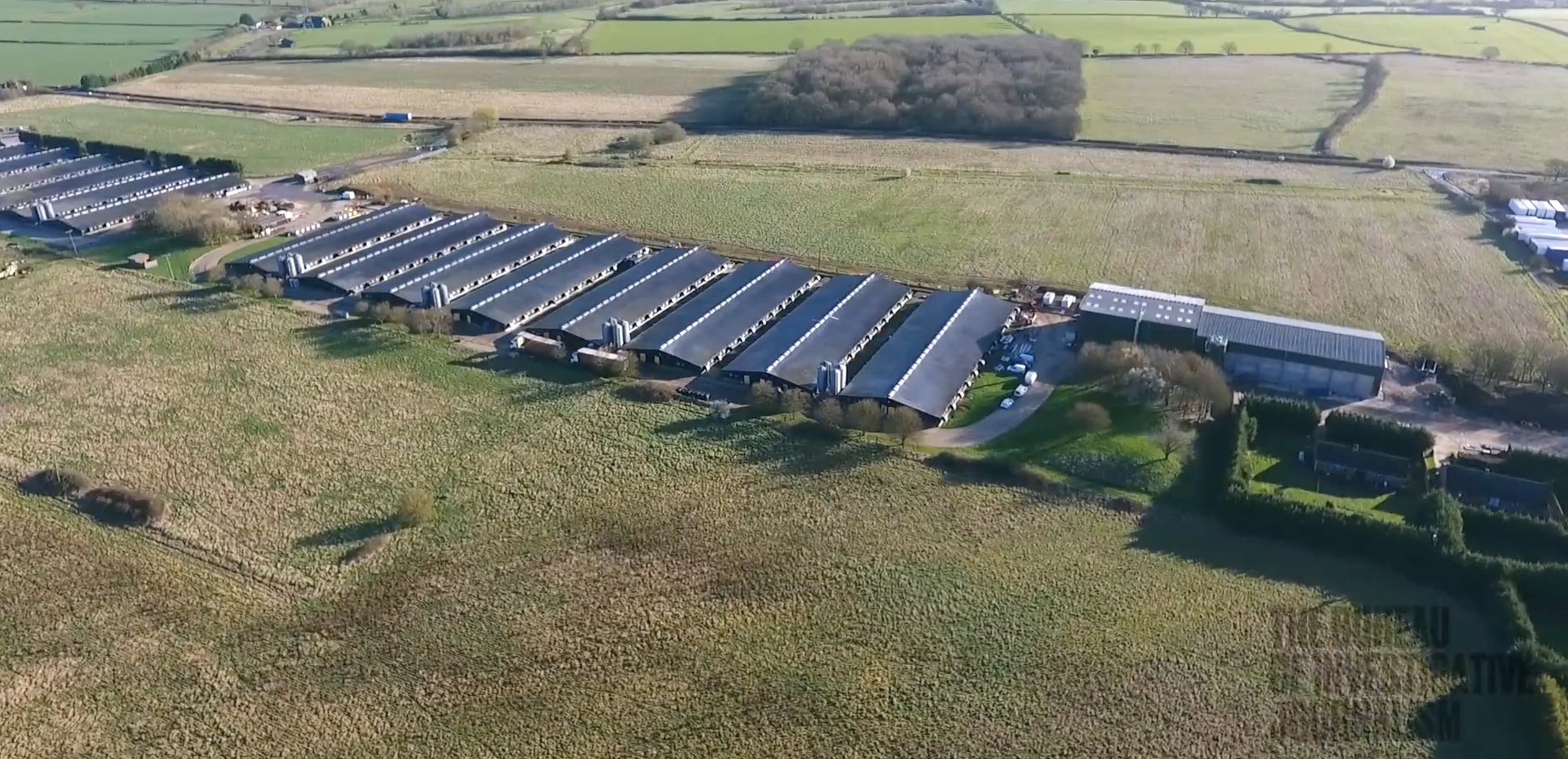 Disease
It's not just the terrible impact on animals – these farms, according to TBIJ 'can be breeding grounds for food poisoning bugs such as campylobacter, E.coli and salmonella'.
The report says: "In intensive farms the close proximity of the animals can mean diseases spread quickly. This has historically meant the widespread use of antibiotics, the use of such drugs by poultry farmers had dropped significantly in recent years."
The production of substances like manure and silage are also an issue – causing waste as well smells.
Zac Goldsmith, MP for Richmond, said: "American-style agribusiness comes with serious environmental and animal welfare implications, as well as posing a threat to our small and family farmers.
"Even more importantly, the continued overuse of antibiotics on intensive farms is contributing to widespread antibiotic resistance and consequently the biggest human health threat we face."
The future
TBIJ spoke to Norman Lamb, the MP for Norfolk, who said regulations around intensive farming units should be reviewed. He said: "The government need to gain a greater understanding of the impact of these very large units.
"They should look at whether lessons can be learned from the US. We need new and robust domestic regulations to meet the emerging landscape and to take the place of European Union legislation post-Brexit."
The Bureau asked the Department for Environment, Food and Rural Affairs to comment 'on the rise of intensive farming in the UK and how the future might look' but it didn't respond to this request.
Instead it gave a statement that says: "[The Government] not compromise on our high animal welfare or environmental standards [and would always] protect our proud and varied farming traditions.
"[Leaving the EU will offer] an unprecedented opportunity to shape our farming industry so it works for the UK."
READ MORE:
Sickening Undercover Pig Farm Footage Shows 'Vision Of Hell'
Workers Fired After Undercover Video At Chicken Farm Shows 'Sadistic' Abuse